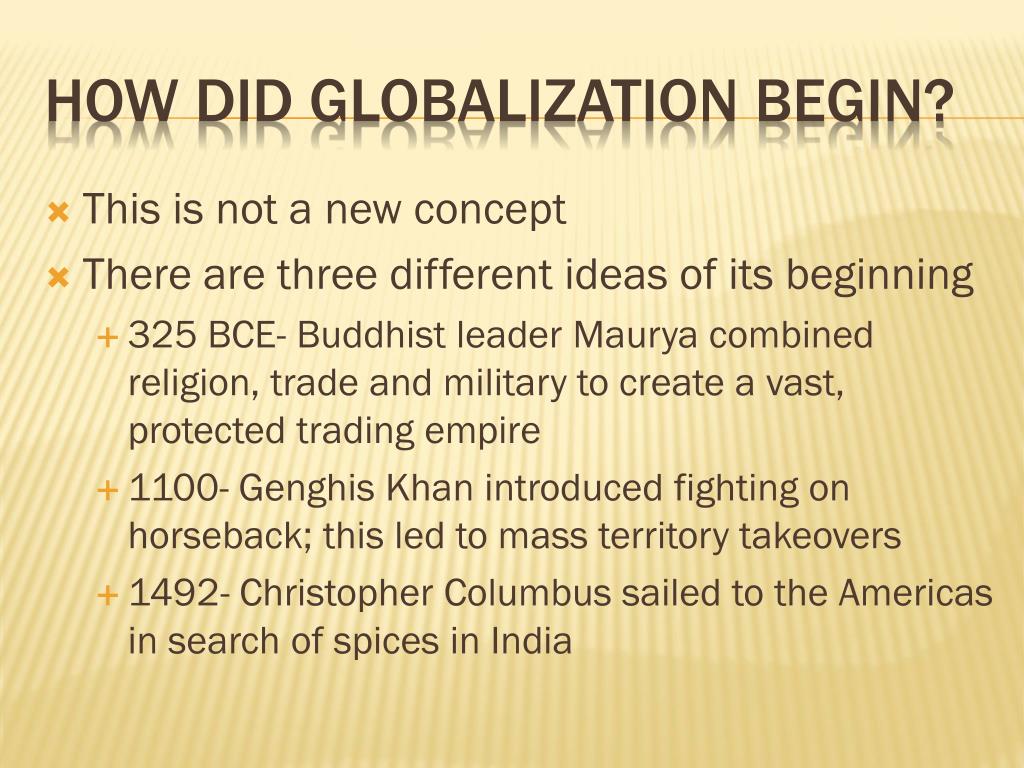 When Did Globalization Start?
#1: INVESTOPEDIA: LINK: https://www.investopedia.com/ask/answers/020915/when-did-globalization-start.asp : Economic globalization is a historical process driven by innovation and technology. In the most general sense, globalization is the increasing integration of economies around the world as a result of the movement of goods, services, and capital across borders, in addition to the movement of people and knowledge across borders. This process is not a modern innovation of industrial age because conquering empires throughout history had the same result in terms of the the sharing of ideas, mixing of cultures and people, and trade across those conquered lands. The other important historical context is the Age of Exploration initiated by innovations in ocean going vessels in the 1400s, when Europeans set sail across oceans looking for trading opportunites in far away places across oceans as for example China and India. So perhaps it was people like Christopher Columbus that opened up commercial trade routes across the world and maybe that marks the beginning of globalization. An opposing view is that globalization is a modern post war innovation that began in the 1950s post war economic and migration boom across the world but the word "globalization" popped up decades later in 1980. But what does the word mean exactly? Does it mean the rise of America's global dominance? Most will disagree because at its core, globalization is the exchange of ideas, capital, and goods across national borders and across the world. The process is driven by technology that facilitate the spread of goods and ideas across the world. A key innovation in thie regard was the Gold Standard in the 19th century because it facilitated trade across different currencies. The weakness in the gold standard theory is that there was significant global trade prior to that with actual gold used in trading. Gold had been used as currency for thousands of years. Many analysts still hold on to the idea that globalization is a post war thing that got started after World War II when nations around the world were eager to break down barriers of trade which in turn created the Bretton Woods Conference, the World Bank, and the International Monetary Fund (IMF) and that therefore globalization had to have started in the 1950s post-war economic boom and the rise of the USA as the economic powerhouse of the world.
THE BOTTOM LINE is that we've always had globalization in different forms and so it depends on how you define globalization to pick your start year. So therefore, neither the question about a fixed start for globalization nor its many answers contain useful information.
THE OTHER BOTTOM LINE
In modern times since the end of the 20th century, globalization as a net benefit to man has been questioned because it is thought that globalization not only created trade and cross border transfers of ideas, technology, and people, but also created things like terrorism, economic fluctuations, increasing inequality, increased migration of foreign workers cause unemployement problems. Also although the global venue for economics creates and selects the strong and the mighty, that leaves many companies behind. Some environmental issues are also cited as described in a related post: LINK: https://tambonthongchai.com/2021/05/21/anti-globalization-environmentalism/
AND OF COURSE, IN THE AGE OF GLOBAL WARMING AND CLIMATE CHANGE, IT IS CLAIMED THAT GLOBALIZATION INCREASES ECONOMIC ACTIVITY AND FOSSIL FUEL EMISSIONS AND THEREBY PLAYS A ROLE IN WORSENING THE CLIMATE CHANGE PROBLEM.
CONCLUSION:
WE TEND TO DISCUSS GLOBALIZATION GLIBLY AND WITH GREAT APPARENT INSIGHT INTO THE PHENOMENON AND ITS POSITIVE AND NEGATIVE IMPACTS THAT WE ASSUME ARE ALL WELL UNDERSTOOD EXCEPT THAT WHEN IT COMES RIGHT DOWN TO IT, WE DON'T REALLY KNOW WHAT IT IS EXACTLY AND WHETHER IT IS SOMETHING WORTH WORRYING ABOUT OR SOMETHING WORTH CELEBRATING, OR WHETHER IT IS SOMETHING THAT WE ACTUALLY UNDERSTAND. ALL WE KNOW FOR SURE IS THAT IT IS A WORD THAT WE INVENTED AND NOTHING MORE.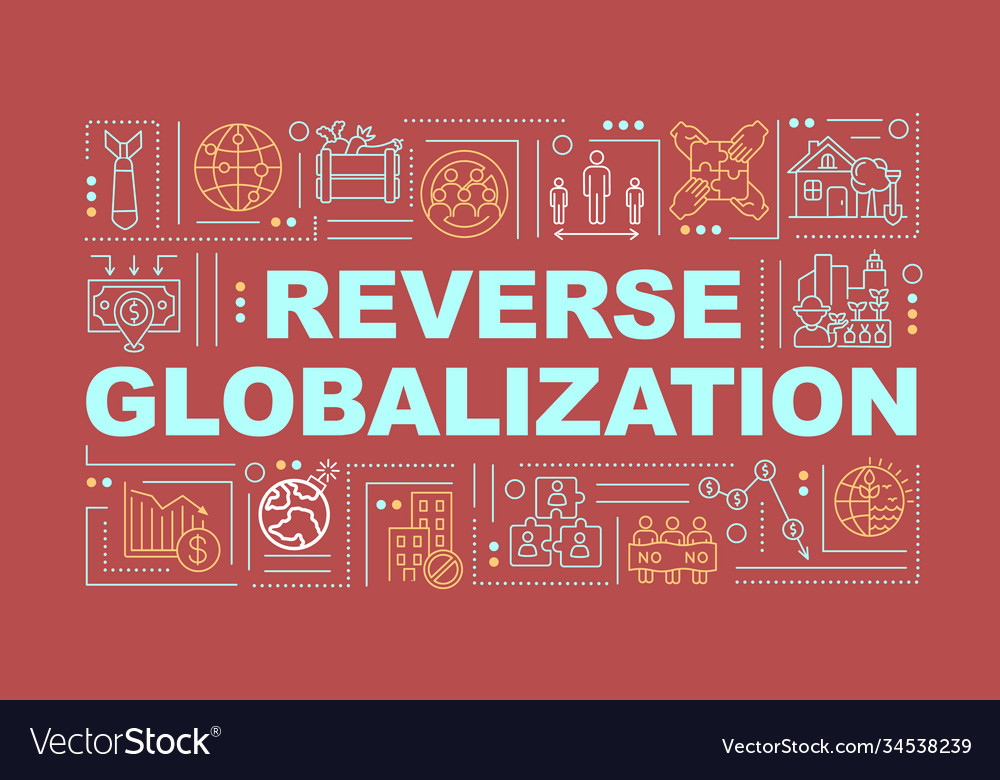 2 Responses to "HISTORY OF GLOBALIZATION"