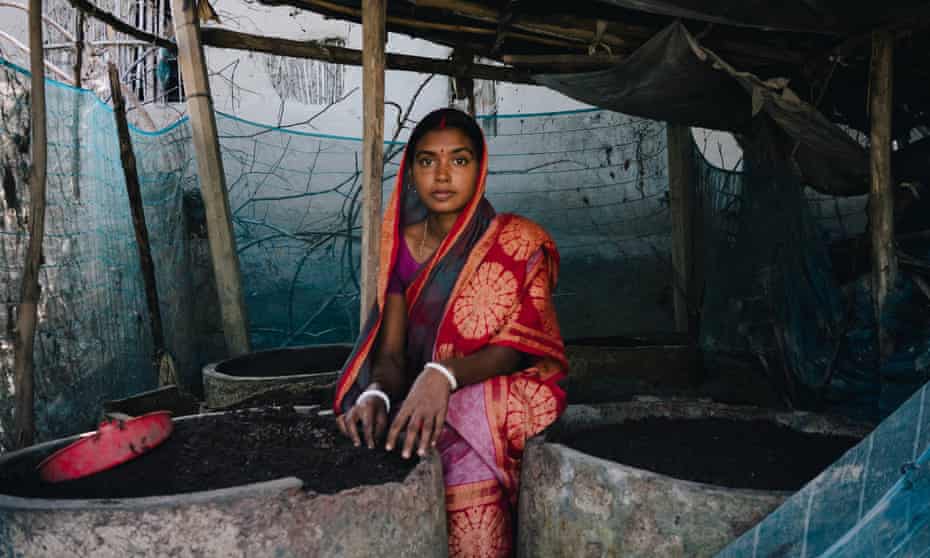 LINK TO SOURCE: https://www.theguardian.com/society/2021/dec/12/cyclones-people-bangladesh-climate-catastrophe-guardian-observer-charity-appeal
IT IS REPORTED THAT ANTHROPOGENIC GLOBAL WARMING CLIMATE CHANGE HAS UNLEASHED TROPICAL CYCLONE HORROR IN BANGLADESH AND THE SUFFERING OF THESE MISERABLE PEOPLE SHOULD SERVE AS A MORAL OBLIGATION TO TAKE CLIMATE ACTION AND STOP BURNING FOSSIL FUELS. DETAILS IN THE SAMPLE MEDIA ARTICLE PRESENTED BELOW.
SAMPLE MEDIA ARTICLE ABOUT THE HORROR THAT GLOBAL WARMING HAS UNLEASHED ON BANGLADESH.
We faced so many cyclones': how people in Bangladesh are rebuilding after climate catastrophe
Archana Boyda now provides farmers with compost from her cows. Archana Boyda now provides farmers with compost from her cows. Photograph: Kamil Ahmed/The Observer. This year's Guardian and Observer campaign supports charities fighting global climate injustice. Here, we look at Practical Action, which helps small farms in Bangladesh. The cyclones that repeatedly hit his village deep in Bangladesh's south did not just bring waist-high water that washed everything away, they forced Shayma Kanta Mistri to make a choice about his future.The salt waters that had surged in from the nearby Bay of Bengal ruined his paddy fields, which were already providing only a tenuous living that had to be supplemented by seasonal labouring for other farmers. Mistri needed to adapt or leave. Everywhere in Shyamnagar, there are signs of people refusing to just accept that climate change will force them to move. This is the most south-western part of Satkhira district and one of the areas in Bangladesh most vulnerable to the climate crisis. Rice fields have been turned into ponds by owners who realise their land will not easily recover and so have begun farming crab and shrimp. People are fighting back to avoid the fate of thousands of others, who have had to leave for overcrowded cities, broken by the effects of global heating on their land and their lives. "We faced so many cyclones and they brought waters that came up to here on the street," said Mistri, holding his hand at waist level. "When the waters left it was like a desert, all the plants and trees were dying from the salt and there was no clear water to drink. There were only a few people with money who could survive these conditions."We could not live from farming any longer. We had to think about other ways to make our living." Satkhira and the south-west have borne the brunt of the weather changes, repeatedly being hit by major cyclones that have displaced millions and caused permanent changes to the land. During last year's cyclone Amphan winds hit 151kmph and flooded a quarter of Satkhira. Two-thirds of migrants from south-western Bangladesh moved because they had to give up farming. Most went to cities where they worked as day labourers. AJM Shafiqul Islam, said the charity's work is about ensuring people are offered the most suitable solution and support to help build their resilience to the climate crisis. Since cyclone Sidr [in 2007], the people of this area have struggled with salinity in their soil but these methods are transforming lives. Gabura, an island encircled by two rivers of the Sundarbans mangrove forest, is frequently inundated during cyclones and is losing its coast to erosion. Locals live in fragile homes mounted on stilts. These farmers look to wild sources like the river or the Sunderbans, which is vulnerable environmentally and needs to be protected. Archana has been living in a leaking mud hut. It has been destroyed by a falling tree during cyclone Amphan. Amphan had a really big effect. Houses were destroyed and people had nowhere to go.
CRITICAL COMMENTARY
ITEM#1: THE CLIMATE SCIENCE OF THE IMPACT OF GLOBAL WARMING ON TROPICAL CYCLONES.
According to climate science, the impact of global warming on tropical cyclone activity can be found only in long term (30 years or more) changes in global tropical cyclone activity when all tropical cyclones in all six cyclone basins for the entire study period are included in the study. Specifically, a single tropical cyclone in a single cyclone basin has no interpretation in terms of global warming or climate change.
LINK TO RELATED POST: https://tambonthongchai.com/2021/01/30/list-of-posts-on-tropical-cyclones/
WE ALSO NOTE THAT CYCLONE AMPHAN, BEING PRESENTED HERE TO PROMOTE THE CLIMATE CHANGE IMPACT ON TROPICAL CYLONES, IS RELATIVELY MILD WHEN COMPARED WITH THE HORRIFIC DESTRUCTION AND DEATH TOLL OF THE CALCUTTA CYCLONE OF 1737.
THAT CYCLONE HAD OCCURRED NOT IN A TIME OF GLOBAL WARMING BUT IN A TIME OF GLOBAL COOLING DURING THE LITTLE ICE AGE.
RELATED POST ON THE LITTLE ICE AGE: LINK: https://tambonthongchai.com/2018/07/19/liaclimatologybibliography/
These kinds of climate activism in the media implies either that the media promoting the climate science case against fossil fuels does not actually understand what this case is; or that climate science is actually not science but anti fossil fuel activism that uses the appeal to science for credibility. However, as we see in this example, the case against fossil fuels presented by climate science is not credible.
ITEM#2:
THE USE IN THIS WAY BY THE GLOBAL NORTH OF THE POVERTY AND MISERY OF THE GLOBAL SOUTH THAT HAD NOTHING TO DO WITH THE CREATION OF ANTHROPOGENIC GLOBAL WARMING BY THE INDUSTRIAL REVOLUTION OF THE GLOBAL NORTH, TO SELL THE CLIMATE ACTION PRIORITY OF THE GLOBAL NORTH IS A GROTESQUE AND RACIST EXAMPLE OF HOW THE ESSENTIAL IDEA OF COLONIALISM, THAT THE GLOBAL SOUTH MUST ULTIMATELY SERVE THE NEEDS OF THE GLOBAL NORTH, HAS SURVIVED INTO THE MODERN WORLD IN THE FORM OF THE CLIMATE CHANGE MOVEMENT.
2 Responses to "A CLIMATE CHANGE HORROR IN BANGLADESH"