THIS POST IS A CRITICAL REVIEW OF MEDIA REPORTS THAT CLIMATE CHANGE ISN'T DONE DESTROYING CORAL REEFS AND THAT THE REEFS IN THE WESTERN INDIAN OCEAN HAVE BEEN TARGETED FOR DESTRUCTION.
LINK TO SOURCE: https://www.theguardian.com/environment/2021/dec/06/all-coral-reefs-in-western-indian-ocean-at-high-risk-of-collapse-next-50-years-global-heating-aoe
PART-1: WHAT THE SOURCE ARTICLE SAYS
All coral reefs in western Indian Ocean 'at high risk of collapse in next 50 years. Reefs from Seychelles to South Africa may become functionally extinct due to global heating and overfishing, study finds. Corals
off Mayotte, between Madagascar and Tanzania are bleached and that island reefs are threatened with destruction as water temperatures rise. This is the age of extinction. These extensive reef systems from Seychelles to Delagoa are at risk of becoming functionally extinct by the 2070s. Biodiversity will be lost. Hundreds of thousands of people will lose their food sources and livelyhoods with island nations particularly threatened. Reefs in Madagascar, the Comoros and Mascarene Islands are critically endangered. Reefs in island nations are HIGHLY threatened. The problem is rising water temperatures driven by global heating and the heating in turn causes coral bleaching when the coral expels its algae and turns white.
IT GOES ON AND ON WITH THE HORRORS OF CORAL BLEACHING BUT WHAT WE PRESENT ABOVE IS THE ESSENTIAL MESSAGE
PART-2: CRITICAL COMMENTARY
THE ESSENCE OF THE ARGUMENT HERE IS HUMAN CAUSE MEANING THAT THE CORALS ARE BEING DAMAGED BY GLOBAL WARMING AND THE GLOBAL WARMING IS CAUSED BY HUMANS AND SO THEREFORE THE CORALS ARE BEING DAMAGED BY THE HUMANS AND SO THEREFORE THE HUMANS CAN AND MUST SAVE THE CORAL FROM THE HORROR OF GLOBAL WARMING BLEACHING DESCRIBED SIMPLY BY TAKING CLIMATE ACTION AND THAT IMPLIES THAT WE MUST STOP BURNING FOSSIL FUELS.
HOWEVER, ALTHOUGH A LONG AND DETAILED DESCRIPTION OF THE HORROR OF GLOBAL WARMING FOR THE CORAL REEFS IS DESCRIBED IN GREAT DETAIL NO EVIDENCE IS PROVIDED AND NONE EXISTS THAT THE WARMING IS CAUSED BY HUMANS. WARMING AND COOLING CYCLES IN INTERGLACIALS ARE THE NORM AND NOT AN ANOMALY THAT REQUIRES EXPLANATION IN TERMS OF HUMAN CAUSE. WHAT'S MORE, THAT THE CURRENT WARMING CYCLE OF THE HOLOCENE HAPPENED TO BE PRECEDED BY THE INDUSTRIAL REVOLUTION IS NOT EMPIRICAL EVIDENCE OF CAUSATION.
THAT WE ARE IN A PERIOD OF GLOBAL WARMING AND THAT GLOBAL WARMING CAN HAVE HARMFUL IMPACTS ON NATURE ARE NOT THE ISSUE BECAUSE THEY DON'T IMPLY THE CLIMATE ACTION BEING DEMANDED BY THESE ARGUMENTS. THE GLOBAL WARMING ISSUE IS NOT THAT IT IS WARMING AND NOT THAT WARMING CAN HAVE HARMFUL IMPACTS. THE ONLY ISSUE IS HUMAN CAUSE AND WITHOUT EMPIRICAL EVIDENCE OF HUMAN CAUSE THERE IS NO BOTTOM LINE TO THESE SAD TALES OF THE HARMFUL IMPACTS OF GLOBAL WARMING EXCEPT THE OBSERVATION THAT NATURE CAN BE CRUEL AND OFTEN IS.
RELATED POST ON THE HUMAN CAUSE ISSUE: https://tambonthongchai.com/2021/11/09/the-issue-is-human-cause/
EXTRACT
LINK TO THE DETAILS: https://tambonthongchai.com/2021/11/09/the-issue-is-human-cause/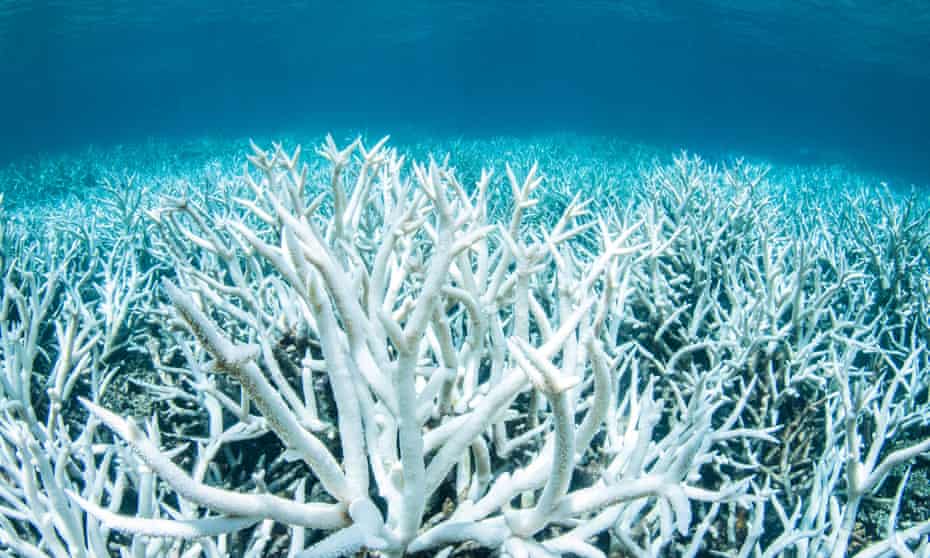 1 Response to "CORAL REEFS THREATENED BY CLIMATE CHANGE"