THIS POST IS A CRITICAL EVALUATION OF THE DETERMINATION BY CLIMATE SCIENCE THAT RISING ATMOSPHERIC CO2 IS A TOXIC TIME BOMB FOR CASSAVA AGRICULTURE BECAUSE HIGHER ATMOSPHERIC CO2 LEVELS CAUSE CASSAVA TO BECOME TOXIC.
LINK TO SOURCE: https://www.reuters.com/article/us-climate-crops-idUSTRE55S2KY20090629
PART-1: WHAT THE SOURCE ARTICLE SAYS
Crops face toxic timebomb in warmer world: By David Fogarty, Climate Change Correspondent, Asia, SINGAPORE (Reuters) – Staples such as cassava on which millions of people depend become more toxic and produce much smaller yields in a world with higher carbon dioxide levels and more drought, Australian scientists say.
A farm of El Charcote in the central state of Cojedes, Venezuela.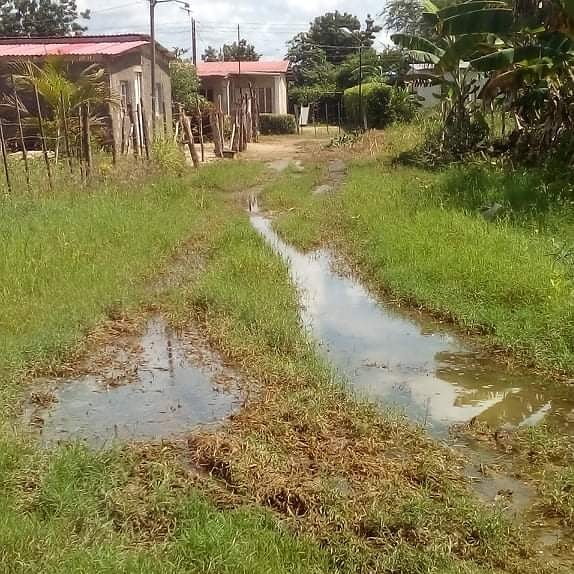 The findings, presented on Monday at a conference in Glasgow, Scotland, underscored the need to develop climate-change-resistant cultivars to feed rapidly growing human populations, said Ros Gleadow of the Monash University in Melbourne. Gleadow's team tested cassava and sorghum under a series of climate change scenarios, with particular focus on different CO2 levels, to study the effect on plant nutritional quality and yield. Both species belong to a group of plants that produce chemicals called cyanogenic glycosides, which break down to release poisonous cyanide gas if the leaves are crushed or chewed. Around 10 percent of all plants and 60 percent of crop species produce cyanogenic glycosides. The team grew cassava and sorghum at three different levels of CO2; just below today's current levels at about 360 parts per million in the atmosphere, at about 550 ppm and about double at 710 pm. Current levels in the air are just under 390 ppm, around the highest in at least 800,000 years and up by about a third since the start of the Industrial Revolution. "What we found was the amount of cyanide relative to the amount of protein increases," in cassava. At double current CO2 levels, the level of toxin was much higher while protein levels fell. The ability of people and herbivores, such as cattle, to break down the cyanide depends largely on eating sufficient protein. Anyone largely reliant on cassava for food, particularly during drought, would be especially at risk of cyanide poisoning. While it was possible to use processing techniques to reduce the level of toxin in the cassava leaves, it was the 50 percent or greater drop in the number of tubers that caused most concern, Gleadow said.About 750 million people in Africa, Asia and Latin America rely on cassava as a staple. The starchy tubers are used to make flour and the plant is ideal in dry regions because of its hardy nature. The good news was that the levels of toxin in the tuber didn't increase with CO2, unlike the edible leaves. "The downside of that is that we found the plant didn't grow nearly as well. There's been this common assumption that plants will always grow better in a high CO2 world. And we've now found that these plants grew much worse and had smaller tubers. At the 550 ppm level, the problem was not as serious and this meant scientists had a bit of breathing space. "We've got 20 to 30 years to develop cultivars, which is going to be absolutely essential because by then about 1 billion people will probably be reliant on cassava. Gleadow's group looked at a type of sorghum commonly fed to cattle in Australia and Africa and found it became less toxic at the highest CO2 level. But under drought conditions, leaf toxin levels rose. She said her team was looking at creating mutations to get rid of the toxin response to drought. "If we're going to adapt in the future to a world with twice today's CO2 we need to understand how plants are working, how they are responding and what cultivars we need to develop.
PART-2: CRITICAL COMMENTARY
IN A RELATED POST, WE DESCRIBE GREENHOUSE AGRICULTURE OPERATIONS WHERE CO2 LEVELS OF 1000 TO 2000 PPM ARE ROUTINELY USED.
LINK: https://tambonthongchai.com/2018/05/24/elevated-co2-and-crop-chemistry/
WE ALSO NOTE THAT A SIGNIFICANT PORTION OF THE WORLD'S CASAVA PRODUCTION IS CARRIED OUT IN GREENHOUSES. THAT 400PPM OF CO2 TURNS CASAVA INTO A TOXIC SUBSTANCE IS NOT CREDIBLE UNDER THESE CONDITIONS.
THE EXPERIMENTAL STUDY CITED TO SUPPORT SUCH CAUSATION NEEDS MORE CAREFUL ANALYSIS WITH THE DETAILS OF THE DATA INCLUDING DATA THAT MAY NOT HAVE BEEN TAKEN INTO CONSIDERATION PERHAPS AS A CONSEQUENCE OF A BIAS IN THE RESEARCH QUESTION THAT SEEKS NOT TO FIND THE REASON FOR TOXICITY BUT FOR WAYS TO RELATE TOXICITY TO CO2.
WE ALSO NOTE THAT THE DATA ARE EXCLUSIVELY FROM A TINY CORNER OF VENEZUELA. WITHOUT SOME GEOGRAPHICAL DIVERSIFICATION IN DATA COLLECTION, IT CANNOT BE ASSUMED THAT THE OBSERVED ANOMALIES ARE INDPENDENT OF GEOGRAPHY AND NOT A FEATURE OF LOCATION.
IT IS LIKELY THAT THE RESEARCH IN THIS CASE WAS NOT UNBIASED AND OBJECTIVE SCIENTIFIC INQUIRY BUT RATHER AN EFFORT TO FIND SOMETHING BAD ABOUT ATMOSPHERIC CO2 ON THE EVE OF COP26 IN GLASGOW.
IT IS NOTEWORTY THAT THIS RESEARCH WAS CARRIED OUT FOR A PRESENTATION TO BE MADE AT A CONFERENCE IN GLASGOW WHERE COP26 WILL BE HELD. THE FINDINGS REPORTED ARE NOT CREDIBLE IN LIGHT OF THE CULTIVATION OF CASAVA IN GREENHOUSES AND THE POSSIBLE ROLE OF GLASGOW AND COP26 IN MOTIVATING THE FINDINGS REPORTED..
BELOW WE PRESENT IMAGES OF CASAVA BEING GROWN IN GREENHOUSES.
LINK TO SOURCE: https://nextgencassava.wordpress.com/tag/cassava/
A FEATURE OF THE SCIENCE OF GLOBAL WARMING AND CLIMATE CHANGE IS THAT CO-OCCURRENCE IS OFTEN TAKEN AS EVIDENCE OF CAUSATION PARTICULARLY SO IF IT CAN BE RATIONALIZED IN TERMS OF THE THEORY THAT THE DATA ARE EXPECTED TO SUPPORT. THAT KIND OF RESEARCH CONTAINS CIRCULAR REASONING SUCH THAT CAUSATION ASSUMPTIONS ARE THOUGHT TO BE VERIFIED. HOWEVER, AS SEEN IN THE IMAGES BELOW PROVIDED BY TYLER VIGEN, CO-OCCURRENCE IS NOT EVIDENCE OF CAUSATION. IT MAY PROVIDE REASON TO INVESTIGATE WHETHER CAUSATION EXISTS IN THE RELATIONSHIP BUT IT DOES NOT SERVE AS EVIDENCE OF CAUSATION.
HUMAN CAUSE: THE REAL ISSUE HERE IS HUMAN CAUSE BECAUSE WITHOUT EVIDENCE OF HUMAN CAUSE OF THE WARMING TREND, WHATEVER IMPACTS THE WARMING MAY HAVE ARE ALL NATURAL.
LINK: https://tambonthongchai.com/2021/11/09/the-issue-is-human-cause/