THIS POST IS A CRITICAL REVIEW OF AN ARTICLE IN SCIENCE NEWS THAT DESCRIBES THE HORRIFIC IMPACT OF THE HIGHER TEMPERATURES OF GLOBAL WARMING ON HUMANS.
LINK TO SOURCE: https://www.sciencenews.org/article/extreme-heat-climate-change-human-behavior-aggression-equity
THE HORRIFIC EFFECTS OF THE HIGHER TEMPERATURES ON HUMANS LISTED IN THE SCIENCE NEWS ARTICLE ARE AS FOLLOWS.
HORRIFIC EFFECT #1: HEAT AND AGGRESSION:
Social psychologist Craig Anderson and colleagues showed undergraduates four video clips of couples engaged in dialog. One clip was neutral in tone, while the remaining three showed escalating tension between the duo. The undergraduate students watching the clips were each sitting in a room with the thermostat set to one of five different temperatures, ranging from a cool 14° C to a hot 36° C. The researchers then asked the students to score the couples' hostility level. Anderson found that students in uncomfortably warm rooms scored all the couples, even the neutral one, as more hostile than students in rooms with comfortable temperatures did. (Interestingly, students in uncomfortably cold rooms also scored the couples as more hostile.). Heat tends to make people more irritable and as a result, they tend to just perceive things as being more nasty when they're hot than when they're comfortable. Research suggests that such perceptions can give way to actual violence when people lack an escape hatch. But this "heat-aggression hypothesis" has been hard to demonstrate outside the lab because teasing out the effect of heat from other environmental or biological variables linked to aggression is tricky in the messy real world. Studies in the last few years, however, have started confirming the idea.
HORRIFIC EFFECT #2: FUELING CRIME:
A new study looking at crime data in Los Angeles from 2010 to 2017 shows that violent crime rises when temperatures exceed a pleasant 65° to 70° Fahrenheit as seen in the chart below. For instance, a July working paper out of the National Bureau of Economic Research studied inmates in Mississippi prisons and jails that lack air conditioning. They looked at rates of violence across 36 correctional facilities from January 1, 2004, to December 31, 2010. Overall, each facility averaged about 65 violent acts per year. But on days above around 27° C — which occur about just over 60 days per year — the probability of violence among inmates rose 18 percent. Though that doesn't seem that hot, most of those days of had an average maximum temperature of roughly 34° C; nor do those temperature readings account for Mississippi's high humidity. Moreover, many of the country's aging correctional facilities lack both air conditioning and proper ventilation, and temperatures inside the facilities often exceed temperatures outside. Politicians often frame providing inmates with air conditioning as a matter of comfort but at high temperatures it becomes a moral issue. Extrapolating from the Mississippi data, we find that heat generates an additional 4,000 violent acts each year in U.S. correctional facilities. Research also suggests that violence spikes with heat outside of prisons too. For instance, for the months May to September from 2010 to 2017, violent crime in Los Angeles was about 5.5 percent higher on warmer days. Violent crime was almost 10 percent higher on even hotter days.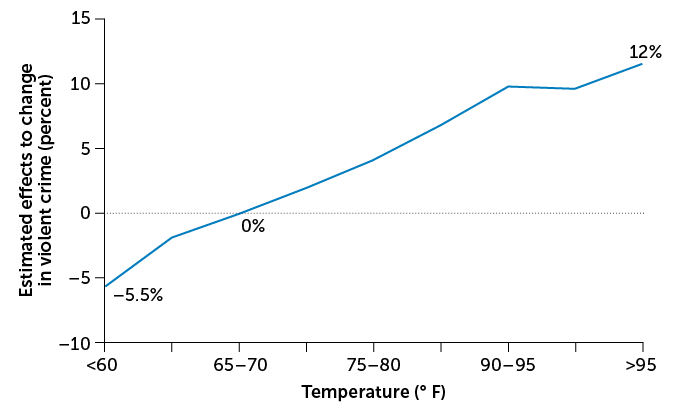 HORRIFIC EFFECT #3: HEAT AND PERFORMANCE:
The relationship between heat and human behavior extends well beyond violence. Consider students taking exams in hot school buildings. Students in New York City sitting for standardized subject-specific high school exams that each take about three hours and are administered at the student's home school for a two-week period at the end of June. Temperatures at that time can vary from 15° C to almost 37° C. Data for scores oa almost 1 million students and about 4.5 million exams from 1999 to 2011 show as follows. Students who take the exam on an approximately 32° C day are 10 percent less likely to pass a given subject than if they had taken that exam on a 24° C day. A study of how hot temperatures affect students' performance across the country was studied with the PSAT, a standardized exam administered to high schoolers in October that measures college readiness and provides a pathway to scholarships. The team evaluated 21 million scores from nearly 10 million students who took the exam at least twice from 1998 to 2012. The study found that student scores typically increase between the first time they take the exam and the second but even when the researchers factored in that rise, students in schools without air conditioning scored lower than would have been expected. What's more, Black and Hispanic students were more likely to attend school and test in hotter buildings than their white counterparts, and the researchers estimate that the resulting temperature differences explained 3 to 7 percent of the PSAT's racial achievement gap.That sort of performance decline doesn't just happen in academic settings; it extends to the workforce too. In the study of garment factories, researchers found that when temperatures climbed beyond 35° C, average daily production in weaving operations dropped by about 2 percent and garment sewing by as much as 8 percent, compared with days under 30° C. The researchers then scaled up to industries across India using national survey data. That analysis showed that productivity started dropping when average daily maximum temperatures rose above 20° C. The researchers' calculations suggest that average annual output will decrease by 2.1 percent if average daily temperatures warm by 1 degree C over current conditions; annual gross domestic product, or the value of goods and services produced in a single year, would drop by 3 percent.
CONCLUSION: GLOBAL WARMING MEANS HIGHER AND HIGHER TEMPERATURES AND THEREFORE OF HIGHER LEVELS OF AGGRESSION AND CRIME AND LOWER LEVELS OF PERFORMANCE OF THE HUMANS. OMG! OMG!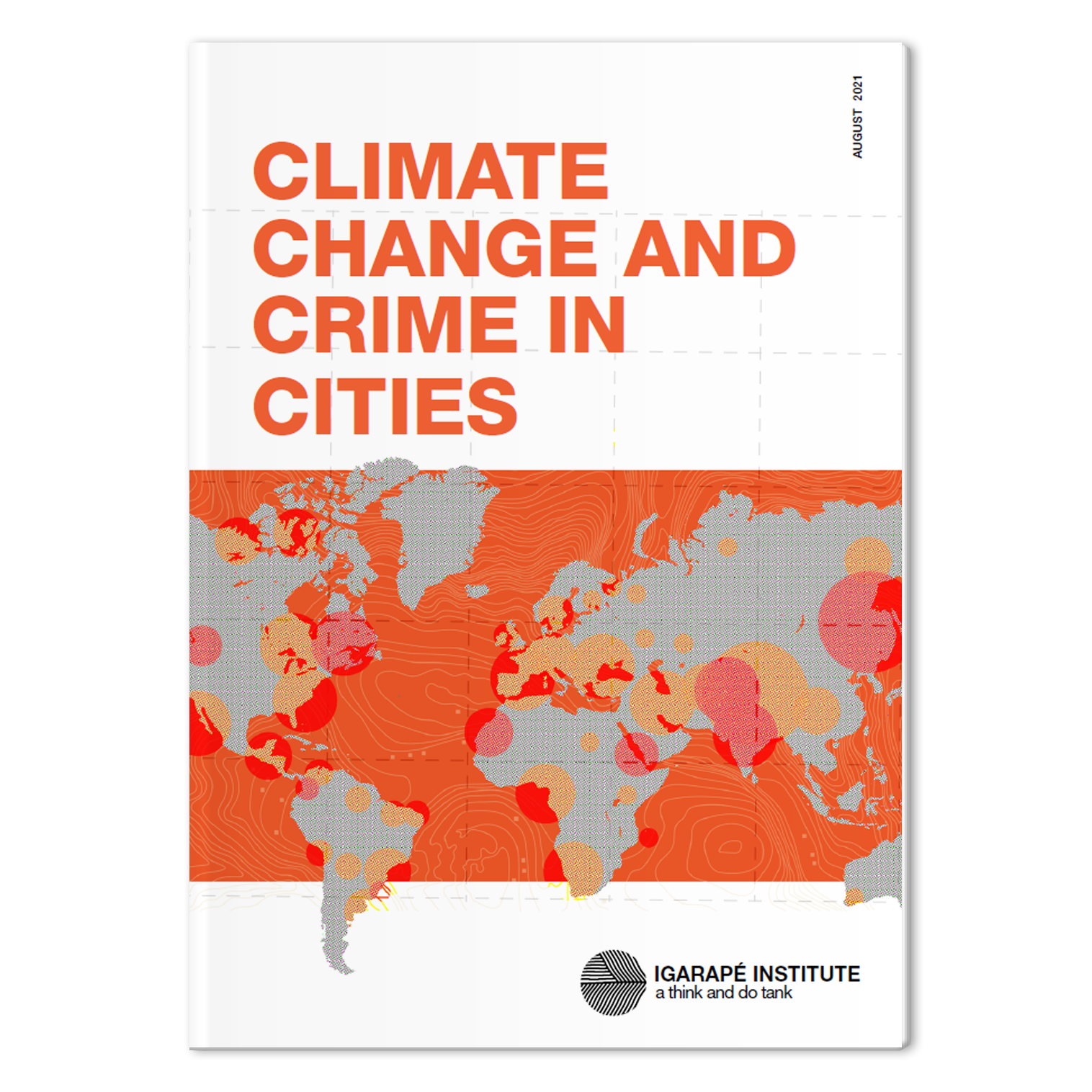 HUMAN CAUSE: THE REAL ISSUE HERE IS HUMAN CAUSE BECAUSE WITHOUT EVIDENCE OF HUMAN CAUSE OF THE WARMING TREND, WHATEVER IMPACTS THE WARMING MAY HAVE ARE ALL NATURAL.
LINK: https://tambonthongchai.com/2021/11/09/the-issue-is-human-cause/