The World Wide Fund, WWF, is an international non-governmental organization founded in 1961 that works in the field of wilderness preservation and the reduction of human impact on the environment. The WWF is also a fund raising organization that raised $276 in the year 2020 with their wilderness caretaker image and activity.
THE WWF POSITION ON CLIMATE CHANGE IS THAT CLIMATE CHANGE THREATENS WILDLIFE
Sea levels are rising and oceans are becoming warmer. Longer, more intense droughts threaten crops, wildlife and freshwater supplies. From polar bears in the Arctic to marine turtles off the coast of Africa, our planet's diversity of life is at risk from the changing climate. Climate change poses a fundamental threat to the places, species and people's livelihoods WWF works to protect. To adequately address this crisis we must urgently reduce carbon pollution and prepare for the consequences of global warming, which we are already experiencing. WWF works to: advance policies to fight climate change, engage with businesses to reduce carbon emissions, help people and nature adapt to a changing climate. Our world is changing faster than anyone predicted. Already, freshwater supplies are shrinking, agricultural yields are dropping, our forests are burning, and rising oceans are more acidic—all, in part, due to a warming climate. As our natural world changes around us, so does our way of life. Coastal home values drop as insurance premiums rise; drought reduces feed for American farmers' cattle and water for their crops; more pollen and dust in the air aggravates asthma and allergies in kids and adults alike. At WWF, we believe we can fight this consequential threat and build a safer, healthier and more resilient future for people and nature. We must rethink the way we produce and consume energy, food, and water; protect the world's forests; and help people prepare for a changing world. Achieving this future will require action by everyone, and we are already well on our way. People are using their collective voices to demand change. Businesses are making investments in clean energy, already creating local jobs and stronger economies. Communities are redesigning their roads, buildings, airports, and railroads to make them climate resilient. And nations around the world are committed to delivering on a landmark global plan to curb climate change, known as the Paris Agreement. For decades, WWF has engaged with millions of Americans, leading businesses, and government leaders to prepare for inevitable change and reduce the emissions that drive climate change.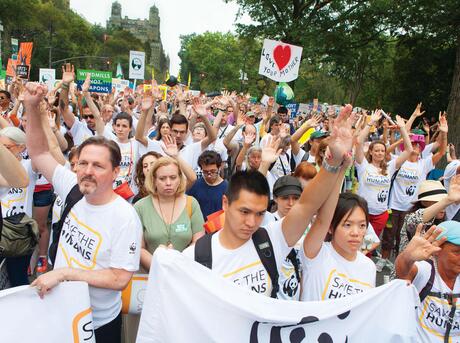 AS SEEN IN THE TEXT ABOVE, CLIMATE CHANGE PROVIDES YET ANOTHER IMAGINED THREAT TO WILDLIFE AND MORE SUPPORT FOR THE IDEA THAT WILDLIFE NEEDS HUMANS TO PROTECT THEM FROM HUMAN ACTIVITY AND THAT THEREFORE ORGANIZATIONS LIKE WWF NEED MORE RESOURCES AND THEREFORE MORE DONATIONS TO SAVE THE WILDLIFE FROM THE HUMANS SO MUCH MORE SO NOW THAT THE HUMANS HAVE UNLEASHED CLIMATE CHANGE UPON THE WILDLIFE. THE MORE DANGERS TO WILDLIFE THE WWF CAN FIND THE GREATER THEIR FINANCIAL GAIN. IN THAT CONTEXT, CLIMATE CHANGE IS A FINANCIAL GIFT TO ORGANIZATIONS LIKE THE WWF.
IT IS FOR THIS REASON THAT WHAT WE SEE IN THE ECO WACKO ENVIRONMENTALISM MOVEMENT IS THAT THEY HAVE ALL BOARDED THE CLIMATE TRAIN AND THEY HAVE ALL FOUND HORRIFIC IMPACTS OF CLIMATE CHANGE ON "THE ENVIRONMENT" AND THEY HAVE ALL TWISTED THEIR ENVIRONMENTALISM AGENDA AROUND CLIMATE CHANGE.
RELATED POSTS ON CLIMATE CHANGE ENVIRONMENTALISM
LINK: https://tambonthongchai.com/2010/09/15/fear-based-environmentalism/
LINK: https://tambonthongchai.com/2021/03/31/eco-wacko-climate-science/
LINK: https://tambonthongchai.com/2021/02/28/climate-change-environmentalism/
IN THIS CONTEXT, CLIMATE CHANGE IS A MAN MADE ECOLOGICAL CATASTROPHE FROM WHICH NATURE NEEDS TO BE SAVED BY ENVIRONMENTALISTS BECAUSE AS SEEN IN GENESIS AND IN THE BAMBI PRINCIPLE, THE HUMANS NOW SEE THEMSELVES NOT AS PART OF NATURE BUT AS THE MANAGERS AND CARETAKERS OF NATURE.
THE BAMBI PRINCIPLE
LINK: https://tambonthongchai.com/2020/11/15/the-bambi-principle/
ABSTRACT: The forest is presented as a kind of idealized human-free world where nature can frolic. Unless humans arrive, animals of all species live without fear in a "paradise" untouched by human hands where even owls have morphed into vegetarians. Here all interaction with humans, and only with humans, end in death or suffering. There is a complete separation of nature into two worlds – humans and humanless nature. The big issue in modern environmentalism is that it has been extended into the Anthropocene. It is described as a paradise lost where humans have seized control of nature and of the planet. This construct of environmentalism is one where Bambi played a role. The modern concept of an ecosystem is that it does not contain humans but that it must be managed by humans.
THAT HUMANS ARE THE MANAGERS AND CARETAKERS OF NATURE IS THE FUNDAMENTAL ASSUMPTION IN THIS KIND OF ENVIRONMENTLISM AND THIS IMAGE OF THE WORLD IS BIBLICAL. THIS IS WHY WE FIND BAMBI ENVIRONMENTALISM IN SOCIETIES WITH A CHRISTIANITY CULTURE
AND THIS IS WHY "THE ENVIRONMENTAL MOVEMENT IS SO DEEPLY AUTHORITARIAN AT ITS CORE WITH AN UNQUENCHABLE WILL TO POWER THAT CANNOT BE SATISFIED AND WILL NOT BE DENIED" ANNA HONACKER, LINK: https://journals.openedition.org/ejpap/2132
1 Response to "WWF CLIMATE CHANGE"