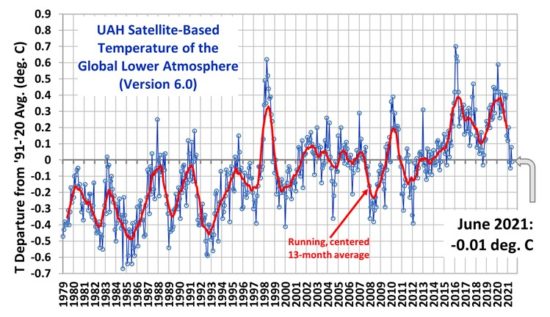 Global Surface Cooling Expected To Continue…Forecasters See Another La Nina In The Pipeline
By P Gosselin on 7. July 2021. Not long ago Dr. Roy Spencer published Version 6 University of Alabama-Huntsville satellite-based global average lower tropospheric temperature (LT) anomaly for June, 2021. It was -0.01 deg. C, down an impressive 0.7°C since the peak in early 2016. As Dr. Spencer's chart above shows, temperatures are back within the range seen 20 years ago. The question many of us have is what are global mean surface temperatures going to do over the coming year or so? We know that the mean global temperature is driven in large part by the oceanic surface temperature cycles, especially the ENSO. Two years of below neutral Nino 3.4 SST. Forecasting the ENSO can thus help us project what the global mean surface temperature will be like a year ahead. Normally there's a lag of about 8 months. Looking at the latest NCEP CFSv2 ENSO 3.4 sea surface temperature anomalies and the ensemble mean forecast.
ON A WELL KNOWN CLIMATE BLOG WE FIND THE CHART ABOVE OF UAH TEMPERATURES 1979 TO 2021 ALONG WITH A 13-MONTH MOVING AVERAGE IN RED. IT IS CLAIMED THAT WHAT THE CHART SHOWS IS THAT IN JUNE 2021 BOTH THE TEMPERATURE AND THE 13 MONTH MOVING AVERAGE TEMPERATURE HAD DROPPED AND THAT THEREFORE GLOBAL WARMING HAS FLIPPED INTO GLOBAL COOLING OR PERHAPS A HIATUS POSSIBLY DRIVEN BY THE ENSO CYCLE.
CRITICAL COMMENTARY
IN A RELATED POST: LINK: https://tambonthongchai.com/2021/01/11/global-warming-dec2020/ we show that long term warming trends are composed of decadal warming rates that show large variability between warming and cooling. Sample chart below for global mean temperature.
IN ANOTHER RELATED POST: LINK: https://tambonthongchai.com/2020/07/16/the-internal-variability-issue/ we show that the theory of anthropogenic global warming (AGW) refers only to long term trends of 30 years or more and that temperature and climate variability at shorter time scales should be understood as "internal climate variability" and these may not be interpreted in terms of AGW.
IN VIEW OF THE DATA PRESENTED IN THE TWO RELATED POSTS, WE PROPOSE THAT THE OBSERVED VARIABILITY IN THE RUNNING 13 MONTH AVERAGE TEMPERATURE DOES NOT HAVE AN AGW INTERPRETATION.
1 Response to "GLOBAL WARMING HIATUS?"