JENNIFER GRANHOLM ON FLORIDA CONDO COLLAPSE AND CLIMATE CHANGE
QUESTION:
In terms of climate change, we've been talking about what happened in Florida at the Surfside Condominium Building Collapse. We don't know exactly what happened at this point but given what we know about the changing climate, given that we have seen an increase in these extraordinary tides, and the impact that can have in areas like South Florida, do you think that climate could have played a role in that building's collapse?
JENNIFER GRANHOLM ANSWERS:
Well obviously we don't know fully but we do know the SEAS ARE RISING. We know that we're losing inches and inches of beaches, not just in Florida but all around uh you know, Michigan, where I'm from, you know we've seen a loss of beaches because the waters are rising. SO this is a phenomenon that will continue whether we have to wait to see what the analysis is for this building but the issue of resiliency and the issue of whether we adapt to this changing climate, that means levees need to be built that means sea walls need to be built that means infrastructure needs to be built. We need to make sure we invest enough in clearning out the forest?? so we don't have these weather events. We need to invest in hardening our transmission lines maybe burying wires so that we can protect areas that are like tinder box dry. There is so much investment that we need to do to protect ourselves from climate change but also to address it and mitigate it and hopefully this infrastructure built when taken together will make a huge step and allow America to lead again.
TRANSLATION: We don't have the analysis of the collapse to know what happened and whether climate change sea level rise and the possibility of its beach erosion played a role but since this incident happened in the climate change era we must assume that this building collapse was caused by climate change and that it happened because we failed to build the right kind of infrastructure to protect buildings like this from the impact of climate change by way of sea level rise and beach erosion. Therefore, the appropriate response by the USA is that we must build the right kind of infrastructure so that these things don't happen again and also to take climate action so that AMERICA CAN LEAD AGAIN. WHAT MATTERS HERE IS PROVIDES AN OPPORTUNITY FOR AMERICAN HEROISM IN THE CLIMATE CHANGE AFFAIR.
CONCLUSION:
(1): Even though we don't have the data or the data analysis to determine the cause of the condo collapse and whether climate change impacts such as sea level rise and beach erosion played a role in the collapse, the right thing to do is to assume that the building collapse was a a creation of climate change and therefore to spend billions of taxpayer funds to build infrasructure that we think will protect us from this kind of climate impact and to spend billions of taxpayer funds to take climate action and to show the world that America can lead again.
(2): This is what climate change alarmism has done to what used to be rational government in the USA way back in the days of Abraham Lincoln, Franklin D Roosevelt, George Washington, Theodore Roosevelt, Thomas Jefferson, Harry Truman, Woodrow Wilson, Dwight D Eisenhower, Andrew Jackson, and John F. Kennedy.
And this is what climate change has done to what science used to be way back in the days of Galileo, Keppler, Bacon, Descartes, Newton, and Einstein. The essence of the scientific method is to formulate a hypothesis for what we believe to be the truth of the matter and make its negation the null hypothesis and its affirmation the alternate hypothesis. Then we take data without bias and carry out a hypothesis test. If we can reject the null hypothesis then we have proven our hunch to be correct.
(3): But what we see in the modern climate change version of science is that a hunch is all we need.
HOW FAR THE TERMITES HAVE SPREAD AND HOW LONG AND WELL THEY HAVE DINED
RELATED POST: EPISODIC COASTAL FLOODING AND CLIMATE CHANGE
LINK: https://tambonthongchai.com/2020/07/31/episodic-coastal-flooding/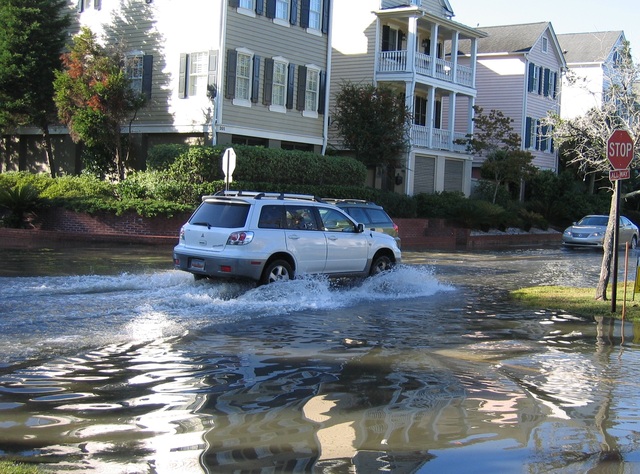 CLIMATE SCIENCE HAS GIVEN UP ON THE HORRIFIC SEA LEVEL RISE OF SEVERAL METERS THAT WILL KILL US ALL AS IN THE RE-CREATION OF THE 6 TO 9 METERS OF SEA LEVEL RISE IN THE EEMIAN INTERGLACIAL WHEN THE WEST ANTARCTIC ICE SHEET (WAIS) HAD COLLAPSED AT THE VERY ONSET OF THE EEMIAN INTERGLACIAL AS DESCRIBED IN A RELATED POST; LINK: [LINK] THE SEA LEVEL RISE FEAR HAS RETREATED TO EPISODIC COASTAL FLOODING OF CERTAIN LOW ELEVATION COASTAL REGIONS IDENTIFIED AS SEA LEVEL RISE HOTSPOTS. THESE COASTAL FLOODING EVENTS ARE PROJECTED TO OCCUR DURING HIGH TIDE OR STORM SURGES BUT NOT THE REST OF THE TIME.
THIS FORECAST IS FOR THE END OF THE CENTURY, ABOUT 79 YEARS FROM THE YEAR 2021, AND IT IS BASED ON THE MOST EXTREME OF ALL CLIMATE CHANGE FORECASTS IN THE NOW MOSTLY DISCREDITED RCP8.5 EMISSION SCENARIO. THIS FORECAST IS A FACE SAVING WAY OF THE HUMILIATING ADMISSION THAT THE KIND OF SEA LEVEL RISE THEY HAD BEEN SCARING US WITH ALL THIS TIME IS A FALSEHOOD JUST AS RCP8.5 IS.
SCIENCE IS A GOOD THING EXCEPT WHEN IT IS USED AS A TOOL OF FEAR BASED ACTIVISM.
HUMAN CAUSE: THE REAL ISSUE HERE IS HUMAN CAUSE BECAUSE WITHOUT EVIDENCE OF HUMAN CAUSE OF THE WARMING TREND, WHATEVER IMPACTS THE WARMING MAY HAVE ARE ALL NATURAL.
LINK: https://tambonthongchai.com/2021/11/09/the-issue-is-human-cause/
1 Response to "FLORIDA CONDO COLLAPSE CLIMATE CHANGE"