THIS POST IS A CRITICAL EVALUATION OF THE ANTHROPOCENE THEORY THAT IMPLIES AN OVERRIDING AND DESTRUCTIVE ROLE OF HUMANS IN NATURE THAT CREATES THINGS LIKE CLIMATE CHANGE, LOSS OF BIODIVERSITY, AND SPECIES EXTINCTIONS.
PART-1: PALEOLITHIC HUMANS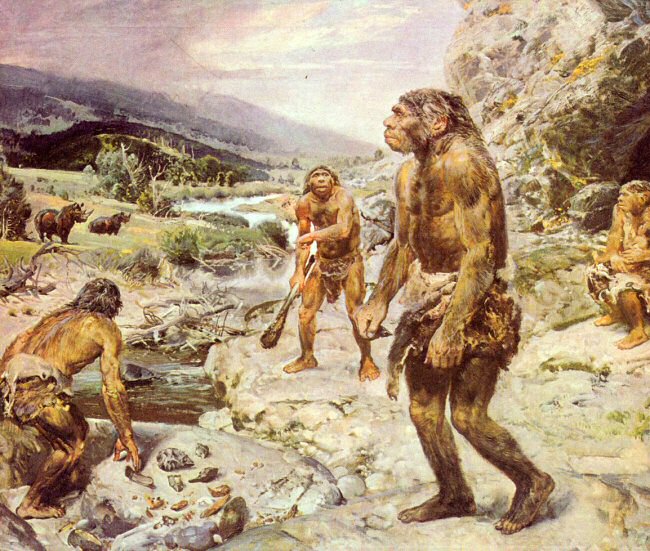 THE PALEOLITHIC ERA

;

IN THE PALEOLITHIC ERA, HUMANS WERE ANIMAL-LIKE HUNTER-GATHERERS THAT LIVED ISOLATED LIVES WITH THEIR FAMILIES IN CAVES AND HUNTED AND ATE OTHER ANIMALS INCLUDING OTHER HUMANS. THERE WAS NO HUMAN SOCIETY OR COMMUNITY EXCEPT FOR IMMEDIATE FAMILY WITHIN EACH CAVE.
THE NEOLITHIC ERA: IN THE NEOLITHIC ERA CREATED BY GLOBAL WARMING 8,000 YEARS AGO OR SO, HUMANS CAME OUT OF THEIR CAVES, CUT DOWN TREES, CLEARED THE FOREST, BUILT HOMES, AND STARTED FARMING AND RAISING FARM ANIMALS. THESE CHANGES LED TO FORMATION OF COMMUNITIES THAT IN TURN LED TO COOPERATION, TRADING, LANGUAGE, SOCIAL INTERACTION, THE FORMATION OF SOCIETIES, AND THE BIRTH OF HUMAN CIVILIZATION.
IN THIS SYSTEM, SOCIETIES WITH BETTER LAND MANAGEMENT AND FARMING TECHNOLOGY, MORE MUTUAL CARING AND AND COOPERATION AND BETTER CHILD REARING CONSTRAINED BY MONOGAMY HAD A HIGHER PROBABILITY OF SUCCESS IN TERMS OF SURVIVAL, PROSPERITY, AND GROWTH WHILE THOSE WITH LESS MUTUAL CARING AND MANAGEMENT AND HIGHER LEVELS OF CRIME, MURDER, AND CANNIBALISM DID NOT DO AS WELL.
AS A KIND OF NATURAL SELECTION, THE EVOLUTIONARY DYNAMICS OF HUMAN SOCIETY FAVORED "LOVE THY NEIGHBOR, MONOGAMY, AND CHILD CARE". IT IS THUS THAT OVER THOUSANDS OF YEARS WHAT WE HAVE CULTIVATED AND WHAT WE SEE TODAY IS THAT HUMANS HAVE BUILT MOSTLY CIVIL SOCIETIES WHERE THE RULES OF LIFE OFTEN INTERPRETED AS RELIGON HAVE BEEN CULTIVATED BY SOCIAL EVOLUTION.
HOWEVER, THESE RULES OF SOCIAL EVOLUTION HAVE NO RELEVANCE TO THE REST OF NATURE OUTSIDE OF THE HUMAN SPECIES ALTHOUGH THESE HUMAN VALUES ARE NOW SO DEEPLY EMBEDDED IN HUMANS THAT WE TEND TO IMAGINE OR EVEN ASSUME THAT THESE VALUES MUST ALSO APPLY TO THE REST OF NATURE AS SEEN FOR EXAMPLE IN THE BAMBI PRINCIPLE OF ENVIRONMENTALISM WHERE ANIMALS DON'T EAT EACH OTHER BUT LOVE AND RESPECT EACH OTHER AS WE HUMANS HAVE LEARNED TO DO AND THIS IS WHERE ENVIRONMENTALISM HAS LOST ITS WAY.
ENVIRONMENTALISM IS NOT A WAY FOR HUMANS TO TAKE CARE OF NATURE BUT A WAY FOR HUMANS TO TAKE CARE OF THEMSELVES BY MAKING SURE THAT THEIR ENVIRONS (SURROUNDINGS) ARE CONSISTENT WITH HUMAN WELFARE MEANING THAT ENVIRONMENTALISM SERVES HUMAN NEEDS AND NOT THE NEEDS OF NATURE.
THIS ESSENCE OF ENVIRONMENTALISM HAS BEEN CORRUPTED BY GENESIS WHERE HUMANS HAVE A SPECIAL RELATIONSHIP WITH GOD THAT GIVES THEM DOMINION OVER NATURE WITH THE IMPLICATION THAT WE ARE NATURE'S NANNIES AND CARETAKERS AND NOT PART OF NATURE. ENVIRONMENTALISTS ARGUE AGAINST THIS THESIS WITH THE ODD ARGUMENT THAT WE ARE PART OF NATURE BUT WE HAVE SUCH A LARGE ENVIRONMENTAL FOOTPRINT THAT WE MUST TAKE CARE OF NATURE.
THE ENVRONMENTALISM THAT HUMANS ARE THE LORDS OF THE WORLD AND THAT NATURE AND PERHAPS EVEN THE OCEAN AND THE CLIMATE AND THE PLANET ITSELF ARE AT OUR MERCY SURELY DERIVES FROM GENESIS BECAUSE IT IS FOUND ONLY IN SOCIETIES WITH A CHIRSTIANITY CULTURE. AND THIS IS WHY THE IDEA THAT HUMANS CAUSE CLIMATE CHANGE AND THEREBY THREATEN THE REST OF NATURE AND THE PLANET ITSELF MAKES SO MUCH SENSE TO THOSE WHO HAVE ALREADY SUBSCRIBED TO GENESIS. THIS IS WHY THE IMPOSSIBLE IDEA THAT WE NOW HOLD THE FATE OF THE PLANET IN OUR HANDS MAKES SO MUCH SENSE EVEN TO SCIENTISTS WHO WERE RAISED IN A BIBLICAL CULTURE.
THE TRUTH IS THAT GLOBAL WARMING CREATED HUMAN CIVILIZATION OUT OF HUMAN ANIMALS AND THAT WE ARE THOSE ANIMALS CIVILIZED BY GLOBAL WARMING THE CAUSE OF WHICH COULD NOT HAVE BEEN THE ANIMALS WE WERE WHEN THE WARMING HAD STARTED MORE THAN 8,000 YEARS AGO.
THE CURRENT WARMING PERIOD IS ONE OF MANY IN THIS INTERGLACIAL. THE PHENOMENON IN QUESTION THAT WE NEED TO UNDERSTAND IN THIS CONTEXT IS NOT THIS WARMING CYCLE OR THAT WARMING CYCLE OR THIS COOLING CYCLE OR THAT COOLING CYCLE. THE PHENOMENON IS THAT INTERGLACIALS, ALL INTERGLACIALS, NOT JUST THE HOLOCENE, ARE NOT AT A CONSTANT TEMPERATURE. ALL INTERGLACIALS GO THEOUGH CHAOTIC CYCLES OF WARMING AND COOLING ALWAYS AT MILLENNIAL AND CENTENNIAL TIME SCALES, THE SAME TIME SCALE AT WHICH CHAOTIC BEHAVIOR IS FOUND IN GLACIATION AND DEGLACIATION PERIODS.
THE SELECTION OF JUST ONE WARMING CYCLE IN JUST ONE INTERGLACIAL TO STUDY AND THEREBY TO EXPLAIN THIS PHENOMENON IS NOT CREDIBLE. HUMAN KNOWLEDGE AND SCIENCE HAVE ADVANCED BY LEAPS AND BOUNDS SINCE THE NEOLITHIC REVOLUTION THAT CREATED HUMAN CIVILIZATION BUT WHAT WE SEE IN THE CLAIMS OF CLIMATE SCIENCE, THAT THEIR STUDY OF A SINGLE WARMING CYCLE IN A SINGLE INTERGLACIAL EXPLAINS INTERGLACIAL TEMPEARATURE CYCLES, IS THAT THIS HUMAN CIVILIZATION HAS A LONG WAY TO GO TO MAKE OUR TRANSITION FROM RELIGION TO RATIONAL THOUGHT.
UNTIL THEN OUR OBSESSION WITH CLIMATE CHANGE HYSTERIA AND THE END OF THE WORLD WILL REMAIN OUR CURRENT RELIGIOUS OBSESSION. LINK https://tambonthongchai.com/2019/04/16/theend/
RELATED POST ON CLIMATE CHANGE RELIGION:
LINK: https://tambonthongchai.com/2021/10/11/anthropogenic-global-warming-in-a-post-modern-world/
5 Responses to "AN UNNATURAL WARMING OF THE UNNATURAL HUMANS"