THIS POST IS A CRITICAL EVALUATION OF THE PROPOSITION SEEN IN ONLINE CLIMATE CHANGE DISCUSSIONS THAT THE MOLECULAR WEIGHTS OF CO2, OXYGEN, AND NITROGEN ARE APPROXIMATELY 44, 16, AND 14 AND THAT THE RELATIVELY HIGH MOLECULAR WEIGHT AND MASS OF CO2 IMPLIES THAT CO2 IS TOO HEAVY TO BE A PART OF THE ATMOSPHERE AND THAT THEREFORE IT SHOULD JUST DROP TO THE GROUND; AND THAT THEREFORE THERE CAN BE NO WARMING EFFECT OF ATMOSPHERIC CO2.
RELATED WORK IN THE LITERATURE: SOURCE: Atmos. Chem. Phys., 17, 3861–3878, 2017 http://www.atmos-chem-phys.net/17/3861/2017/ doi:10.5194/acp-17-3861-2017
Abstract. In this study, we construct a new monthly zonal mean carbon dioxide (CO2) distribution from the upper troposphere to the stratosphere over the 2000–2010 time period. This reconstructed CO2 product is based on a Lagrangian backward trajectory model driven by ERA-Interim reanalysis meteorology and tropospheric CO2 measurements. Comparisons of our CO2 product to extratropical in situ measurements from aircraft transects and balloon profiles show remarkably good agreement. The main features of the CO2 distribution include (1) relatively large mixing ratios in the tropical stratosphere; (2) seasonal variability in the extratropics, with relatively high mixing ratios in the summer and autumn hemisphere in the 15–20 km altitude layer; and (3) decreasing mixing ratios with increasing altitude from the upper troposphere to the middle stratosphere (∼35 km). These features are consistent with expected variability due to the transport of long-lived trace gases by the stratospheric Brewer–Dobson circulation. The method used here to construct this CO2 product is unique from other modelling efforts and should be useful for model and satellite validation in the upper troposphere and stratosphere as a prior for inversion modelling and to analyse features of stratosphere– troposphere exchange as well as the stratospheric circulation and its variability.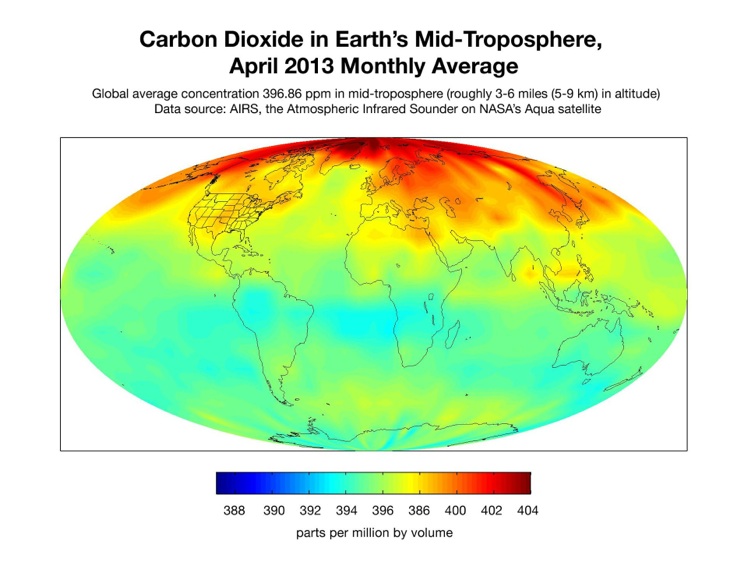 IN THE ANALYSIS OF THE PROPOSAL THAT CO2 IS TOO HEAVY TO HAVE A HEAT TRAPPING ROLE IN THE ATMOSPHERE, WE FIND THAT THE HIGHER MOLECULAR WEIGHT AND MASS OF CARBON DIOXIDE IMPLIES ONLY A VERTICAL PATTERN IN ITS CONCENTRATION FROM THE SURFACE TO 3,000 METERS ABOVE GIVE OR TAKE WITH THE TREND HIGHER IN THE ATMOSPHERE AT UNDETECTABLE LEVELS. IT IS TRUE THAT THE MOLECULAR WEIGHT ISSUE HAS AN EFFECT ON CO2 DISTRIBUTION IN THE ATMOSPHERE BUT NO EVIDENCE IS FOUND THAT THIS EFFECT MAKES THE HEAT TRAPPING EFFECT OF CARBON DIOXIDE IRRELEVANT IN THE CLIMATE CHANGE CONTEXT.