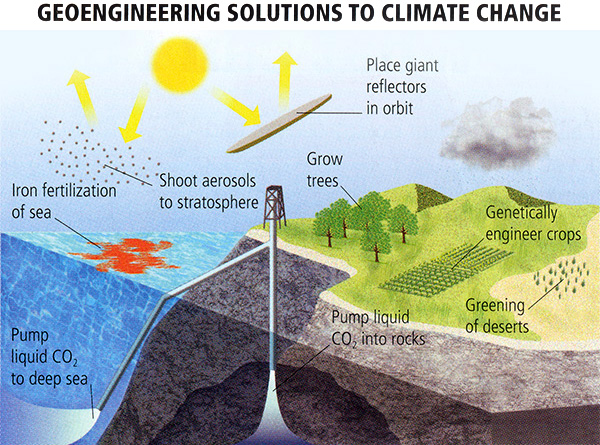 THIS POST IS A PRESENTATION OF GEOENGINEERING NOT AS A FORM OF CLIMATE ACTION BUT AS A RESPONSE TO THE CLIMATE CHANGE FEAROLOGY THAT IF THE WARMING SINCE PRE-INDUSTRIAL EXCEEDS 1.5C OR 2C, GLOBAL WARMING WILL BECOME IRREVERSIBLE BECAUSE THE WARMING WILL ACCELERATE WITH NATURAL FEEDBACKS AND WILL NO LONGER BE CONTROLLABLE BY CUTTING FOSSIL FUEL EMISSIONS.
This essential feature of climate change fearology to push their activism against fossil fuels is explained in this online document published by the World Economic Forum: LINK: https://www.weforum.org/agenda/2021/01/global-warming-threshold-reached-by-2027/
The threshold for dangerous global warming will likely be crossed between 2027 and 2042, research indicates. That's a much narrower window than the Intergovernmental Panel on Climate Change's estimate of between now and 2052. In a study published in Climate Dynamics, researchers introduce a new and more precise way to project the Earth's temperature. Based on historical data, it considerably reduces uncertainties compared to previous approaches. Scientists have been making projections of future global warming using climate models for decades. These models play an important role in understanding the Earth's climate and how it will likely change. But how accurate are they? Climate models are mathematical simulations of different factors that interact to affect Earth's climate, such as the atmosphere, ocean, ice, land surface, and the sun. While they are based on the best understanding of the Earth's systems available, when it comes to forecasting the future, uncertainties remain.
In this and similar assessments by the IPCC and climate science publications we find that if the amount of warming since pre-industrial exceeds a threshold, natural feebacks will take over and climate change will become irreversible. See for example;
Solomon, Susan, et al. "Irreversible climate change due to carbon dioxide emissions." Proceedings of the national academy of sciences 106.6 (2009): 1704-1709.
Allen, Myles R., et al. "Warming caused by cumulative carbon emissions towards the trillionth tonne." Nature 458.7242 (2009): 1163-1166.
Matthews, H. Damon, and Ken Caldeira. "Stabilizing climate requires near‐zero emissions." Geophysical research letters 35.4 (2008).
Meinshausen, Malte, et al. "Greenhouse-gas emission targets for limiting global warming to 2 C." Nature 458.7242 (2009): 1158-1162.
See also: When nature harms itself: Five scary climate feedback loops: LINK: https://www.dw.com/en/when-nature-harms-itself-five-scary-climate-feedback-loops/a-43649814
As noted in the related post on geo-engineering, climate scientists are firmly opposed to geoengineering saying for example that geo-engineering by any given nation may harm its neighboring countries and lead to war; and the more logical critique that geoengineering technology still does not have a post implementation control system so that for example if it is too cold we can't tweek the temperature once the system is implemented.
As noted in the related post on geoengineering LINK: https://tambonthongchai.com/2020/08/28/geo-engineering-climate-change/ , the position taken by climate science against geoengineering is also rooted in the underlying activism against fossil fuels and in fact it is the geo-engineering issue that exposes this aspect of climate science where not just the horror of climate change impacts but also the unacceptability of fossil fuel technology and pro-renewable energy bias play important roles in an activism that is more complicated than simply rising temperatures and its possible impacts. This issue is discussed in some detail in another related post on this site; LINK: https://tambonthongchai.com/2020/03/23/anti-fossil-fuel-activism-disguised-as-climate-science/
IN THIS POST WE PROPOSE AN ALTERNATIVE SCENARIO FOR GEO-ENGINEERING THAT MAY BE MORE ACCEPTABLE TO CLIMATE SCIENCE GIVEN THE COMPLEXITIES NOTED ABOVE.
Here we note that that the call to climate action by climate science of moving the world's energy infrastrucure from fossil fuels to renewables is proposed as the only solution and that the push is reinforced by the forecast that if climate action is not taken, rising global mean surface temperature (GMST) will take us to a temperature that will activiate natural feedback warmings that are beyond our control and that therefore once this feedback system is activated it will be a horrific end of the world of some kind described in various ways as the collapse of human civilization to the collapse of the life on earth and perhaps to the destruction of the planet itself.
We also note that as noted initially by climate science and the UN, the climate action needed and the climate action sought is a coordinated global response as in the Montreal Protocol. That effort failed and the failure of the UN to put together a global climate action plan has led to both the UN and climate science activism to call for climate heroism of nation states with the claim that if nation states show "ambition" we can still achieve climate action without a coordinated global climate action compact as in the Montreal Protocol. A further corruption of the original definition of global climate action is the so called "Net Zero" climate action plan of nation states where fossil fuels are not eliminated but the remaining fossil fuel emissions of the Net Zero climate action nation are offset with investment in things like planting grees that removes CO2 from the atmosphere.
However, we have shown in related posts that climate action under these conditions will not and does not work and these "ambition" and "net zero" climate action plan will not reduce global fossil fuel emissions. Details of this argument are provided in these related posts on this site:
LINK#1: https://tambonthongchai.com/2020/05/22/climate-catch22/
LINK#2: https://tambonthongchai.com/2021/02/23/renewable-energy-statistics/
LINK#3: https://tambonthongchai.com/2020/02/25/net-zero/
On this basis we propose that the initial climate action plan of globally coordinated zero emissions (not net zero but real zero), has failed.
Climate science and the UN may or may not be able to revive that plan. The failure to revive that plan will mean a failure of climate action – a condition under which climate acience has forecast the the uncontrollable natural feedback warming and its destruction of the world as we know it.
This is a condition under which Bill Gates has proposed that we must be open-minded when it comes to accepting new technologies aimed at combating climate change and open to ideas that seem wild.
In that spirit we propose that climate change must take another look at geoengineering not necessarily as a substitute for climate action but with the realistic assessment of the failure of global climate action against global fossil fuel emissions.
This failure means that we must have a strong geoengineering plan on standby ready for implementation when it becomes clear that natural feedback loops have taken over and that climate change is no longer controllable by taking action against fossil fuels or by moving to renewable energy. The WILD option of rapid geoengineering implementation should therefore be on hand and ready for rapid implementation.
WE FURTHER NOTE THAT ONCE THIS WILD OPTION IS ON HAND THE NATURAL FEEDBACK OUT OF CONTROL CLIMATE CHANGE WILL NO LONGER BE OUT OF CONTROL.
THEREFORE:
CLIMATE SCIENCE WILL NO LONGER HAVE TO FEAR THE NATURAL FEEDBACK OUT OF CONTROL CLIMATE CHANGE AND IT CAN THEREFORE CANCEL ITS FAILED CLIMATE ACTION AGENDA AGAINST FOSSIL FUELS.
QED:
2 Responses to "CLIMATE FEAROLOGY VS GEOENGINEERING"