THIS POST IS A CRITICAL REVIEW OF A ARTICLE IN THE DAILY EXPRESS ON WAYS IN WHICH GREAT BRITAIN CAN LEAD THE WORLD IN A GREEN REVOLUTION AND SAVE THE PLANET FROM CLIMATE CHANGE. LINK: https://www.express.co.uk/news/nature/1394714/green-britain-campaign-five-key-aims-climate-change-wildlife-electric-cars
PART-1: WHAT THE EXPRESS ARTICLE SAYS
Five ways Britain can lead the world in a green revolution: BRITAIN is leading the green industrial revolution that will rein in climate change and create hundreds of thousands of jobs. The Government has ambitious plans to invest billions more into the renewable sector, putting the country on the path to being the green envy of the world. But here are five ways the country could go even further in tackling the climate crisis.
(1) Increase support for renewable energy, solar panels and electric cars. The Government has set out plans to Build Back Greener by making the UK the world leader in clean wind energy – creating jobs, slashing carbon emissions and boosting exports. Consumers could be encouraged to switch to greener alternatives by receiving more benefits and cost-cutting incentives.
(2) Expand the blue belt of marine protected areas and enforce the rules. The Government needs to commit to increasing the number of marine areas currently protected and enforce no-fishing rules. Nature: The UK must invest in the protection and enhancement of the natural environment.
(3) Enforce better clean air standards that meet World Health Organisation guidelines. Britain's leaders can work to reduce air pollution from traffic and buildings, and take action when air pollution exceeds World Health Organisation (WHO) guidelines. Campaigners have called on Prime Minister Boris Johnson to commit to the clean air targets by 2030, following the death of Ella Kissi-Debrah, nine, from air pollution.
(4) Speed up the roll out of charge points for electric vehicles. The UK will need 400,000 public chargers by 2030, up from 35,000 currently. There is a risk of "charging blackspots" in small towns and rural areas unless the rollout speeds up.
(5) Give the Environment Agency and Natural England a funding boost to monitor and protect wildlife. The UK must invest in the protection and enhancement of the natural environment, which is crucial for national prosperity and wellbeing. A boost in funding could also lead to increased green social prescribing services to help improve mental health outcomes and reduce health inequalities.
PART-2: CRITICAL COMMENTARY
(1) THE ANTHROPOGENIC GLOBAL WARMING (AGW) ISSUE HAS NOTHING TO DO WITH BEING GREEN OR GREEN REVOLUTIONS OR TAKING CARE OF NATURE OR BEING NICE TO BAMBI.
(2) THE ISSUE IS SIMPLY THAT HUMANS AROUND THE WORLD, NOT JUST IN BRITAIN, HAVE BEEN EXTRACTING FOSSIL FUELS FROM UNDER THE GROUND WHERE THEY HAD BEEN SEQUESTERED FROM THE ATMOSPHERE AND THE CARBON CYCLE FOR MILLIONS OF YEARS, AND BURNING THOSE FOSSIL FUELS IN THE OPEN AIR SUCH THAT THE COMBUSTION CO2 IS RELEASED INTO THE ATMOSPHERE. THE PROBLEM IS THAT THE VERY OLD FOSSIL CARBON IN THE CO2 RELEASED IS UNNATURAL IN THE SENSE THAT IT IS NOT PART OF THE CURRENT ACCOUNT OF THE CARBON CYCLE. THE RESULT IS THAT THE CO2 OF FOSSIL FUEL COMBUSTION CAUSES ATMOSPHERIC CO2 TO RISE.
(3) THIS ARTIFICIAL RISE IN ATMOSPHERIC CO2 RAISES GLOBAL MEAN SURFACE TEMPERATURE (GMST) BY WAY OF THE GREENHOUSE EFFECT; AND AS WE BURN FOSSIL FUELS YEAR AFTER YEAR, THE HIGHER AND HIGHER ATMOSPHERIC CO2 CAUSES HIGHER AND HIGHER GMST. THE SEQUENCE OF HIGHER AND HIGHER GMST IS UNDERSTOOD AS GLOBAL WARMING; AND BECAUSE IT IS CAUSED BY HUMANS BURNING FOSSIL FUELS IT IS AN ARTIFICIAL WARMING TREND IMPOSED BY HUMAN ACTIVITY DESCRIBED AS ANTHROPOGENIC GLOBAL WARMING OR AGW.
(4) CLIMATE SCIENTISTS HAVE DETERMINED THAT THIS ARTIFICIAL WARMING CANNOT BE ALLOWED TO CONTINUE BECAUSE SUCH AN ARTIFICIAL PERTURBATION OF THE CLIMATE SYSTEM CAN HAVE DANGEROUS CONSEQUENCES EXPECIALLY IF THE CLIMATE SYSTEM GOES OUT OF CONTROL WITH ACTIVATION OF NATURAL FEEDBACKS. CLIMATE SCIENTISTS SAY THAT IT IS THEREFORE IMPERATIVE THAT WE STOP BURNING FOSSIL FUELS SO THAT ATMOSPHERIC CO2 WILL STOP RISING. THIS REQUIRED ACTION IS CALLED CLIMATE ACTION AND BECAUSE GLOBAL WARMING IS A GLOBAL ISSUE CLIMATE ACTION MUST ALSO BE GLOBAL.
(5) THE GLOBAL NATURE OF THE CLIMATE CHANGE PROBLEM AND THE REQUIRED GLOBAL RESPONSE OF CLIMATE ACTION MAKES IT IMPOSSIBLE TO UNDERSTAND CLIMATE ACTION AS A NATIONAL ISSUE. A GLOBAL PROBLEM REQUIRES A GLOBAL RESPONSE. THIS IS WHY THE UNITED NATIONS WAS BROUGHT IN TO PUT TOGETHER A GLOBAL CLIMATE ACTION PROGRAM. THEY FAILED TO DO THAT AND ARE NOW ACTING LIKE CHEER LEADERS ASKING NATION STATES TO HAVE "AMBITION". SADLY, NO AMOUNT OF AMBITION FROM ANY NATION STATE WILL CREATE THE DECLINE IN GLOBAL FOSSIL FUEL EMISSIONS NEEDED. AS DESCRIBED IN A RELATED POST, GLOBAL WARMING IS A GLOBAL ISSUE THAT CAN ONLY BE ADDRESSED WITH A GLOBAL RESPONSE. THERE IS NO OPPORTUNITY HERE FOR AMBITION OR HEROISM BY INDIVIDUAL NATION STATES.
(6) IN THIS AGW CONTEXT, THE CALL TO CLIMATE ACTION AMBITION BY THE UK IN TERMS OF THINGS LIKE "LEADING THE GREEN INDUSTRIAL REVOLUTION" IS POINTLESS HEROISM OR CHEERLEADING THAT SOUNDS A LITTLE TOO MUCH LIKE THE UN BUREAUCRATS WHO, HAVING FAILED TO PUT TOGETHER A GLOBAL FOSSIL FUEL EMISSION REDUCTION CONTRACT ARE ALSO CALLING FOR NATIONAL HEROISM BY INDIVIDUAL COUNTRIES IN CLIMATE ACTION. THIS IS NOT POSSIBLE. AGW IS A GLOBAL PROBLEM THAT CAN BE ADDRESSED ONLY BY GLOBAL CLIMATE ACTION. THE ONLY ROLE FOR THE UN IS A GLOBAL EMISSION REDUCTION CONTRACT. THEY HAVE FAILED AND ARE NOW CALLING FOR AMBITION IN THE IMPOSSIBILITY OF SUBSITUTING CHEERLEADING FOR A FAILED GLOBAL CLIMATE CONTRACT.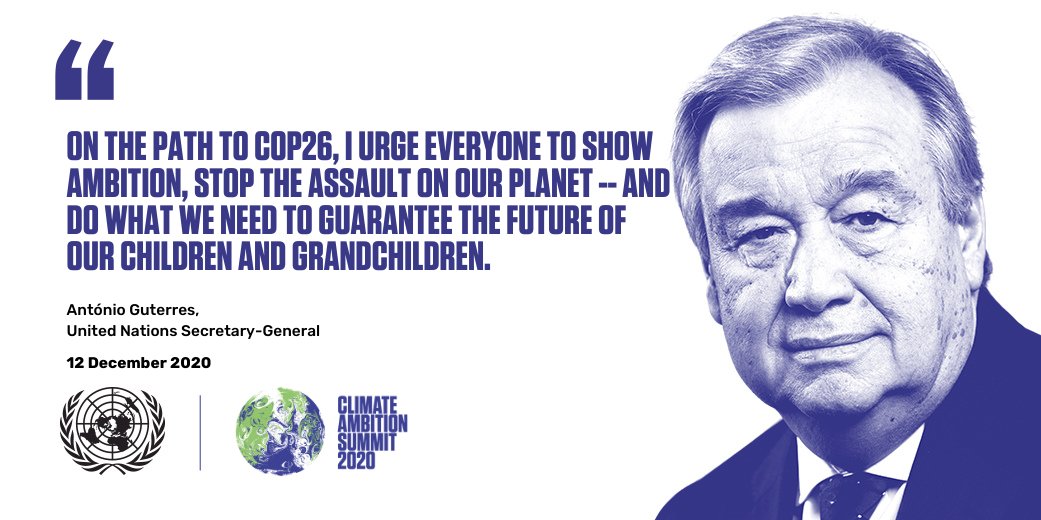 MORE IN A RELATED POST ON THIS SITE: LINK: https://tambonthongchai.com/2020/05/22/climate-catch22/
WHAT WE SHOULD TELL THESE GUYS IN GLASGOW IS THAT THEY ARE FIRED. IF ALL WE NEED IS AMBITION AND IF WE DON'T NEED A GLOBAL CONTRACT THEN WE DON'T NEED THE UN.