THIS POST IS A CRITICAL REVIEW OF AN ARTICLE BY DOWNTOEARTH.ORG FORECASTING A BREACH OF THE IPCC 2018 CRITICAL WARMING OF 1.5C SINCE PRE-INDUSTRIAL MUCH SOONER THAN THE IPCC FORECAST WITH THE NEW FORECAST OF 2027-2042, COMPARED WITH THE IPCC FORECAST OF 2052.
PART-1: WHAT THE DOWNTOEARTH.ORG ARTICLE SAYS
The world will heat up more than it can take much earlier than anticipated, a group of researchers said. The planet will breach the threshold of 1.5 degrees Celsius above pre-industrial levels between 2027 and 2042, they said. The United Nations Intergovernmental Panel on Climate Change (IPCC) had estimated that breach to occur between now and 2052. Researchers from McGill University, however, claimed to have introduced a more precise way to project the Earth's temperature based on historical climate data instead of theoretical relationships, thereby increasing scope for more accurate calculations as well as predictions. The study was published in Climate Dynamics December 18, 2020, according to which prediction model deployed reduced uncertainties by half compared to the approach used by the IPCC. The IPCC uses the General Circulation Models (GCM) to express wide ranges in overall temperature projections. This makes it difficult to circle outcomes in different climate mitigation scenarios. For example, an IPCC model would predict a temperature increase of a massive range — between 1.9oC and 4.5oC — if carbon dioxide in the atmosphere is doubled. Climate models are mathematical simulations of different factors that interact to affect Earth's climate, such as the atmosphere, ocean, ice, land surface and the sun. The data is tricky, and predictions can more often than not be inaccurate. "Our approach allows climate sensitivity and its uncertainty to be estimated from direct observations with few assumptions," said co-author Raphaël Hébert, a former graduate researcher at McGill University. The researchers also found that expected warming was a little lower in this period by about 10 to 15 per cent. Climate sceptics have argued that global warming projections are unreliable because they depend on faulty supercomputer models. While these criticisms are unwarranted, they underscore the need for independent and different approaches to predicting future warming," said co-author Bruno Tremblay, a professor in the Department of Atmospheric and Oceanic Sciences at McGill University. Shaun Lovejoy, professor in the Physics Department at McGill University said world leaders must stop claiming that their government's weak policies could avert climate change.
PART-2: WHAT THE CITED RESEARCH PAPER SAYS
CITATION: Hébert, Raphaël, Shaun Lovejoy, and Bruno Tremblay. "An observation-based scaling model for climate sensitivity estimates and global projections to 2100." Climate Dynamics (2020): 1-25. ABSTRACT: We directly exploit the stochasticity of the internal variability, and the linearity of the forced response to make global temperature projections based on historical data and a Green's function, or Climate Response Function (CRF). To make the problem tractable, we take advantage of the temporal scaling symmetry to define a scaling CRF characterized by the scaling exponent H, which controls the long-range memory of the climate, i.e. how fast the system tends toward a steady-state, and an inner scale τ≈2τ≈2 years below which the higher-frequency response is smoothed out. An aerosol scaling factor and a non-linear volcanic damping exponent were introduced to account for the large uncertainty in these forcings. We estimate the model and forcing parameters by Bayesian inference which allows us to analytically calculate the transient climate response and the equilibrium climate sensitivity as: 1.7+0.3−0.21.7−0.2+0.3 K and 2.4+1.3−0.62.4−0.6+1.3 K respectively (likely range). Projections to 2100 according to the RCP 2.6, 4.5 and 8.5 scenarios yield warmings with respect to 1880–1910 of: 1.5+0.4−0.2K1.5−0.2+0.4K, 2.3+0.7−0.52.3−0.5+0.7 K and 4.2+1.3−0.94.2−0.9+1.3 K. These projection estimates are lower than the ones based on a Coupled Model Intercomparison Project phase 5 multi-model ensemble; more importantly, their uncertainties are smaller and only depend on historical temperature and forcing series. The key uncertainty is due to aerosol forcings; we find a modern (2005) forcing value of [−1.0,−0.3]Wm−2[−1.0,−0.3]Wm−2 (90 % confidence interval) with median at −0.7Wm−2−0.7Wm−2. Projecting to 2100, we find that to keep the warming below 1.5 K, future emissions must undergo cuts similar to RCP 2.6 for which the probability to remain under 1.5 K is 48 %. RCP 4.5 and RCP 8.5-like futures overshoot with very high probability.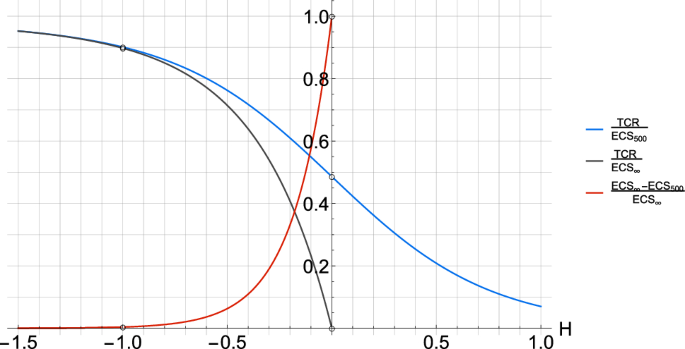 THE FULL TEXT PDF OF THIS PAPER
The full text of the paper is available online: https://link.springer.com/article/10.1007/s00382-020-05521-x
It has also been made available at this site in pdf format. The link for the pdf download is provided below. Warning: clicking on this link will cause a large pdf file to be downloaded to your device.
PART-3: CRITICAL COMMENTARY
As seen in the image above labeled THE ANALYTICAL RELATIONSHIP BETWEEN TCR AND ECS, the authors of Hebert etal 2020 have determined that neither the ECS (climate sensitivity) nor the TCR (transient climate response) by itself is a sufficiently accurate measure for the rate of anthropogenic global warming caused by fossil fuel emissions. In determining the rate of warming for any given RCP scenario, they have departed from standard climate science and constructed their own unique theory and mathematical relationship between an RCP emissions scenario and the rate of warming. Among other things, this construction involves a mathematical combination of the TCRE and ECS parameters into a single unique relationship between any RCP emissions scenario and the corresponding rate of warming caused by the emissions in that RCP scenario.
In this context, we refer to a related post on this site: LINK: https://tambonthongchai.com/2020/08/26/a-mathematical-inconsistency/ . There we argue that ECS is a logarithmic relationship between atmospheric CO2 concentration and temperature where temperature is proportional to the logarithm of atmospheric CO2 concentration. Since atmospheric CO2 concentration is a creation of cumulative emissions in a linear relationship, surface temperature is a logarithmic function of cumulative emissions. But in the TCRE, surface temperature is a linear function of cumulative emissions. Therefore the ECS and the TCRE are mathematically inconsistent. A proposed theory of AGW that relates warming to fossil fuel emissions must decide whether this relationship is linear or logarithmic because it can't be both. Yet this is what we see in Hebert etal 2020 where a combination of the TCRE and ECS parameters is used to construct the relationship between emissions and warming used in the analysis.
An added consideration is a statistical flaw in the TCRE shown in the video above and described in a related post LINK: https://tambonthongchai.com/2018/05/06/tcre/ . Briefly, a time series of the cumulative values of another time series contains neither time scale not degrees of freedom and therefore it does not contain useful information. An added consideration is that, as shown in the related post, the correlation between temperature and cumulative emissions derives not from causation but from a sign pattern where annual emissions are always positive and in a time of warming, the annual warming data are mostly positive. A demonstration of this relationship is shown in yet another related post where we show that any variable that contains only positive values works just as well as fossil fuel emissions: LINK: https://tambonthongchai.com/2018/12/03/tcruparody/
WE CONCLUDE FROM THE AGRGUMENTS PRESENTED ABOVE THAT THE HEBERT ETAL 2020 PAPER IS NOT CREDIBLE AND THAT IT DOES NOT PRESENT A SERIOUS CHALLENGE TO THE WORK OF THE IPCC AND ITS FORECAST OF 1.5C OF WARMING SINCE PRE-INDUSTRIAL BY THE YEAR 2052.