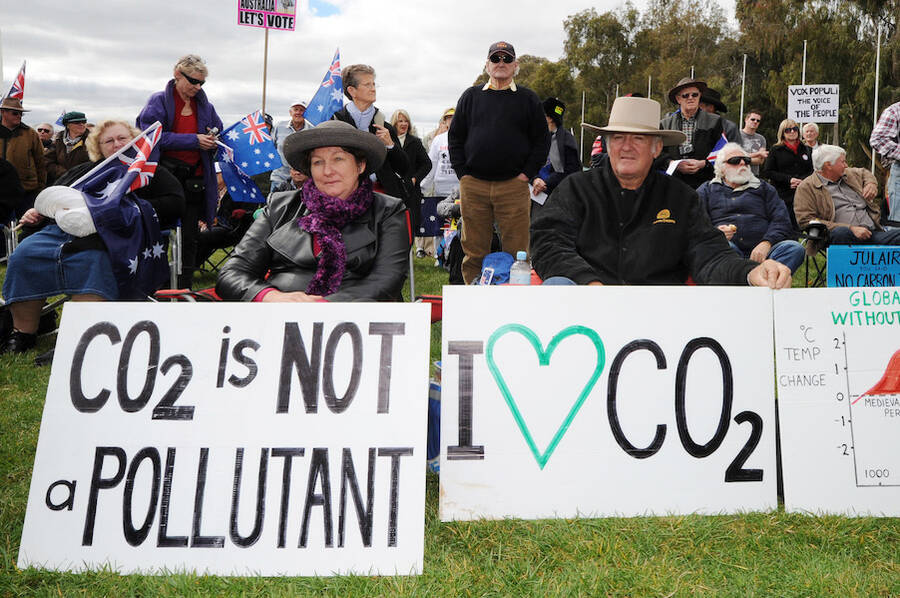 A HISTORY OF SCIENCE DENIAL
PART-1; CLIMATE SCIENCE
The world's first paper on anthropogenic global warming [AGW] was published in 1938 by Guy Callendar. The paper is described in detail in a related post on this site LINK: https://tambonthongchai.com/2018/06/29/peer-review-comments-on-callendar-1938/ . The paper says that the world has warmed steadily from 1900 to 1938 and at the same time, since 1900, atmospheric CO2 concentration has been steadily rising while the industrial revolution has been burning huge quantities of coal. The paper proposes a causal link between these three phenomena to say that the use of coal by the industrial economy caused atmospheric CO2 to rise and that rising atmospheric CO2 has caused the earth to warm by way of Tyndal's greenhouse effect of CO2 with a climate sensitivity of ECS=2. The paper was published by the Royal Society. However, the modern version of the same climate science says that ECS=3 with an uncertainty band of plus or minus 1.5 and finds the 1900-1938 warming explained by Callendar as AGW to be an anomaly described as the "early twentieth century warming anomaly" or ETCW and not human caused global warming. The ETCW anomaly of climate science is described in detail in a related post on this site: LINK: https://tambonthongchai.com/2020/10/09/the-etcw-issue-in-climate-science/ . In this case, modern climate science is a denier of the climate science presented in the Callendar 1938 paper. Yet, this is exactly how science advances. Unlike religion, science is an information dynamic where all proposed theories are evaluated critically by subsequent researchers such that over long periods of time the theory evolves and mutates into new forms that can be described as denial of the earlier versions of the theory.
The science denial issue in climate change discussions boils down to this: IF CLIMATE SCIENCE IS SCIENCE THEN CHALLENGING CLIMATE SCIENCE IS ALSO SCIENCE, A GOOD AND DESIREABLE THING BECAUSE THAT IS HOW SCIENCE ADVANCES; BUT IF CLIMATE SCIENCE IS RELIGION THEN CHALLENGING CLIMATE SCIENCE IS HERESY AND A BAD THING AND THE CHALLENGERS ARE HERETICAL CLIMATE DENIERS AND SCIENCE DENIERS.
A related matter in the context of science denial within climate science is the unsettled issue of when AGW began. This issue rests on the foundational concept in AGW that it is a creation of the industrial economy by way of fossil fuel combustion and the release of CO2 made with very old carbon dug up from under the ground where it had been sequestered from nature's carbon cycle for millions of years. This carbon does not belong in the current account of the carbon cycle and is therefore a perturbation of nature's carbon cycle and climate system.
This is why AGW is understood as the warming "since pre-industrial" where the pre-industrial temperature is the reference temperature from which the amount of AGW warming is computed. The amount of warming since pre-industrial (WSPI) is a critical parameter in climate science because of the determination that WSPI must not be allowed to exceed a critical threshold beyond which AGW becomes irreversible and destructive by way of dangerous positive feedbacks unleashed to the point where the planet itself is threatened with destruction. Therefore the identification of this critical pre-industrial year and the reference pre-industrial temperature is a critical issue in climate science. This year draws the line between when the cooling in the Little Ice Age ended and the warming in AGW began.
The IPCC, thought to be the authoritative source of AGW science, identified this critical climate turnaround of the industrial revolution as 1750. In a later report, the year was moved ahead by 100 years to 1850 without comment or an explanation for the change. This significant change is a science denial of the climate science that holds 1750 as the reference pre-industrial year. Even more dramatic is that NASA and climate scientist James Hansen have moved the pre-industrial start year of AGW by yet another 100 years from 1850 to 1950. In effect, NASA is in denial of IPCC climate science.
An additional issue is the WSPI, warming since pre-industrial, where the critical amount of warming that must not be exceeded to avoid planetary destruction. This value was initially proposed as 5C meaning that global mean temperature in the current warming must not be allowed to exceed the reference pre-industrial temperature by more than 5C. After the change of the IPCC pre-industrial reference year from 1750 to 1850, the critical value of the WSPI was lowered to 4C. In subsequent years, this critical parameter in climate science was lowered without explanation to 3C and then to 2C and finally in 2018 to 1.5C by the IPCC at the same reference pre-industrial year of 1850 and the same reference pre-industrial temperature. Each of these revised values of the critical WSPI is a science denial of the prior value made more egregious by the absence of a rational explanation for the change . Within this overall context of IPCC climate science NASA and James Hansen stand out as an extreme case of science denial with a reference pre-industrial year of 1950. Even worse, is that the critical value of WSPI remains at the IPCC value even though the two pre-industrial years are 100 years apart. Science denial is endemic in climate science.
A significant area of AGW science has been the post hoc attribution of catastrophic forest fires, heat waves, excessive dryness, excessive wetness, storms, and specifically tropical cyclones to the higher temperatures caused by AGW. An important climate scientist in this area of research is Kerry Emanuel whose analysis of the destructiveness of Hurricane Katrina in 2005 laid the foundation for this line of research. In his research paper he wrote that he has found in the data that climate change causes tropical cyclones to become more destructive. This paper is discussed in detail in a related post: LINK: https://tambonthongchai.com/2018/09/18/climate-change-hurricanes/ . The finding was derived from the study of a single tropical cyclone (Hurricane Katrina) that had formed in the North Atlantic cyclone basin in 2005. The climate science of the impact of AGW on tropical cyclones does in fact imply an impact of warming on tropical cyclones by way of higher sea surface temperature (SST). AGW causes SST to go up and warmer SST in turn provides more energy to tropical cyclones.
However, climate science also holds that empirical evidence of this impact of AGW on tropical cyclones by way of SST must be determined in a long term study over many decades of the total accumulated cyclone energy (ACE) of all tropical cyclones in all six cyclone basins. See for example, Knutson, Thomas R., et al. "Tropical cyclones and climate change." Nature geoscience 3.3 (2010): 157-163. In the paper, climate science spells out exactly what climate science claims in terms of the impact of AGW climate change on tropical cyclones with climate model predictions of the effect of rising SST on tropical cyclones. The main points are as follows: (1) Globally averaged intensity of tropical cyclones will rise as AGW increases SST. Models predict globally averaged intensity increase of 2% to 11% by 2100. (2). Models predict falling globally averaged frequency of tropical cyclones with frequency decreasing 6%-34% by 2100. (3). The globally averaged frequency of "most intense tropical cyclones" should increase as a result of AGW. The intensity of tropical cyclones is measured as the ACE (Accumulated Cyclone Energy). (4). Models predict increase in precipitation within a 100 km radius of the storm center. A precipitation rise of 20% is projected for the year 2100. (5) Extremely high variance in tropical cyclone data at an annual time scale suggests longer, perhaps a decadal time scale which in turn greatly reduces statistical power. (6) Model projections for individual cyclone basins show large differences and conflicting results. Thus, no testable implication can be derived for studies of individual basins.
This is because of extreme random variability in the data and also because the selection of a specific cyclone or a specific cyclone basin, or a specific cyclone season may include the effect of non climate variables that may have played a role in the evolution and the destructiveness of the cyclone. As it turns out, this was the case for Hurricane Katrina, the sole cyclone studied by Professor Emanuel. Although it was not a particularly strong cyclone nor the strongest cyclone of the 2005 season, it had caused an epic disaster in Louisiana because of inadequate maintenance of a levee system that had failed. Significantly, the major impact of the storm that had made it into a horrific event was the flood due to the failed levee system. These horrific events that were unrelated to SST made Hurricane Katrina into an AGW horror story in the media and climate scientists followed the media story to provide the science behind that horror as we see in the Emanuel paper. Surprisingly, the Emanuel 2005 paper still stands today as evidence of the tropical cyclone horror of AGW. Yet, as shown here, in the climate science of tropical cyclones, the Emanuel paper does not provide the evidence needed to make that determination. The Emanuel 2005 paper is an expression of climate science denial. It is an example of science denial in which science is less important than whether the fear of AGW it creates serves the needs of climate science in their climate action movement against the use of fossil fuels. What we learn from these cases in climate science is that whether science denial is a good thing or a bad thing depends on how it affects the ability of climate science to rid the world of fossil fuels and move the world's energy infrastructure to renewables.
PART-2: SCIENCE DENIAL IN OTHER DISCIPLINES
(1) LINK TO SOURCE: https://www.buzzfeed.com/natashaumer/science-facts-you-might-have-believed-in-the-90s
The science of the extinction of dinosaurs was first proposed in 1980. It said that the extinction was caused by volcanic eruptions and climate change. In 1991, when they found an impact crater of an asteroid, science deniers denied the volcano theory saying that it must have been the asteroid that killed off the dinosaurs.
Conventional science holds that the what makes the different races of humans different from each other is their genetics. In 2002, science deniers looked into this matter and found that genetic difference does not explain the difference among races.
In the 17th century scientists invented telescopes and saw the other planets around our sun. The science of planets was that there are nine planets around the sun including ours and that these were the only planets in the universe. In 1995 science deniers looked outside of our solar system and denied the 9-planet science to claim that there were billions of planets in the universe.
In the 19th century scientists determined that dinosaurs were animals much like dogs but bigger that could walk on two legs. More recently, science deniers denied this view of dinosaurs and claimed that they had feathers – more like birds than dogs.
In the 19th century scientists found that there were an older and dumber kind of humans they called Neanderthals that roamed Europe before we took over and they became extinct and so therefore Neanderthals and humans could not have coexisted at any time. Now, science deniers are saying that Neanderthals weren't dumb but smart and not only that they didn't really disappear because we coexisted with them and we interbred with them such that Europeans today carry the Neanderthal gene and modern humans with Neanderthal genes are more advanced than those without Neanderthal genes.
A long time ago, planetary scientists determined that what made the earth unique among the planets around our sun is that we had water and they didn't. Now science deniers at NASA deny this planetary science saying that Mars too has water.
Many decades ago scientists discovered that humans and more complex organisms had more genes than simpler organisms like plants and bugs. Now science deniers are saying that this is not so because the number of genes is not related to specie complexity.
In the 1950s scientists determined that because of gravity the expansion of the universe is slowing down but now science deniers are denying this science to claim that universe is actually expanding faster and faster.
In the 1950s, scientists determined that humans were the smartest of all the apes and that the apes we are thought to descend from were smarter than the rest and in particular creatures like birds were just plain dumb as in bird brain. Now science deniers are saying that birds are smart and some of them are smarter than the apes we descended from.
A few decades ago, scientists determined that ulcers are caused by stress. Now science deniers deny that science saying that ulcers are caused by bacteria.
CONCLUSION: UNLIKE RELIGION, SCIENCE IS NEVER SETTLED. IT IS A WORK IN PROGRESS AND THE PROGRESS OCCURS BY WAY OF SCIENCE DENIAL. IN THIS CONTEXT, DENIAL MEANS QUESTIONING AND CHALLENGING EXISTING THEORIES. THIS IS THE ESSENTIAL PROCESS OF SCIENTIFIC ADVANCEMENT. IF CLIMATE SCIENCE IS SCIENCE THEN CHALLENGING CLIMATE SCIENCE IS ALSO SCIENCE AND A GOOD AND DESIREABLE THING BECAUSE THAT IS HOW SCIENCE ADVANCES. BUT IF CLIMATE SCIENCE IS RELIGION THEN CHALLENGING CLIMATE SCIENCE IS HERESY AND A BAD THING AND THE CHALLENGERS ARE HERETICAL CLIMATE DENIERS.
2 Responses to "SCIENCE DENIAL"