THIS POST IS A CRITICAL REVIEW OF A PNAS RESEARCH PAPER AND RELATED MEDIA ARTICLES ABOUT THE ADVERSE EFFECTS OF GLOBAL WARMING IN LAKE TANGANYIKA AND ITS FISH.
THE PNAS RESEARCH PAPER
Climate warming reduces fish production and benthic habitat in Lake Tanganyika, one of the most biodiverse freshwater ecosystems, Andrew S. Cohen, Elizabeth L. Gergurich, Benjamin M. Kraemer, Michael M. McGlue, Peter B. McIntyre, James M. Russell, Jack D. Simmons, and Peter W. Swarzenski. PNAS August 23, 2016 113 (34) 9563-9568; first published August 8, 2016; https://doi.org/10.1073/pnas.1603237113. ABSTRACT: Warming climates are rapidly transforming lake ecosystems worldwide, but the breadth of changes in tropical lakes is poorly documented. Sustainable management of freshwater fisheries and biodiversity requires accounting for historical and ongoing stressors such as climate change and harvest intensity. This is problematic in tropical Africa, where records of ecosystem change are limited and local populations rely heavily on lakes for nutrition. Here, using a ∼1,500-year paleoecological record, we show that declines in fishery species and endemic molluscs began well before commercial fishing in Lake Tanganyika, Africa's deepest and oldest lake. Paleoclimate and instrumental records demonstrate sustained warming in this lake during the last ∼150 years, which affects biota by strengthening and shallowing stratification of the water column. Reductions in lake mixing have depressed algal production and shrunk the oxygenated benthic habitat by 38% in our study areas, yielding fish and mollusc declines. Late-20th century fish fossil abundances at two of three sites were lower than at any other time in the last millennium and fell in concert with reduced diatom abundance and warming water. A negative correlation between lake temperature and fish and mollusc fossils over the last ∼500 y indicates that climate warming and intensifying stratification have almost certainly reduced potential fishery production, helping to explain ongoing declines in fish catches. Long-term declines of both benthic and pelagic species underscore the urgency of strategic efforts to sustain Lake Tanganyika's extraordinary biodiversity and ecosystem services.
SIGNIFICANCE: Understanding how climate change affects ecosystem productivity is critical for managing fisheries and sustaining biodiversity. African lakes are warming rapidly, potentially jeopardizing both their high endemic biodiversity and important fisheries. Using paleoecological records from Lake Tanganyika, we show that declines in commercially important fishes and endemic molluscs have accompanied lake warming. Ongoing declines in fishery species began well before the advent of commercial fishing in the mid-20th century. Warming has intensified the stratification of the water column, thereby trapping nutrients in deep water where they cannot fuel primary production and food webs. Simultaneously, warming has enlarged the low-oxygen zone, considerably narrowing the coastal habitat where most of Tanganyika's endemic species are found.
LINK TO FULL TEXT: https://www.pnas.org/content/pnas/113/34/9563.full.pdf

MEDIA ARTICLES:
DW.COM: LINK: https://www.dw.com/en/can-we-save-our-lakes-from-global-warming/a-40045247 : LAKE TANGANYIKA 'THREATENED' Global Nature Fund, an NGO based in southern Germany, has nominated Lake Tanganyika in central Africa as "Threatened Lake of the Year" and together with local partners is calling for sustainable measures to preserve it. Lake Tanganyika is shared between Democratic Republic of Congo, Tanzania, Zambia and Burundi.
NATIONAL GEOGRAPHIC: LINK: https://blog.nationalgeographic.org/2013/03/07/warming-lakes-climate-change-threatens-the-ecological-stability-of-lake-tanganyika/ Tropical lakes in East Africa don't grab headlines the way polar bears do, but climate change is having an effect on them, too. Although the changes are not as visible as melting polar ice caps, they are no less real. As in many lakes around the world, water temperature is on the rise in Lake Tanganyika. This and other climate-related factors are causing subtle but significant changes that threaten the ecological stability of the lake and the livelihoods of people who depend on it. With air temperatures across tropical Africa expected to rise as much as 2–5 degrees Celsius (3.5–9 degrees Fahrenheit) over the next 50-100 years, warming lake trends are also expected to continue. The changes underway serve as early warning signs, not just for the lake region, but perhaps, for the planet as a whole. Considered one of the African Great Lakes, Tanganyika is the world's second largest lake (by volume) and second deepest, after Russia's Lake Baikal. It contains 17 percent of the world's surface freshwater – almost as much water as all five of the North American Great Lakes combined. At more than 10 million years old, Tanganyika is among an elite group of only 20 or so ancient lakes in the world.
CRITICAL COMMENTARY:
Here we note that in all reports about the adverse effect of global warming on fish in Lake Tanganyika, including the PNAS paper, the effects are consistently described as "BENTHIC", that is "at the very bottom of the lake". Both the high temperatures and their adverse effects on lake biota are BENTHIC. Although atmospheric causation of benthic impacts in large lakes is possible, the establishment of such causation must first address and remove the possibility of geothermal heat that, if present, would affect the lake from the bottom up and would provide a more rational explanation of the benthic nature of these adverse effects of warming on fish and lake biota in general.
THE EAST AFRICAN RIFT SYSTEM
A relevant bibliography on geothermal heat flux in that region of Africa is provided below. There we find significant evidence of strong and episodal geothermal flux in the area and we propose that these known geothermal heat sources offer a more convincing explanation of the observed benthic warming and their episodal adverse effects on the benthic biota of Lake Tanganyika.
THE RELEVANT BIBLIOGRAPHY
Teklemariam, Meseret. "Overview of Geothermal resource utilization and potential in East African rift system." Proceedings of the 30th Anniversary Workshop of UNU-GTP, Reykjavik. 2008. The

Great East African Rift System (EARS)

is one of the major tectonic structures of the earth and extends for about 6500 km from the Middle East (Dead Sea-Jordan Valley) in the North to Mozambique in the south. This system consists of

three main arms: the Red Sea Rift; the Gulf of Aden Rift; and the East African Rift

which develops through Eritrea, Ethiopia, Kenya, Tanzania, Zambia, Malawi and northern Mozambique floored by a thinned continental crust. The EARS is composed of two rift trends; the eastern and western branches. The western branch develops from Uganda throughout Lake Tanganyika, where it joins the Eastern branch, following the border between Rwanda and Zaire. The western branch is, however, much less active in terms of volcanism although both branches are seismically and tectonically active today. The East African Rift is one of the most important zones of the world where the heat energy of the interior of the earth escapes to the surface in the form of volcanic eruptions, earthquakes and the upward transport of heat by hot springs and natural vapour emanations (fumaroles). As a consequence, the EARS appears to possess a remarkable geothermal potential. The eastern branch, that forms the Ethiopian and Kenyan rifts, possesses, by far, the most extensive geothermal resource base in Africa and one of the most extensive in the world. Countries such as Djibouti, Uganda, Eritrea and other countries in southeastern Africa have lesser but still important resource bases. Using today's technologies, Eastern Africa has the potential to generate about 2,500-6,500 MW of energy from geothermal power. East African countries using, or having carried out research on, geothermal resources include: Djibouti, Eritrea, Ethiopia, Kenya, Tanzania, Uganda, and Zambia. Among these, Kenya is the leading country in using geothermal energy for electricity production followed by Ethiopia. Kenya is generating a total of about 130 MWe of electricity using geothermal energy resources. In Ethiopia, a geothermal pilot power plant with a total installed capacity of 7.2 MWe was built. Initially, there was a disruption in power generation due to technical problems. These were studied and are currently being rectified. The plant is now achieving partial generation (3MWe). Countries such as Djibouti, Eritrea, Tanzania and Uganda are at the exploration stage. Other countries such as Rwanda, Malawi and the Malagasy Republic have, to date, not gone beyond the resource potential inventory work.
Tiercelin, Jean-Jacques, et al. "Hydrothermal vents in Lake Tanganyika, East African, Rift system." Geology 21.6 (1993): 499-502. PROPOSES GEOTHERMAL EXPLANATION: Sublacustrine hydrothermal vents with associated massive sulfides were discovered during April 1987 at Pemba and Cape Banza on the Zaire side of the northern basin of Lake Tanganyika, East African Rift system. New investigations by a team of ten scuba divers during the multinational (France, Zaire, Germany, and Burundi) TANGANYDRO expedition (August-October 1991) found hydrothermal vents down to a depth of 46 m along north-trending active faults bounding the Tanganyika rift on the western side. Temperatures from 53 to 103 °C were measured in hydrothermal fluids and sediments. Veins of massive sulfides 1-10 cm thick (pyrite and marcasite banding) were found associated with vents at the Pemba site. At Cape Banza,active vents are characterized by 1-70-cm-high aragonite chimneys, and there are microcrystalline pyrite coatings on the walls of hydrothermal pipes. Hydrothermal fluid end members show distinctive compositions at the two sites. The Pemba end member is a NaHCO3-enriched fluid similar to the NaHCO3 thermal fluids from lakes Magadi and Bogoria in the eastern branch off the rift. The Cape Banza end member is a solution enriched in NaCl. Such brines may have a deep-seated basement origin, as do the Uvinza NaCl brines on the eastern flank of the Tanganyika basin. Geothermometric calculations have yielded temperatures of fluid-rock interaction off 219 and 179 °C in the Pemba and Cape Banza systems, respectively. Abundant white or reddish-brown microbial colonies resembling Beggiatoa mats were found surrounding the active vents. Thermal fluid circulation is permitted by opening of cracks related to 130 °N normal-dextral faults that intersect the north- south major rift trend. The source of heat for such hydrothermal systems may relate to the existence of magmatic bodies under the rift, which is suggested by the isotopic composition of carbon dioxide released at Pemba and Cape Banza.
Hochstein, M. P., E. P. Temu, and C. M. A. Moshy. "Geothermal resources of Tanzania." Proceedings. 2000. At least 15 thermal areas with hot (T > 40ºC) spring activity occur in Tanzania. Ten of these occur over and near to active rift segments with Quaternary volcanism; the others lie over the Tanzanian (Archean) craton and its Precambrian surrounds. In N Tanzania, at the S end of the Gregory Rift, a few advective, low temperature systems can be found which have little development potential, despite the large heat output (at least 50 MW) of one, the Lake Natron system. In S Tanzania, over the northern extension of the Malawi Rift, up to

three high (intermediate) temperature reservoirs are indicated by the occurrence of hot springs at

the foot of long, concealed outflows discharging neutral pH bicarbonate water depositing travertine. The largest prospect is that at the Songwe River, transferring c. 10 MW of heat. Thermal springs over the craton and its surrounds are supplied by small, low temperature fracture zone reservoirs; they have small natural outputs and little development potential. The known geothermal resources of Tanzania are therefore limited in terms of present technology.
Tiercelin, Jean-Jacques, et al. "Discovery of sublacustrine hydrothermal activity and associated massive sulfides and hydrocarbons in the north Tanganyika trough, East African Rift." Geology 17.11 (1989): 1053-1056. Massive sulfides and carbonate mineral deposits associated with sublacustrine thermal springs were recently discovered along the Zaire side of the north Tanganyika trough, western branch of the East African Rift. This hydrothermal activity, investigated by scuba diving at a maximum depth of 20 m, is located at the intersection of major north-south normal faults and northwest-southeast faults belonging to the Tanganyika-Rukwa-Malawi (TRM) strike-slip fault zone. The preliminary results presented here come from analyses of sulfide deposits, hydrothermal fluids, and associated hydrocarbons that result from geothermal activity in this part of the East African Rift filled by a thick pile of sediment, the north Tanganyika trough.
Newman, Fred C. "Temperature steps in Lake Kivu: a bottom heated saline lake." Journal of Physical Oceanography 6.2 (1976): 157-163.

Vertical profiles of temperature

microstructure in Lake Kivu were obtained with "mini-microstructure recorders" developed by C.S. Cox and William Johnson at Scripps Institution of Oceanography. The profiles reveal

three depth intervals containing many isothermal layers typically 0.25–2 m thick and of increasing temperature with depth at increments of 0.01–0.03°C from layer to layer.

Approximately 150 such layers appear in a single profile. We assume double-diffusive convection and apply the results of Huppert and of Turner to calculate an upward heat flux of 0.71 to 1.6 W m−2 and a corresponding upward salt flux equal to one-fifth of the average salt output of the lake's only outflow.

The primary source of heat and salt are probably the geothermal springs known to exist in the lake bottom.
CONCLUSION: KNOWN GEOL0GICAL FEATURES OF EAST AFRICA INCLUDING THE GREAT EAST AFRICA RIFT SYSTEM IN COMBINATION WITH DIRECT EVIDENCE OF GEOTHERMAL HEAT FLUX AND HYDROTHERMAL VENTS IN LAKE TANGANYIKA AND NEARBY LAKE KIVU PROVIDE EVIDENCE OF SIGNIFICANT GEOLOGICAL ACTIVITY IN THE REGION THAT OFFER A CLEARER EXPLANATION OF BENTHIC HEAT ANOMALIES IN THESE LAKES AND THEIR EFFECT ON FISHERIES THAN THE PROPOSED EXPLANATION IN THE REFERENCE PAPERS IN TERMS OF GLOBAL WARMING.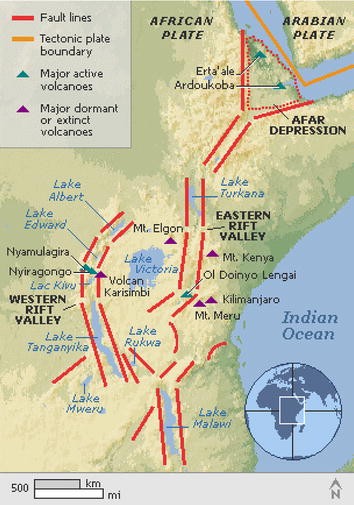 WITH THANKS TO ALAN LOWEY WHO ALERTED ME TO THE MEDIA REPORTSS