THIS POST IS A CRITICAL REVIEW OF A RESEARCH FINDING BY NCAR THAT THE ARCTIC IS TRANSITIONING TO A NEW CLIMATE STATE. (NCAR=National Center for Atmospheric Research, USA) LINK TO THE ARTICLE ON PHYS.ORG https://phys.org/news/2020-09-arctic-transitioning-climate-state.html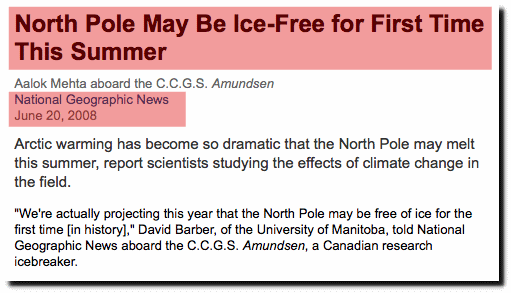 PART-1: WHAT THE NCAR PAPER SAYS
The fast-warming Arctic has started to transition from a predominantly frozen state into an entirely different climate, according to a comprehensive new study of Arctic conditions. Weather patterns in the upper latitudes have always varied from year to year, with more or less sea ice, colder or warmer winters, and longer or shorter seasons of rain instead of snow. But the new research by scientists at the National Center for Atmospheric Research (NCAR) finds that the Arctic has now warmed so significantly that its year-to-year variability is moving outside the bounds of any past fluctuations, signaling the transition to a "new Arctic" climate regime.
The rate of change is remarkable. It's a period of such rapid change that observations of past weather patterns no longer show what you can expect next year. The Arctic is already entering a completely different climate than just a few decades ago.
Arctic sea ice has melted so significantly in recent decades that even an unusually cold year will no longer have the amount of summer sea ice that existed as recently as the mid-20th century. Autumn and winter air temperatures will also warm enough to enter a statistically distinct climate by the middle of this century, followed by a seasonal change in precipitation that will result in additional months in which rain will fall instead of snow.
NCAR researchers arrived at these findings from hundreds of computer simulations as well as observations of Arctic climate conditions. The vast amount of data enabled them to statistically define the climate boundaries of the "old Arctic"—or how much variability can naturally occur from year to year—and then to identify when human-caused warming will push the Arctic beyond those natural bounds and into a new climate.
The future projections used for the study are based on the RCP8.5 high-end scenario for future emissions of greenhouse gases. Reduced emissions would lessen the extent of climate change in the Arctic. The shifting climate has wide-ranging enormous consequences for ecosystems, water resource management, flood planning, and infrastructure.
The far north is warming more rapidly than lower-latitude regions, which is due to a process known as Arctic amplification. This occurs because light-colored sea ice, which reflects heat back into space, is replaced by darker ocean water, which traps heat. In addition, relatively warm ocean waters are no longer shielded in the winter as effectively by the insulating properties of thick sea ice.
The changes in Arctic climate are so profound that the average extent of sea ice in September, when it reaches its annual minimum, has dropped by 31% since the first decade of the satellite era (1979-88).
Landrum and Holland wanted to determine if this decline shows that the Arctic climate has fundamentally changed. They also wanted to study changes to two other key aspects that are indicative of the frozen state of Arctic climate: air temperatures in the fall and winter, and the seasonal transition in precipitation from mostly snow to mostly rain.
To answer these questions, they turned to multiple simulations from five of the world's leading climate models that have been used for an international research project known as the Coupled Model Intercomparison Project 5, or CMIP5. The large number of simulations enabled them to assemble a statistically significant picture of Arctic climate, allowing them to differentiate year-to-year natural climate variability from a transition to a new Arctic climate.
The scientists compared the model output to observations, confirming that the models were accurately capturing past climate and therefore could reliably simulate future climate.
They then applied statistical techniques to determine when climatic changes exceeded the bounds of natural variability. For this last question, they identified a different climate as emerging when the 10-year average was at least two standard deviations away from the average of the climate in the decade 1950-59.
In other words, if the sea ice extent changed so much that the average in, say, the 1990s was lower in 97.7% of all cases than the sea ice extent for any year in the 1950s, then the 1990s were defined as a new climate.
When they applied these techniques to sea ice extent, they found that the Arctic has already entered a new climate. Each of the five models showed sea ice retreating so dramatically that a new climate for sea ice had emerged in the late 20th and early 21st centuries.
Looking forward, they also found that the Arctic may start to experience largely ice-free conditions in the next several decades. Several of the models indicated that the Arctic could become mostly ice free for 3-10 months annually by the end of the century, based on a scenario of high greenhouse gas emissions.
In terms of air temperatures, they focused on autumn and winter, which are strongly influenced by the summertime reduction of sea ice and the subsequent timing of the ice regrowth. They found that the air temperatures over the ocean will enter a new climate during the first half or middle of this century, with air temperatures over land warming substantially later in the century.
The seasonal cycle of precipitation will change dramatically by the middle of the century. If emissions persist at a high level, most continental regions will experience an increase in the rainy season of 20-60 days by mid-century and 60-90 days by the end of the century. In some Arctic regions, rain may occur any month of the year by century's end.
The Arctic is likely to experience extremes in sea ice, temperature, and precipitation that are far outside anything that we've experienced before. We need to change our definition of what Arctic climate is.
PART-2: CRITICAL COMMENTARY
The essence of this research paper is that the failed "Ice-Free-Arctic" fear has been resurrected and re-christened as a "New Climate State".
The paper is based on the assumption that observed year to year declines in September minimum Arctic sea ice extent are driven by anthropogenic global warming and that therefore these trends can be moderated and controlled with climate action to moderate the rate of warming. However no empirical evidence is provided to establish that critical causation relationship.
In related posts we find that correlation analysis does not show that September minimum sea ice extent or volume is responsive to anthropogenic global warming temperatures over the Arctic at an annual time scale. LINK#1 https://tambonthongchai.com/2019/11/07/precipitous-decline-in-arctic-sea-ice-volume/ LINK#2 https://tambonthongchai.com/2019/09/28/sea-ice-extent-area-1979-2018/
In the context of the results of correlation analysis presented in the linked documents in item 3 above, it is noted that the ocean floor of the Arctic is geologically very active with significant mantle plume and volcanic activity as described in a related post LINK: https://tambonthongchai.com/2019/07/01/arctic/ .
As a result, it is not possible to understand the sea ice melt phenomenon in this region purely in terms of atmospheric science. The continued and intensified effort by climate science to do so is a reflection of a debilitating atmosphere bias in that discipline.
In Part 3 and Part 4 below we present a history in climate science of a failed obsession with an ice free Arctic and its positive feedback implications. This history implies that the attempt to establish a fear based activism against fossil fuel emissions with a scary spectacle of an ice free Arctic has failed and that the phrase "Ice free Arctic" has lost its potency as a tool for fear based activism against fossil fuels.
The ice free Arctic fears presented in the paper under review must be understood in this context. The failed effort over decades to create the fear of an ice free Arctic has diminished the credibility and potency of the phrase "ice free Arctic" and a new language was necessary to present that case. The new language stated as "

THE ARCTIC IS TRANSITIONING TO A NEW CLIMATE STATE

" is best understood in the context of the history of a failed effort to create fear of an ice free Arctic .
The failure of the ICE FREE ARCTIC fearology must be addressed in terms of the data and not with new language and new climate model projections. More importantly, as a science and a scientific endeavor, climate science must resist the need to present climate data to create fear of fossil fuel emissions that requires an excessive reliance on climate models and scary projections based on extreme assumptions. The statistical and logical flaw in the use of extreme values of uncertainty bands in climate science is discussed in a related post on this site LINK: https://tambonthongchai.com/2020/04/22/climate-science-uncertainty/
ADVOCACY BY CLIMATE SCIENTISTS CREATES A BIAS IN THEIR WORK SUCH THAT THEIR FINDINGS LOSE CREDIBILITY. THIS PATTERN IS SEEN IN THE SORDID HISTORY OF THE "ICE FREE ARCTIC" PRESENTED BELOW.
PART-3: ICE FREE ARCTIC FEARS IN THE CLIMATE SCIENCE LITERATURE
Jakobson, Linda. "China prepares for an ice-free Arctic." SIPRI Insights on Peace and Security 2010.2 (2010). China Prepares for an Ice-Free ArcticThis paper addresses how China is preparing for, and approaching the issues involved in, an ice-free Arctic Ocean. It explores the thinking of Chinese scholars and officials on the political aspects of change in the Arctic. It presents an overview of China's security, scientific, and commercial pursuits in the Arctic. It also outlines the ways in which China approaches the international politics of the Arctic. Though China does not have a coast on the Arctic Ocean, it is nevertheless interested in the shorter shipping time and access to resources that a more navigable Arctic could provide.
Rainville, Luc, and Rebecca A. Woodgate. "Observations of internal wave generation in the seasonally ice‐free Arctic." Geophysical Research Letters 36.23 (2009). The Arctic is generally considered a low energy ocean. Using mooring data from the northern Chukchi Sea, we confirm that this is mainly because of sea‐ice impeding input of wind energy into the ocean. When sea‐ice is present, even strong storms do not induce significant oceanic response. However, during ice‐free seasons, local storms drive strong inertial currents (>20 cm/s) that propagate throughout the water column and significantly deepen the surface mixed layer. The large vertical shear associated with summer inertial motions suggests a dominant role for localized and seasonal vertical mixing in Arctic Ocean dynamics. Our results imply that recent extensive summer sea‐ice retreat will lead to significantly increased internal wave generation especially over the shelves and also possibly over deep waters. This internal wave activity will likely dramatically increase upper‐layer mixing in large areas of the previously quiescent Arctic, with important ramifications for ecosystems and ocean dynamics.
Sigmond, Michael, John C. Fyfe, and Neil C. Swart. "Ice-free Arctic projections under the Paris Agreement." Nature Climate Change 8.5 (2018): 404-408. Under the Paris Agreement, emissions scenarios are pursued that would stabilize the global mean temperature at 1.5–2.0 °C above pre-industrial levels, but current emission reduction policies are expected to limit warming by 2100 to approximately 3.0 °C. Whether such emissions scenarios would prevent a summer sea-ice-free Arctic is unknown. Here we employ stabilized warming simulations with an Earth System Model to obtain sea-ice projections under stabilized global warming, and correct biases in mean sea-ice coverage by constraining with observations. Although there is some sensitivity to details in the constraining method, the observationally constrained projections suggest that the benefits of going from 2.0 °C to 1.5 °C stabilized warming are substantial; an eightfold decrease in the frequency of ice-free conditions is expected, from once in every five to once in every forty years. Under 3.0 °C global mean warming, however, permanent summer ice-free conditions are likely, which emphasizes the need for nations to increase their commitments to the Paris Agreement.
Overpeck, Jonathan T., et al. "Arctic system on trajectory to new, seasonally ice‐free state." Eos, Transactions American Geophysical Union 86.34 (2005): 309-313. The Arctic system is moving toward a new state that falls outside the envelope of glacial‐interglacial fluctuations that prevailed during recent Earth history. This future Arctic is likely to have dramatically less permanent ice than exists at present. At the present rate of change, a summer ice‐free Arctic Ocean within a century is a real possibility, a state not witnessed for at least a million years. The change appears to be driven largely by feedback‐enhanced global climate warming, and there seem to be few, if any processes or feedbacks within the Arctic system that are capable of altering the trajectory toward this "super interglacial" state.
Screen, James A., and Daniel Williamson. "Ice-free Arctic at 1.5° C?." Nature Climate Change 7.4 (2017): 230-231. We examine the seasonal cycle of Arctic sea ice in scenarios with limited future global warming. To do so, we analyze two sets of observational records that cover the observational uncertainty of Arctic sea ice loss per degree of global warming. The observations are combined with 100 simulations of historical and future climate evolution from the Max Planck Institute Earth System Model Grand Ensemble. Based on the high-sensitivity observations, we find that Arctic September sea ice is lost with low probability (P ≈ 10%) for global warming of +1.5∘C above preindustrial levels and with very high probability (P > 99%) for global warming of +2∘C above preindustrial levels. For the low-sensitivity observations, September sea ice is extremely unlikely to disappear for +1.5∘C warming (P ≪ 1%) and has low likelihood (P ≈ 10%) to
disappear even for +2∘C global warming. For March, both observational records suggest a loss of 15% to 20% of Arctic sea ice area for 1.5∘C to 2∘C global warming.
Cai, Wei-Jun, et al. "Decrease in the CO2 uptake capacity in an ice-free Arctic Ocean basin." Science 329.5991 (2010): 556-559. It has been predicted that the Arctic Ocean will sequester much greater amounts of carbon dioxide (CO2) from the atmosphere as a result of sea ice melt and increasing primary productivity. However, this prediction was made on the basis of observations from either highly productive ocean margins or ice-covered basins before the recent major ice retreat. We report here a high-resolution survey of sea-surface CO2 concentration across the Canada Basin, showing a great increase relative to earlier observations. Rapid CO2 invasion from the atmosphere and low biological CO2 drawdown are the main causes for the higher CO2, which also acts as a barrier to further CO2 invasion. Contrary to the current view, we predict that the Arctic Ocean basin will not become a large atmospheric CO2 sink under ice-free conditions.
Wang, Muyin, and James E. Overland. "A sea ice free summer Arctic within 30 years: An update from CMIP5 models." Geophysical Research Letters 39.18 (2012). Three years ago we proposed that the summer Arctic would be nearly sea ice free by the 2030s; "nearly" is interpreted as sea ice extent less than 1.0 million km2. We consider this estimate to be still valid based on projections of updated climate models (CMIP5) and observational data. Similar to previous models (CMIP3), CMIP5 still shows a wide spread in hindcast and projected sea ice loss among different models. Further, there is no consensus in the scientific literature for the cause of such a spread in results for CMIP3 and CMIP5. While CMIP5 model mean sea ice extents are closer to observations than CMIP3, the rates of sea ice reduction in most model runs are slow relative to recent observations. All CMIP5 models do show loss of sea ice due to increased anthropogenic forcing relative to pre‐industrial control runs. Applying the same technique of model selection and extrapolation approach to CMIP5 as we used in our previous paper, the interval range for a nearly sea ice free Arctic is 14 to 36 years, with a median value of 28 years. Relative to a 2007 baseline, this suggests a nearly sea ice free Arctic in the 2030s
Liu, Jiping, et al. "Reducing spread in climate model projections of a September ice-free Arctic." Proceedings of the National Academy of Sciences 110.31 (2013): 12571-12576. This paper addresses the specter of a September ice-free Arctic in the 21st century using newly available simulations from the Coupled Model Intercomparison Project Phase 5 (CMIP5). We find that large spread in the projected timing of the September ice-free Arctic in 30 CMIP5 models is associated at least as much with different atmospheric model components as with initial conditions. Here we reduce the spread in the timing of an ice-free state using two different approaches for the 30 CMIP5 models: (i) model selection based on the ability to reproduce the observed sea ice climatology and variability since 1979 and (ii) constrained estimation based on the strong and persistent relationship between present and future sea ice conditions. Results from the two approaches show good agreement. Under a high-emission scenario both approaches project that September ice extent will drop to ∼1.7 million km2 in the mid 2040s and reach the ice-free state (defined as 1 million km2) in 2054–2058. Under a medium-mitigation scenario, both approaches project a decrease to ∼1.7 million km2 in the early 2060s, followed by a leveling off in the ice extent.
Jahn, Alexandra, et al. "How predictable is the timing of a summer ice‐free Arctic?." Geophysical Research Letters 43.17 (2016): 9113-9120. Climate model simulations give a large range of over 100 years for predictions of when the Arctic could first become ice free in the summer, and many studies have attempted to narrow this uncertainty range. However, given the chaotic nature of the climate system, what amount of spread in the prediction of an ice‐free summer Arctic is inevitable? Based on results from large ensemble simulations with the Community Earth System Model, we show that internal variability alone leads to a prediction uncertainty of about two decades, while scenario uncertainty between the strong (Representative Concentration Pathway (RCP) 8.5) and medium (RCP4.5) forcing scenarios adds at least another 5 years. Common metrics of the past and present mean sea ice state (such as ice extent, volume, and thickness) as well as global mean temperatures do not allow a reduction of the prediction uncertainty from internal variability.
PART-4: ICE FREE ARCTIC FEARS IN THE MEDIA
1999, STUDY SHOWS ARCTIC ICE SHRINKING BECAUSE OF GLOBAL WARMING. Sea ice in the Arctic Basin is shrinking by 14000 square miles per year "probably" because of global warming caused by human activity according to a new international study that used 46 years of data and sophisticated computer simulation models to tackle the specific question of whether the loss of Arctic ice is a natural variation or caused by global warming. The computer model says that the probability that these changes were caused by natural variation is 1% but when global warming was added to the model the ice melt was a perfect fit. Therefore the ice melt is caused by human activities that emit greenhouse gases.
1999, WARM ARCTIC MAY ENHANCE GLOBAL WARMING. A sophisticated computer simulation model shows that increasing the temperature or snowfall on the Arctic tundra can triple its CO2 emissions from the soil of the tundra. The Arctic contains 1/3 of the earth's soil stored carbon dioxide. The computer model shows a positive feedback look that can cause global warming to snowball because warming in itself can increase carbon dioxide in the air and accelerate the rate of warming. It is a frightening scenario that could cause global warming catastrophe to occur sooner than previously thought.
2004, GRIM SIGNS OF GLOBAL WARMING Global warming has unleashed massive ecological changes that are already under way. These changes are ushering in a grim future including massive species extinctions, an elevation of sea levels by 3 feet, wholesale changes to the Arctic, and disruptions to the earth's life support system. These changes should serve as a wake up call to reduce greenhouse gas emissions.
2004, ARCTIC CLIMATE IMPACT ASSESSMENT
An unprecedented 4-year study of the Arctic shows that polar bears, walruses, and some seals are becoming extinct. Arctic summer sea ice may disappear entirely. Combined with a rapidly melting Greenland ice sheet, it will raise the sea level 3 feet by 2100 inundating lowlands from Florida to Bangladesh. Average winter temperatures in Alaska and the rest of the Arctic are projected to rise an additional 7 to 13 degrees over the next 100 years because of increasing emissions of greenhouse gases from human activities. The area is warming twice as fast as anywhere else because of global air circulation patterns and natural feedback loops, such as less ice reflecting sunlight, leading to increased warming at ground level and more ice melt. Native peoples' ways of life are threatened. Animal migration patterns have changed, and the thin sea ice and thawing tundra make it too dangerous for humans to hunt and travel.
2004, GLOBAL WARMING TO MELT GREENLAND ICE SHEET
A meltdown of the massive ice sheet, which is more than 3km-thick would raise sea levels by an average seven meters, threatening countries such as Bangladesh, certain islands in the Pacific and some parts of Florida. Greenland's huge ice sheet could melt within the next thousand years if emissions of carbon dioxide (CO
2) and global warming are not reduced.
2004, RAPID ARCTIC WARMING BRINGS SEA LEVEL RISE
The Arctic Climate Impact Assessment (ACIA) report says: increasing greenhouse gases from human activities is causing the Arctic to warm twice as fast as the rest of the planet; in Alaska, western Canada, and eastern Russia winter temperatures have risen by 2C to 4C in the last 50 years; the Arctic will warm by 4C to 7C by 2100. A portion of Greenland's ice sheet will melt; global sea levels will rise; global warming will intensify. Greenland contains enough melting ice to raise sea levels by 7 meters; Bangkok, Manila, Dhaka, Florida, Louisiana, and New Jersey are at risk of inundation; thawing permafrost and rising seas threaten Arctic coastal regions; climate change will accelerate and bring about profound ecological and social changes; the Arctic is experiencing the most rapid and severe climate change on earth and it's going to get a lot worse; Arctic summer sea ice will decline by 50% to 100%; polar bears will be driven towards extinction; this report is an urgent SOS for the Arctic; forest fires and insect infestations will increase in frequency and intensity; changing vegetation and rising sea levels will shrink the tundra to its lowest level in 21000 years; vanishing breeding areas for birds and grazing areas for animals will cause extinctions of many species; "if we limit emission of heat trapping carbon dioxide we can still help protect the Arctic and slow global warming".
2004 GLOBAL WARMING WILL LEAVE ARCTIC ICE FREE
The Arctic ice cap is shrinking at an unprecedented rate and will be gone by 2070. It has shrunk by 15%to 20% in the last 30 years. This process will accelerate with the Arctic warming twice as fast as the rest of the world due to a buildup of heat trapping greenhouse gases in the atmosphere.The findings support the broad scientific consensus that global warming is caused mainly by rising atmospheric greenhouse gases as a result of emissions from cars, factories and power plants.
2005: METHANE BOMB IN THE PEAT BOGS OF SIBERIA
Man-made global warming is melting the vast peat bogs of Siberia. The melt will release enough methane and carbon dioxide to bring about climate change Armageddon by virtue of a positive feedback and its non-linear process gone berserk. This scare is repeated in 2007 saying that global warming is causing the Alaska coast to melt. More info: [LINK]
2007: WE PASSED THE CLIMATE CHANGE TIPPING POINT AND ARE DOOMED
Ahead of the Bali meeting in 2007, climate scientists flooded the media with press releases that were increasingly alarmist in their pitch to save the planet from fossil fuels, so much so that they got carried away and announced that it was too late to save the planet for we had passed the tipping point because the damage done by the carbon dioxide already in the air had put into motion irreversible non-linear changes that would lead us to climate doom whether or not we cut emissions. Soon thereafter, having realized their folly, they quickly reversed themselves just in time for Bali by saying that there was still time to save the planet after all. More info: [LINK]
2007: OUR USE OF FOSSIL FUELS IS CAUSING GREENLAND TO MELT
A comparison of Landsat photos taken on 8/11/1985 and 9/5/2002 shows that global warming caused by our use of fossil fuels is melting the massive Greenland ice sheet and exposing the rocky peninsula beneath the ice previously covered by ice. More info: [LINK]
2007: THE ARCTIC IS SCREAMING
Climate science declares that the low sea ice extent in the Arctic is the leading indicator of climate change. We are told that the Arctic "is screaming", that Arctic sea ice extent is the "canary in the coal mine", and that Polar Bears and other creatures in the Arctic are dying off and facing imminent extinction. Scientists say that the melting sea ice has set up a positive feedback system that would cause the summer melts in subsequent years to be greater and greater until the Arctic becomes ice free in the summer of 2012. We must take action immediately to cut carbon dioxide emissions from fossil fuels. [LINK]
2007: THE ICE FREE ARCTIC CLAIMS GAIN MOMENTUM
The unusual summer melt of Arctic sea ice in 2007 has encouraged climate science to warn the world that global warming will cause a steep decline in the amount of ice left in subsequent summer melts until the Arctic becomes ice free in summer and that could happen as soon as 2080 or maybe 2060 or it could even be 2030. This time table got shorter and shorter until, without a "scientific" explanation, the ice free year was brought up to 2013. In the meantime, the data showed that in 2008 and 2009 the summer melt did not progressively increase as predicted but did just the opposite by making a comeback in 2008 that got even stronger in 2009. More info: [LINK]
2007: CLIMATE CHANGE REACHES A TIPPING POINT
Since 1998, and most recently in 2007, we have been told on a fairly regular basis that climate change caused by our use of fossil fuels has reached the "tipping point". When asked to define the term they said that it is not a point of no return and that a definition would be forthcoming; but that there is no doubt that we have reached the tipping point in 2007. More info: [LINK]
2007: CLIMATE ACTION EVEN IF THERE ARE ERRORS IN THE CLIMATE MODEL
Climate scientists say that errors in their climate model do not detract from the importance of reducing greenhouse gas emissions because the reduction can only do good and can do no harm. They also warn us that contrarians that say otherwise are paid agents of the fossil fuel industry and not real scientists. More info: [LINK]
2007/2009: POLAR BEARS WILL BE DRIVEN TO EXTINCTION
Climate scientists say that the Arctic is on its way to becoming ice free in summer and that therefore the polar bear should be declared an endangered species under the Endangered Species Act and we must act quickly and decisively to cut emissions and turn the climate temperature knob down to where the Polar Bear can survive. More info: [LINK]
2008: POSITIVE FEEDBACK: ARCTIC SEA ICE IN A DOWNWARD SPIRAL
Our use of fossil fuels is devastating the Arctic where the volume of sea ice "fell to its lowest recorded level to date" this year and that reduced ice coverage is causing a non-linear acceleration in the loss of polar ice because there is less ice to reflect sunlight. More info: [LINK]
2008: THE ARCTIC WILL BE ICE FREE IN SUMMER IN 2008, 2013, 2030, OR 2100
The unusually low summer sea ice extent in the Arctic in 2007
The IPCC has taken note and has revised its projection of an ice free Arctic first from 2008 to 2013 and then again from 2013 to 2030. The way things are going it may be revised again to the year 2100. More info: [LINK]
2008: IMMINENT COLLAPSE OF PETERMANN GLACIER IN GREENLAND
Climate scientists looking through satellite pictures found a crack in the Petermann glacier in Greenland and concluded that it could speed up sea level rise because huge chunks of ice the size of Manhattan were hemorrhaging off. Yet, scientists who has been travelling to Greenland for years to study glaciers say that the crack in the glacier is normal and not different from other cracks seen in the 1990s. More info: [LINK]
2008: GLOBAL WARMING IS THE CAUSE OF ALL ICE MELT EVENTS
When there was a greater focus on Antarctica climate scientists said that global warming was melting the West Antarctic Ice Shelf; but the melting was found to be localized and with an active volcano underneath the melting and the attention of "melt forecast" climate science shifted to

Arctic sea ice

after the an extensive summer melt was observed in September 2007. More info: [LINK]
2008: THE POLAR BEAR IS THREATENED BY OUR USE OF FOSSIL FUELS
The survival of the polar bear is threatened because man made global warming is melting ice in the Arctic. It is true that the Arctic sea ice extent was down in negative territory in September 2007. This event emboldened global warming scaremongers to declare it a climate change disaster caused by greenhouse gas emissions from fossil fuels and to issue a series of scenarios about environmental holocaust yet to come. More info: [LINK]
2009: OUR USE OF FOSSIL FUELS IS CAUSING GREENLAND GLACIERS TO MELT
Man-made global warming is causing Greenland's glaciers to melt at an alarming rate. By the year 2100 all the ice there will have melted causing a calamitous rise in the sea level that will inundate Bangladesh, the Maldives, Bangkok, New Orleans, and atolls in the Pacific. More info: [LINK]
2009: CATASTROPHIC ICE MELT NEEDS TREATY AT COPENHAGEN
Carbon dioxide emissions from fossil fuels have caused the following alarming changes to our planet: (1) ice covering the Arctic Ocean shrank in 2007 to its smallest since satellite records began. Melting permafrost in Siberia will release large quantities of methane into the atmosphere and hasten global warming.
2009: SUMMER ARCTIC SEA ICE EXTENT IN 2009 THE 3RD LOWEST ON RECORD
The second lowest was 2008 and the first lowest was 2007. This is not a trend that shows that things are getting worse. It shows that things are getting better and yet it is being sold and being bought as evidence that things are getting worse due to rising fossil fuel emissions. More info: [LINK]
2009: USE OF FOSSIL FUELS CAUSING GREENLAND'S GLACIERS TO MELT
In 2005 two glaciers in Greenland were found to be moving faster than they were in 2001. Scientists concluded from these data that the difference observed was a a long term trend of glacial melt in Greenland and that carbon dioxide was the cause of this trend. The assumed trend was then extrapolated forward and we were told that carbon dioxide would cause the land based ice mass of Greenland to be discharged to the sea and raise the sea level by six meters. They said that the only way out of the devastation was to drastically reduce carbon dioxide emissions from fossil fuels. However, in 2009, just before a meeting in Copenhagen where these deep cuts in emissions were to be negotiated, it was found that the glaciers had returned to their normal rate of discharge. More info: [LINK]
2009: THREATENED POLAR BEARS "STARE AT THE MELTING POINT"
Global warming caused by our use of fossil fuels is driving polar bears to extinction and threatening the livelihood of the people of Nunavut. More info: [LINK]
2009: THE ARCTIC WILL BE ICE FREE IN SUMMER BY 2029
An alarm is raised that the extreme summer melt of Arctic sea ice in 2007 was caused by humans using fossil fuels and it portends that in 20 years human caused global warming will leave the Arctic Ocean ice-free in the summer raising sea levels and harming wildlife. More info: [LINK]
2009: WARMING OCEANS MELT GREENLAND GLACIERS
Some glaciers on north and northeast Greenland terminate in fiords with long glacier tongues that extend into the sea. It is found that the warming of the oceans caused by our use of fossil fuels is melting these icy tongues and raising the specter of devastation by sea level rise. More info: [LINK]
2009: THE ARCTIC WILL BE ICE FREE IN SUMMER BY THE YEAR 2012
Climate scientists continue to extrapolate the extreme summer melt of Arctic sea ice in 2007 to claim that the summer melt of 2007 was a climate change event and that it implies that the Arctic will be ice free in the summer from 2012 onwards. This is a devastating effect on the planet and our use of fossil fuels is to blame. More info: [LINK]
2009: THE SUMMER SEA ICE EXTENT IN THE ARCTIC WILL BE GONE
Summer melt of Arctic ice was the third most extensive on record in 2009, second 2008, and the most extensive in 2007. These data show that warming due to our carbon dioxide emissions are causing summer Arctic ice to gradually diminish until it will be gone altogether. More info: [LINK]
2009: GLOBAL WARMING KILLING OFF THE CARIBOU IN THE YUKON
In 1989 there were 178000 Porcupine caribou in the Yukon and "their number now is estimated to be 100,000" because global warming is killing off the caribou. Global warming causes freezing rain in the calving season and that makes it hard for calving caribou to feed. But if we don't cherry pick the start of the study period as 1989 and look at all the available data we find that the population rose steadily from 100000 in 1972 to 178000 in 1989 and then decreased steadily down to 120000 in 2005. These data suggest, and caribou biologists agree, that caribou populations go through a 30 to 40-year cycle of growth and decay. This population dynamic cannot be related to global warming or carbon dioxide. More info: [LINK]
2010: ICELAND IS TOAST: CLIMATE CHANGE CAUSING VOLCANIC ERUPTION
Fossil fuel emissions cause global warming, global warming in turn causes glaciers in Iceland to melt, and melting glaciers lighten the weight of the ice cap on volcanoes and thereby trigger eruptions (Ice cap thaw may awaken Icelandic volcanoes, April 17, 2010). That it was geothermal activity that caused the melting of the Eyjafjallajoekull glacier is not mentioned. Instead climate science tells us that the we must cut fossil fuel emissions to save Iceland from climate change hell. [LINK] [LINK]
2010: CLIMATE CHANGE IS KILLING OFF POLAR BEARS AND THE WALRUSES
Global warming is melting ice in the Arctic and devastating the ecosystem that nurtures the habitats of the Polar Bear and the Walrus. Urgent climate action is needed to save these great creatures of the North. More info: [LINK]