THIS POST IS A CRITICAL REVIEW OF THE CLIMATE SCIENCE PAPER: "Emergent constraints on transient climate response (TCR) and equilibrium climate sensitivity (ECS) from historical warming in CMIP5 and CMIP6 models" Femke J. M. M. Nijsse , Peter M. Cox , and Mark S. Williamson College of Engineering, Mathematics and Physical Sciences, University of Exeter, Exeter, EX4 4QE, UK Global Systems Institute, University of Exeter, Exeter, EX4 4QE, UK Correspondence: Femke J. M. M. Nijsse (f.j.m.m.nijsse@exeter.ac.uk) Received: 19 Dec 2019 – Discussion started: 06 Jan 2020 – Revised: 05 Jul 2020 – Accepted: 14 Jul 2020 – Published: 17 Aug 2020
ABSTRACT
Climate sensitivity to CO2 remains the key uncertainty in projections of future climate change. Transient climate response (TCR) is the metric
of temperature sensitivity that is most relevant to warming in the next few decades and contributes the biggest uncertainty to estimates of
the carbon budgets consistent with the Paris targets. Equilibrium climate sensitivity (ECS) is vital for understanding longer-term climate
change and stabilisation targets. In the IPCC 5th Assessment Report (AR5), the stated "likely" ranges (16 %–84 % confidence) of TCR (1.0–
2.5 K) and ECS (1.5–4.5 K) were broadly consistent with the ensemble of CMIP5 Earth system models (ESMs) available at the time. However,
many of the latest CMIP6 ESMs have larger climate sensitivities, with 5 of 34 models having TCR values above 2.5 K and an ensemble mean
TCR of 2.0±0.4 K. Even starker, 12 of 34 models have an ECS value above 4.5 K. On the face of it, these latest ESM results suggest that the
IPCC likely ranges may need revising upwards, which would cast further doubt on the feasibility of the Paris targets. Here we show that rather than increasing the uncertainty in climate sensitivity, the CMIP6 models help to constrain the likely range of TCR to 1.3–2.1 K, with a central estimate of 1.68 K. We reach this conclusion through an emergent constraint approach which relates the value of TCR linearly to the global warming from 1975. This is a period when the signal-to-noise ratio of the net radiative forcing increases strongly, so that uncertainties in aerosol forcing become progressively less problematic. We find a consistent emergent constraint on TCR when we apply the same method to CMIP5 models. Our constraints on TCR are in good agreement with other recent studies which analysed CMIP ensembles. The relationship between ECS and the post-1975 warming trend is less direct and also non-linear. However, we are able to derive a likely range of ECS of 1.9–3.4 K from the CMIP6 models by assuming an underlying emergent relationship based on a two-box energy balance model. Despite some methodological differences; this is consistent with a previously published ECS constraint derived from warming trends in CMIP5 models to 2005. Our results seem to be part of a growing consensus amongst studies that have applied the emergent constraint approach to different model ensembles and to different aspects of the record of global warming.
2018: RELATED POST ON EMERGENT CONSTRAINT LECTURE BY PETER COX https://tambonthongchai.com/2018/08/24/climate-scientist-proves-human-cause/
BACKGROUND ON THE ECS AND TCR UNCERTAINTY ISSUE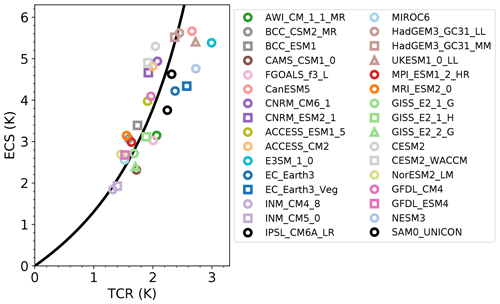 QUESTION: WHAT DOES UNCERTAINTY IN TCR AND ECS MEAN?
ANSWER: IT MEANS THAT THE CAUSAL RELATIONSHIP BETWEEN FOSSIL FUEL EMISSIONS AND TEMPERATURE THAT SITS AT THE HEART OF THE THEORY OF ANTHROPOGENIC GLOBAL WARMING IS EXPRESSED IN TERMS OF THESE TWO PARAMETERS BUT WE DON'T REALLY KNOW WHAT THEIR VALUES ARE.
QUESTION: WHAT DOES EMERGENT CONSTRAINT IN TCR AND ECS MEAN?
ANSWER: IT MEANS THAT ALTHOUGH WE DON'T KNOW WHAT THE ECS AND TCR SENSITIVITY VALUES ARE, WE DISCOVERED THAT THE DATA SINCE 1975 YIELD CONSISTENT AND STABLE VALUES FOR TCR AND ECS AND SO WE CAN USE THIS RANGE AS LIMITS WHEN ESTIMATING THESE PARAMETERS IN CLIMATE MODELS.
QUESTION: BUT CAN A THEORY DERIVED FROM THE DATA BE TESTED WITH THE SAME DATA? ISN'T THAT A KIND OF CIRCULAR REASONING?
ANSWER: YES, IT IS A FORM OF CIRCULAR REASONING CALLED THE TEXAS SHARPSHOOTER FALLACY WHERE YOU SHOOT FIRST AND DRAW THE TARGET CIRCLE LATER. THESE KINDS OF PROCEDURES, SUCH AS TESTING A HYPOTHESIS WITH THE SAME DATA USED TO CONSTRUCT THE HYPOTHESIS, ARE THE NORM IN CLIMATE SCIENCE WHERE STATISTICS EDUCATION IS AT A VERY LOW LEVEL.
QUESTION: HOW DO WE KNOW THAT STATISTICS EDUCATION IS AT A LOW LEVEL IN CLIMATE SCIENCE? WHAT IS THE EVIDENCE FOR THAT?
ANSWER: THERE ARE MANY EXAMPLES OF THAT IN CLIMATE SCIENCE THE MOST DRAMATIC BEING THE TCRE, TRANSIENT CLIMATE RESPONSE TO CUMULATIVE EMISSIONS. CORRELATIONS BETWEEN CUMULATIVE VALUES OF TIME SERIES DATA HAVE NO INTERPRETATION IN TERMS OF REAL WORLD PHENOMENA BECAUSE THESE CORRELATIONS ARE SPURIOUS. DETAILS OF THIS GROTESQUE FLAW IN CLIMATE SCIENCE ARE PROVIDED IN A RELATED POST ON THIS SITE. HERE IS THE LINK: https://tambonthongchai.com/2018/05/06/tcre/
ALSO THIS YOUTUBE VIDEO
AND THIS YOUTUBE VIDEO: In this Youtube video, one of the co-authors of the research paper cited above, demonstrates the use of circular reasoning to prove to climate activist Dir David Attenborough that humans are causing the current warming since pre-industrial times with their fossil fueled industrial economy as long as we move the pre-industrial date forward to "the 1970s" to make the data fit the hypothesis. The circular reasoning here is that a theory derived from the data cannot be tested with the same data.
ANOTHER EXAMPLE OF INADEQUATE STATISTICS EDUCATION IN CLIMATE SCIENCE IS THE INTERPRETATION OF UNCERTAINTY IN THAT DISCIPLINE. BRIEFLY, UNCERTAINTY DOES NOT MEAN OH! LOOK HOW HIGH IT COULD BE. IT MEANS WE DON'T REALLY KNOW. THE LESS WE KNOW THE HIGHER IT COULD BE AND IN PERFECT IGNORANCE IT COULD BE AS HIGH AS INFINITY BECAUSE THE ANSWER IS NOT CONSTRAINED BY INFORMATION. 
The climate science view of uncertainty facilitates confirmation bias because the interpretation of the uncertain information can become biased by the beliefs, and activism priorities of the researcher.
THE UNCERTAINTY ISSUE IS DISCUSSED MORE FULLY IN A RELATED POST https://tambonthongchai.com/2020/04/22/climate-science-uncertainty/
2 Responses to "EMERGENT CONSTRAINTS ON ECS & TCR"