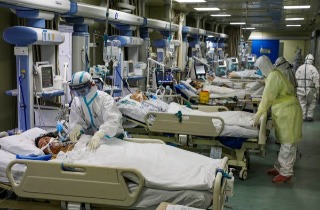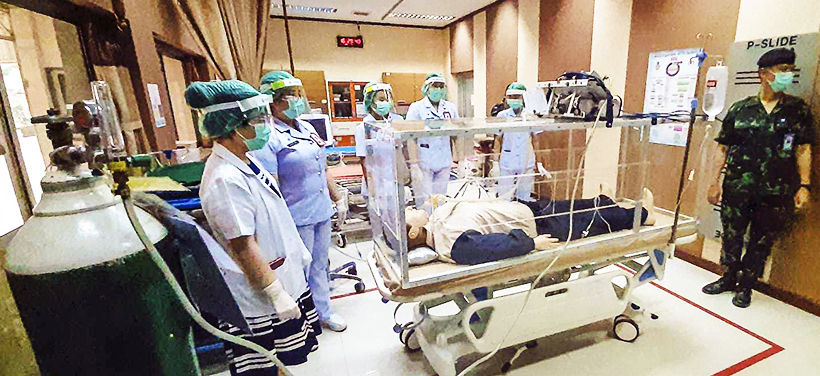 THIS POST IS A CRITICAL COMMENTARY ON AN ARTICLE RELATING THE COVID PANDEMIC TO CLIMATE CHANGE [LINK]
WILL COVID-19 HELP THE PHYSICS TO MUG CLIMATE DENIALISM?
The COVID virus has been a case of biology confronting and really shaking the complacency of day-to-day politics with a physical reality of

sickness and death

on a scale we haven't seen for a very long time.  And so the question really is: why do so many people in government and so many people in politics, particularly in the Anglo sphere,

not take the scientific evidence on climate change just as seriously? 

When is physics going to mug political complacency and denialism?

Turnbull

was speaking alongside

Mark Carney

, the UN special envoy for climate action and finance. He revived his attacks on the

right wing

of the

Liberal Party

, vested interests and the

Murdoch

-owned media in Australia for what he said was their

destruction of his attempts to reduce Australia's carbon emissions

and of his premiership.
Mark Carney praised Turnbull's book and said the former Liberal leader had true political courage. He also said the

restructuring of economies after the pandemic meant there was an opportunity for investment in greener energy.

"We have a situation with climate change which will involve every country in the world and from which we can't self-isolate,"
Both men were asked about their views on

carbon border taxes,

where a

country that is reducing its emissions faster than a country it is trading with applies tariffs to address the imbalance

. Turnbull said they were "inevitable" with Australia a target. The Europeans have made it very clear to Australia, publicly, that we should expect in the free trade agreement that the government has been

negotiating for some time with the EU

that there will be climate change elements in it. "It's an old saw but

a tonne of CO2 has the same impact on the world's climate, regardless of where its emitted, so we all have an interest in everyone else's emissions.

So I think it is inevitable and I do support them as a matter of principle."
Two sources who have taken part in

Australia's ongoing negotiations with the EU

told The Sydney Morning Herald and The Age that no terms have been presented to Australia and that they would be rejected anyway. Carney said such taxes should be avoided but that he is not absolutely against them; he wouldn't put them in place now and it would be an unfortunate set of circumstances if we end up with big enough

differences in ambition

that they become necessary. "I don't think we're in that position."
RESPONSE
It is true that "a tonne of CO2 has the same impact on the world's climate, regardless of where its emitted". This is why only global emissions are relevant in climate sensitivity mathematics and why only a binding global emission reduction agreement is relevant in the climate change context.
The success of the UN in the Montreal Protocol for the ozone established its credentials as a global environmental agency. This dramatic and remarkable apparent success had made it axiomatic that it will therefore give us a corresponding Kyoto Protocol for the climate in terms of a global agreement to cut global fossil fuel emissions.
However, as explained in related posts on the Montreal Protocol [LINK] , [LINK] the  evidence does not show that the ozone depletion problem, that the Montreal Protocol is credited with solving, actually existed. In other words, the UN and its Montreal Protocol are credited with solving a non-existent problem. The data show that large short term changes in ozone concentration at the South Pole, like the one used to identify the ozone depletion problem as an ozone hole, recur and are the norm and that no evidence is found for a long term decline in global mean total column ozone [LINK] .
The failure of the UN to repeat its Montreal Protocol "success" can be interpreted in that light. The other factor is the enormous difference between changing refrigerants and overhauling the world's energy infrastructure. What we find in the climate era is that although the UN is keen to use global environmentalism issues such as climate change to extend its size, budget, and reach [LINK] [LINK] [LINK] [LINK] , it does not have the knowledge, skill, and legal authority to put together a binding global agreement for emission reduction.
The UN had seized on the climate crisis proposal put forth in the James Hansen Congressional Testimony of 1988 [LINK] as part of its ambition to establish itself as a global environmental authority based on its imagined Montreal Protocol "success" and, so superficial was their understanding of the climate change issue, they felt they could just do a repeat of the Montreal Protocol in what came to  be known as the Kyoto Protocol 30 years ago.  The Kyoto Protocol failed because it was a complex and poorly thought out document.
Following Kyoto, 20 more meetings called "conference of parties" or COP, were held to replicate the Montreal success but to no avail. A global emission reduction target had become further complicated and perhaps impossible when the UN

classified developing countries as "Non-Annex" meaning that they had no emission reduction obligation

under a global emission reduction agreement. .
Finally in the 21st COP meeting in Paris, desperate for something they could call an agreement, the UN bureaucrats, who had learned from the prior 20 meetings that if they write a global emission reduction contract for every nation to sign, not every country will sign it and the global emission reduction plan will fail as it had done so dramatically in Copenhagen. T

o avoid another Copenhagen disaster, the UN bureaucrats came up with the INDC idea for the 21st meeting.

It was a desperation plan to not go back empty handed again but to have something in hand that they could call an agreement.

The INDC (Intended Nationally Determined Contribution)

idea is that since all the participating nations will not sign the same document, the UN would let each of them write the agreement that they could sign (the INDC) and then gather up these INDCs into  pile, and call that the Paris Agreement. This was of course not a global agreement for global emission reduction determined according to a target warming amount since pre-industrial – but it was something they could call an agreement and declare that they had repeated their Montreal Protocol Success in the Climate issue and close the book on climate change.
Thus, though we have something called the Paris Agreement, it does not have a warming target, there is no binding global emission reduction in the Agreement, and the intended contributions are all very different and non-binding. The UN bureaucrats then decided that they could boost the total "contributions" from the INDCs by urging the INDC nations to have "ambition" and to maintain the "momentum" emission reduction in a cheer leading exercise. This is the sad state of affairs in what was supposed to be a global agreement to cut global emissions according to a globally agreed warming target.
Thus, although it is true that "a tonne of CO2 has the same impact on the world's climate, regardless of where its emitted", there is no global agreement for a global emission reduction target to implement a climate action plan according to that principle. All we have is the "Paris Agreement" of INDCs with the UN now acting as a cheerleader to urge nations have emission reduction ambition. This plan is not working and in terms of economics it is impossible for it to work as explained in a related post on this site [LINK] .
Also here we find that the climate scientists and activists who preach that "a tonne of CO2 has the same impact on the world's climate, regardless of where its emitted" are at the same time fully aware that there is not global agreement for a specified global emission reduction. Accordingly, they have joined the UN bureaucrats as emission reduction cheerleaders, not with buzzwords like "ambition" but with an odd logic that involves a comparison of the Covid-19 pandemic with climate change. This argument is in two parts.
The Covid Argument:Part-1:  In the first part, the Covid argument says that the Covid pandemic was heeded by all nations and by all peoples with a relative absence of Covid deniers. The Covid has taught us the correct way to respond to a global emergency and that logic must be applied to climate such that the climate emergency is treated in the same way. The critical evaluation of this Covid Argument is provided by user Cardimona in a comment at the Catallaxyfiles site [LINK] . The comment says that the Covid shows that people can tell the difference between real crises and faux crises and that they have responded to Covid and not to Climate does not mean that they must also respond to Climate in the same way. It means that they have identified Covid as a real crisis and Climate as a fake crisis.
The Covid Argument: Part-2:  In the second part, the Covid argument holds that the Covid lockdowns have significantly lowered the use of fossil fuels and therefore significantly decreased fossil fuel emissions. This proves that we humans can indeed lower our fossil fuel emissions when we want to and so we should just keep on doing it to fight the climate crisis. The critical evaluation of this Covid argument is found in the content of a related post on this site [LINK]  where we find that the reduction in fossil fuel emissions achieved by Covid had no measurable impact on changes in the rate of rise in atmospheric CO2 concentration that is the assumed foundational mechanism for the AGW climate change crisis. This event does not serve as motivation to continue emission reduction but rather as evidence of the irrelevance of fossil fuel emissions in the observed changes in atmospheric CO2 concentration.
Further evidence of the absence of a relationship between emissions and changes in atmospheric CO2 are provided in these related posts at this site:  (1) Monte Carlo simulation of the carbon cycle with and without  fossil fuel emissions [LINK]  (2) The absence of correlation between annual changes in atmospheric CO2 and annual emissions is described in three related posts [LINK] [LINK] [LINK] .
CONCLUSION: WE CONCLUDE FROM THE ANALYSIS ABOVE THAT THOUGH THE RESPONSE TO GLOBAL WARMING MUST BE A GLOBAL AGREEMENT TO CUT GLOBAL FOSSIL FUEL EMISSIONS, NO SUCH AGREEMENT EXISTS AND THE UN ITSELF HAS EXPOSED THE ABSENCE OF A GLOBAL AGREEMENT BY CHANGING ITS TACTICS TO THAT OF A CHEERLEADER GOADING NATION STATES TO HAVE NATIONAL AMBITION TO CUT NATIONAL EMISSIONS.
WE FURTHER FIND THAT THE THE SERIOUSNESS OF THE COVID CRISIS DOES NOT IMPLY THAT THEREFORE THE CLIMATE CRISIS MUST BE EQUALLY SERIOUS. AS POINTED OUT BY CARDIMONA [LINK] , WHAT THE COMPARISON PROVES IS THAT PEOPLE CAN TELL REAL CRISES APART FROM FAKE ONES.
WE FURTHER FIND THAT COVID INDUCED EMISSION REDUCTION REVEALS THE ABSENCE OF THE ASSUMED RELATIONSHIP BETWEEN EMISSIONS AND CHANGES IN ATMOSPHERIC CO2 CONCENTRATION. THERE WAS NO RESPONSE IN THE RATE OF CHANGE IN ATMOSPHERIC CO2 TO COVID INDUCED EMISSION REDUCTION. 
IN SHORT, THE CLIMATE SCIENCE ARGUMENTS FOR BOTH CLIMATE CHANGE AND CLIMATE ACTION LACK EMPIRICAL SUPPORT SUCH THAT PEOPLE IN GENERAL CAN TELL A REAL COVID CRISIS APART FROM AN IMAGINED CLIMATE CRISIS.
ALSO, FROM A MORAL PERSPECTIVE, IT IS CRUEL OPPORTUNISM TO USE THE COVID TRAGEDY AS A SALES TOOL TO PUSH THE CLIMATE ISSUE.
2 Responses to "COVID WILL KILL CLIMATE DENIALISM"