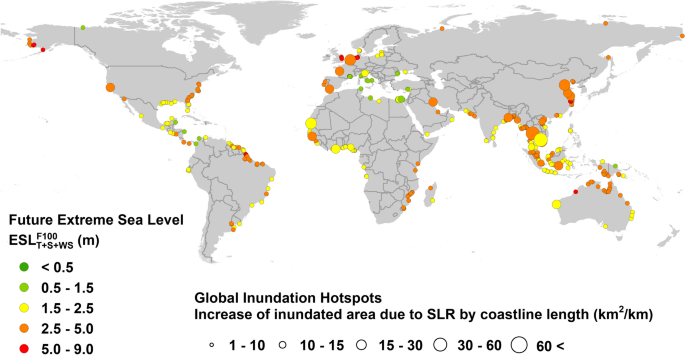 THIS POST IS A CRITICAL REVIEW OF EPISODIC COASTAL FLOODING FORECASTS IN Kirezci, E., Young, I.R., Ranasinghe, R. et al. Projections of global-scale extreme sea levels and resulting episodic coastal flooding over the 21st Century. Sci Rep 10, 11629 (2020). https://doi.org/10.1038/s41598-020-67736-6, [LINK]
PART-1: WHAT THE RESEARCH PAPER SAYS
ABSTRACT: Global models of tide, storm surge, and wave setup are used to obtain projections of episodic coastal flooding over the coming century. The models are extensively validated against tide gauge data and the impact of uncertainties and assumptions on projections estimated in detail. Global "hotspots" where there is projected to be a significant change in episodic flooding by the end of the century are identified and found to be mostly concentrated in north western Europe and Asia. Results show that for the case of, no coastal protection or adaptation, and a mean RCP8.5 scenario, there will be an increase of 48% of the world's land area, 52% of the global population and 46% of global assets at risk of flooding by 2100. A total of 68% of the global coastal area flooded will be caused by tide and storm events with 32% due to projected regional sea level rise.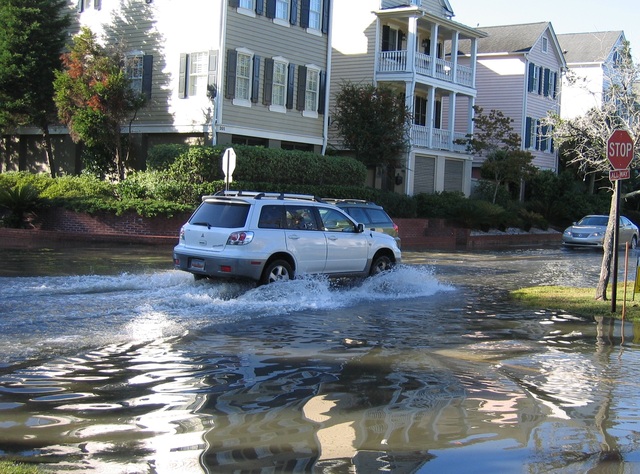 CRITICAL COMMENTARY
CLIMATE SCIENCE HAS GIVEN UP ON THE HORRIFIC SEA LEVEL RISE OF SEVERAL METERS THAT WILL KILL US ALL AS IN THE RE-CREATION OF THE 6 TO 9 METERS OF SEA LEVEL RISE IN THE EEMIAN INTERGLACIAL WHEN THE WEST ANTARCTIC ICE SHEET (WAIS) HAD COLLAPSED AT THE VERY ONSET OF THE EEMIAN INTERGLACIAL AS DESCRIBED IN A RELATED POST; LINK: [LINK] THE SEA LEVEL RISE FEAR HAS RETREATED TO EPISODIC COASTAL FLOODING OF CERTAIN LOW ELEVATION COASTAL REGIONS IDENTIFIED AS SEA LEVEL RISE HOTSPOTS. THESE COASTAL FLOODING EVENTS ARE PROJECTED TO OCCUR DURING HIGH TIDE OR STORM SURGES BUT NOT THE REST OF THE TIME.
THIS FORECAST IS FOR THE END OF THE CENTURY, ABOUT 79 YEARS FROM THE YEAR 2021, AND IT IS BASED ON THE MOST EXTREME OF ALL CLIMATE CHANGE FORECASTS IN THE NOW MOSTLY DISCREDITED RCP8.5 EMISSION SCENARIO. THIS FORECAST IS A FACE SAVING WAY OF THE HUMILIATING ADMISSION THAT THE KIND OF SEA LEVEL RISE THEY HAD BEEN SCARING US WITH ALL THIS TIME IS A FALSEHOOD JUST AS RCP8.5 IS.
SCIENCE IS A GOOD THING EXCEPT WHEN IT IS USED AS A TOOL OF FEAR BASED ACTIVISM.
HUMAN CAUSE: THE REAL ISSUE HERE IS HUMAN CAUSE BECAUSE WITHOUT EVIDENCE OF HUMAN CAUSE OF THE WARMING TREND, WHATEVER IMPACTS THE WARMING MAY HAVE ARE ALL NATURAL.
LINK: https://tambonthongchai.com/2021/11/09/the-issue-is-human-cause/
1 Response to "EPISODIC COASTAL FLOODING"