QUESTION: WHY IS GLOBALIZATION BAD FOR THE ENVIRONMENT?
ANSWER#1: GLOBALIZATION INCREASES THE SHIPPING DISTANCE OF GOODS AND THE EXTRA FOSSIL FUEL NEEDED INCREASES FOSSIL FUEL EMISSIONS AND GLOBAL WARMING
ANSWER#2: GLOBALIZATION CAUSES HABITAT DESTRUCTION:
ANSWER#3: OVERSEAS SHIPPING IN TRADE TRANSFERS INVASIVE SPECIES TO ECO SYSTEMS THAT HAVE NO DEFENSE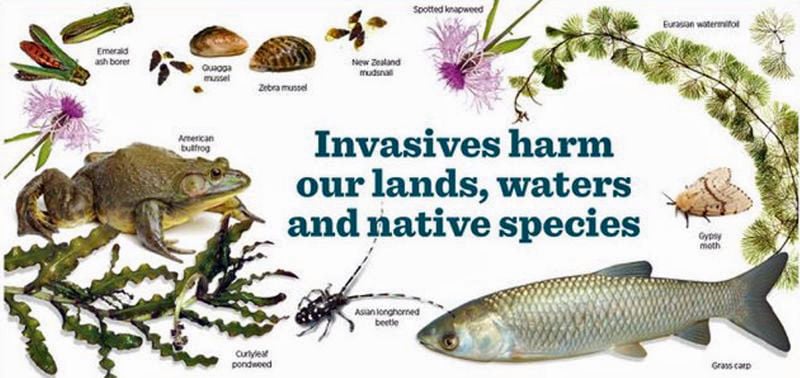 ANSWER#4: TRADE PROMOTES ECONOMIC SPECIALIZATION AND ECONOMIC SPECIALIZATION LEADING TO HABITAT LOSS, DEFORESTATION, RESOURCE DEPLETION.
ANSWER#5: DECREASED BIODIVERSITY. INCREASED GREENHOUSE GAS EMISSIONS, OCEAN ACIDIFICATION, DEFORESTATION, CLIMATE CHANGE, AND LOSS OF BIODIVERSITY. DECREASE IN THE POPULATION OF ORGANISMS
CRITICAL COMMENTARY
Although the eco wackos present the case of a conflict between economics and ecology, what we see is that it is only in countries made rich with the economics of globalization, trade, and manufacture that the citizens can afford the luxury of this world view.

That there are conflicts among species is a natural thing and very much an intrinsic property of the dynamics and evolution of nature. Humans are just another species of mammals and very much a part of nature and part of this process and not the caretakers of the earth and the managers of nature and not the gods of nature that will decide how nature should work.
That we have lost our original concept of ecology and of the management of our enivornment (French for surroundings) to safeguard and enhance human welfare, and embarked on a god-like role as managers of nature is demonstrated in the Bambi Principle of environmentalism described in a related post on this site: LINK: https://tambonthongchai.com/2020/11/15/the-bambi-principle/ .
4. CLIMATE CHANGE: Fossil fuels were at one time, back in the smog and acid rain days, an environmental issue. It is no longer so as the fossil fuels of today comply with all EPA regulations. The fossil fuel issue today is not envronmentalism but the finding by climate science that burning fossil fuels causes atmospheric CO2 to rise and that rising atmospheric CO2 in turn causes warming, and that we should stop burning fossil fuels in order to stop the warming. This issue is not environmentalism and it has nothing to do with the claim that globalization is bad because it is bad for the environment.
5. Humans are part of life on earth and we have a right to be here and that our presence here will have an environmental impact is a given and that some species will suffer as a result is part of that evolutionary dynamic that has created the current species mix we see. This current species mix and condition is not some kind of ideal static for us to maintain but a passing state of a volatile and ever changing nature.
6. HUMANS ARE NOT THE MANAGERS NOR THE CARETAKERS OF NATURE. GENESIS IS SCRIPTURE AND RELIGION AND IT BELONGS IN THE CHURCH AND ONLY IN THE CHURCH.