TheDavidism: This particular pandemic that we are going through. I think people are discovering that they need the natural world for their very sanity. People never listen to a bird song. Suddenly feel excited supported inspired by the natural world and they realize they are not apart from it, they are part of it.
Anderson Cooper: So by saving nature we are saving oueselves?
TheDavidism: Oh without question.
Anderson Cooper: You say in the film, we are not just ruining the world, we destroyed it. It is that far gone?
TheDavidism: Ahhhhh it's not beyond redemption.
Anderson Cooper: Politically the tide is moving in the opposite direction. Nation states more looking inward, not as part of a global community.
TheDavidism: That's what going to sink us in the end. That's what going to sink us.
Anderson Cooper: Can you be optimistic at all?
TheDavidism: We don't have an alternative. I mean what good is it to say oh hell with it I don't care? You can't say that. Not if you love your children. Not if you love the rest of humanity. How can you say that?
Anderson Cooper: It's the young that Sir David now puts his faith in and they it seems have faith in him.
TheDavidism: There is a huge movement around the world of people from all nations, young people, who can see what is happening to the world and demanding that their government should take action. That's …. that's the best hope I have. Honestly, my generation failed. We've allowed this to happen.
Anderson Cooper: We've allowed this to happen despite being the smartest creature that has ever lived.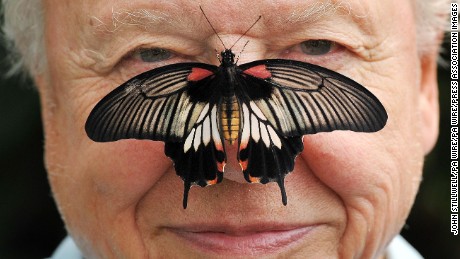 CRITICAL COMMENTARY
ALL HIS LIFE, DAVIDISM HAS SEPARATED HUMANS FROM NATURE WHERE ALL THOSE CUTE NON-HUMAN CREATURES THAT HE LOVES WERE

THE NATURAL WORLD

AND THOSE HORRIBLE HUMANS, A CONSTANT THREAT TO THE NATURAL WORLD, WAS PRESUMABLY THE UNNATURAL WORLD.

YET HERE HE SAYS THAT HUMANS ARE PART OF THE NATURAL WORLD

.

IF HUMANS ARE PART OF THE NATURAL WORLD THEN WHY DO WE NEED THE TERM "NATURAL WORLD

"? ALL ALONG, IN ALL HIS OTHER SPEECHES AND WRITINGS HE HAS MADE

A CLEAR AND FOUNDATIONAL DISTINCTION BETWEEN HUMANS AND THE REST OF CREATION HE DESCRIBES AS "THE NATURAL WORLD

" AND HAS BEEN OBSESSED WITH HOW HUMAN ACTIVITY IMPACTS THE NATURAL WORLD.
EVEN IN THIS VIDEO HE SAYS THAT

HUMANS NEED THE NATURAL WORLD FOR THEIR SANITY

.

AND THEN HE SAYS THAT HUMANS ARE PART OF THE NATURAL WORLD

. IT DOESN'T MAKE SENSE.
HIS VIEW OF ENVIRONMENTALISM IS A FORM OF BAMBI-ISM DERIVED FROM

GENESIS WHERE THERE IS A NATURAL WORLD AND HUMANS HAVE DOMINION OVER THE NATURAL WORLD

.
THAT ENVIRONMENTALISM IS UNDERSTOOD AS HUMANS TAKING CARE OF THE NATURAL WORLD IN A KIND OF BAMBI VERSION OF ENVIRONMENTALISM. HIS NEW-FOUND VISION THAT HUMANS ARE PART OF THE NATURAL WORLD UNDOES ALL OF THAT. IT IS EVEN INCONSISTENT WITH THE REST OF THE INTERVIEW AND WITH EVERYTHING HE HAS SAID BEFORE.

DAVIDISM IS CONFUSED

.
HIS ANSWER TO THE QUESTION "

SO BY SAVING NATURE WE ARE SAVING OURSELVES?" IS "OH YES WITHOUT QUESTION" AND THAT ONCE AGAIN SEPARATES HUMANS FROM THE NATURAL WORLD

WHILE IN ANOTHER PART OF VIDEO HE SAYS THAT HUMANS ARE PART OF THE NATURAL WORLD.
"WE ARE NOT JUST RUINING THE WORLD,

WE HAVE DESTROYED IT BUT IT'S NOT BEYOND REDEMPTION

". WHAT ON EARTH DOES THAT MEAN? IF WE CAN RUIN AND DESTROY THE WHOLE WORLD AND STILL NOT BE BEYOND REDEMPTION THEN WHAT ON EARTH COULD POSSIBLY BE BEYOND REDEMPTION?

THAT NATIONS HAVE A NATION STATE PRIORITY AND ARE NOT PART OF AN INTERNATIONAL COMMUNITY IS SOMETHING HE FINDS WILL DESTROY US IN THE END

. NATION STATE ORIENTATION OF HUMANS IS A BAD THING BECAUSE PEOPLE SHOULD HAVE A GLOBAL ORIENTATION. BUT THEN HE SAYS THAT YOUNG PEOPLE CAN SEE THE BAD THINGS THAT ARE HAPPENING THAT THE ADULTS CAN'T SEE AND HE FINDS IT A GOOD THING THAT YOUNG PEOPLE ARE ALSO NATION STATE ORIENTED AND THEREFORE ASKING THEIR NATIONAL GOVERNMENT TO TAKE ACTION AND NOT THE UNITED NATIONS – AND THAT'S THE BEST HOPE HE HAS.
ALTHOUGH HE NOW SAYS THAT HUMANS ARE PART OF "THE NATURAL WORLD" THE HISTORY OF DAVIDISM ENVIRONMENTALISM IS BEST DESCRIBED IN TERMS OF THE BAMBI PRINCIPLE WHERE "THE NATURAL WORLD" IS BAMBI

WE ARE GOD-LIKE CREATURES WITH DOMINION OVER "THE NATURAL WORLD" AND THEREFORE THE MANAGERS AND CARETAKERS OF NATURE AND, ACCORDING TO DAVIDISM, THE PLANET ITSELF.

THE RELATIVE INSIGNFICANCE OF HUMANS ON A PLANETARY SCALE IS DESCRIBED IN A RELATED POST: LINK: https://tambonthongchai.com/2020/07/31/planetary-environmentalism-in-the-anthropocene/ WHERE WE NOTE THAT : The crust of the planet where we live is an insignificant portion of the planet. Life on earth is an insignificant portion of the crust of the planet. Humans are an insignificant portion of life on earth. Although it is true that humans must take care of their environment, we propose that the environment should have a more rational definition because the mass balance above does not show that the planet is our environment or that we are in a position to either save it or to destroy the planet.
Like ants and bees, humans are social creatures that live in communities of humans so that when they look around they see humans everywhere. This is the likely source of our human oriented view of the world. It is this biased view of the planet that makes it possible for us to imagine a planetary relevance for humans seen in the Davidism view of environmentalism in terms of Genesis and Bambi and the fearful image described by Jeff Gibbs as "Have you every wondered what would happen if a single species took over an entire planet?"
MORE ABOUT DAVIDISM
LINK#1: https://tambonthongchai.com/2021/01/03/the-david-speaketh/
LINK#2: https://tambonthongchai.com/2021/01/17/population-bomb-davidism/
HUMAN CAUSE: THE REAL ISSUE HERE IS HUMAN CAUSE BECAUSE WITHOUT EVIDENCE OF HUMAN CAUSE OF THE WARMING TREND, WHATEVER IMPACTS THE WARMING MAY HAVE ARE ALL NATURAL.
LINK: https://tambonthongchai.com/2021/11/09/the-issue-is-human-cause/
I present below some of comments found under TheDavid's Youtube videos.
This man is such a treasure
Please don't die
Perfectly said, sir
I don't know why, but his voice is so soothing. Stay well Attenborough!
6 years old hear his voice. 21 years old still hear his voice.
Our planet is truly perfect. It's just that not everyone see's it that way.
Thank you Sir Attenborough. Here's hoping 2021 will be the year we've all been patiently waiting for…
The voice that continues to rule the world
VOTE DAVID AS MAN OF THE CENTURY
Mr Attenborough is a treasure, and I will listen to him without reservation.
If I could pick one person to live forever I would chose David Attenborough. No question
I need this man to live forever. He's a treasure
I will listen to anything Sir David Attenborough says! 1 day ago
Legendary narrator with a great voice. He made his work iconic using his talent. Any adjective will be less to describe the greatness of his powerful voice. I wish god will reward him with immortality through his voice, his work. Infinity number of thanks for your tireless contribution to the entertainment and nature.
Hello David , I admire you as a human being and as a spokesman for our planet. Thank you and best regards from Lloyd somewhere here in Ontario Canada
Absolutely to all the positive comments here… Can't imagine a world without Sir David Attenborough… The voice of reason… May he be with us for a long long time… We need him more than ever before… The animal world, the planet needs him.
We are doing it David, we helped save the Alaskan wildlife from oil companies, more than 5 million of us stopped it
It is so sad that we don't have millions of humans like this one!
I love him he's a legend
I'm just glad David told us this message 'cause he's the only person that can tell us very important news for the planetary ecosystem.
His voice is so powerful
Our planet will be happy only when humans disappear, it's hard, but true
When Sir Attenborough talks, people listen.
Holy smokes…this video, the music and Attenborough's voice gave me chills and nearly tears in my eyes
Love David Attenborough and hope people listen to his massage
I absolutely love this man. i wish every single person on this planet was like him.
We have learned so much from him. Lets share his message. God Bless Us All In 2021.
I got speechless watching this!!
Thank God we still have some people like you,Sir.David!! May others can learn about your advice!!