THIS POST IS A CRITICAL REVIEW OF THE ARTICLE "LEARNING FROM A HEALING OZONE HOLE" FIRST PUBLISHED IN 2019 BY THE UNITED NATIONS ENVRONMENT PROGRAM (UNEP) TO SUGGEST THAT WE CAN HEAL THE CLIMATE CRISIS BECSUSE WE HEALED THE OZONE HOLE. LINK TO SOURCE: http://www.saicm.org/Resources/SAICMStories/Learningfromahealingozonehole/tabid/8119/Default.aspx
PART-1: WHAT THE UNEP ARTICLE SAYS IS PRESENTED BELOW IN A FORMAT OF CLAIMS MADE AND OUR RESPONSE TO EACH CLAIM.
CLAIM

:

Ever since humans first travelled into space, we have heard stories about the fragility of the pale blue dot that is our planet.

This fragility is partially attributed to the Earth's "paper-thin" atmosphere, the only protection we have from the darkness and emptiness of space and the interstellar objects and radiation that could be harmful to us, such as hurtling asteroids and ultraviolet radiation. The ozone shield, for example, our main protection against the Sun's hostile rays, is only 20 km wide on average; let's compare it to wrapping a 1cm-wide marble in a single layer of plastic wrap. If all the protection we have against volatile external forces is a single layer of plastic wrap, and that plastic wrap starts wearing thin and showing holes, it would be wise to take good care of it. This was the message the world received in the 1980s, when the Antarctic ozone hole was identified by researchers, just under a decade after scientists first mentioned ozone depletion. The message was clear; the ozone layer protected us from genetic damage and skin cancer, it was getting weaker, and human-made products were at the root of the issue..

RESPONSE

:

The ozone depletion issue is not about the thinness of the ozone layer nor about ozone holes. The ozone depletion issue was raised in the context of the Rowland Molina Theory of Ozone Depletion (RMTOD) that was constructed after James Lovelock discovered that halogenated hydrocarbons (HFC) used by humans as refrigerants and spray agents were inert and that therefore they had no natural sink in the troposphere where they tended to accumulate and where they could accumulate indefinitely. RMTOD proposed that given enough time, 40 to 100 years, by the random molecular motion in the atmosphere and their relative light molecular weight, CFC molecules could be transported high up to the stratospheric ozone layer. Once there, ultraviolet radiation could cause these molecules to break up and release chemically active chlorine free radicals that could act as chemical agents of ozone destruction. The testable implication of the RMTOD theory is not a localized and brief ozone depletion events over the South Pole referred to as ozone holes but a long term gradual decline in global mean total column ozone over the whole of the earth at all latitudes.

The term ozone hole does not refer to a hole in the ozone layer that lets in harmful UV radiation. There is no such thing. The term ozone hole refers to localized ozone depletion events above the South Pole.

CLAIM

: People around the world started to become increasingly cautious about a depletion of the ozone layer and ensuing risks it did not take long for governments to mobilize. Individual countries started banning products emitting CFCs, the main chemical guilty of ozone depletion, as early as the 1970s. In 1987 the world agreed to cap CFC production at 1986 levels and commit to long-term reductions. Under a decade later, CFC production was banned in developed countries, and developing countries followed soon after.

RESPONSE

:

This statement is true except that "people around the world started to become increasingly cautious about ozone depletion" because they had been scared to death in a fearmongering campaign with horror stories about ozone depletion. This campaign actually began in the 1960s when the alleged agent of ozone depletion was the proposed development of supersonic airliners. The bizarre history of the ozone depletion scare is provided in a related post:

LINK: https://tambonthongchai.com/2018/08/07/history-of-the-ozone-depletion-scare/

CLAIM

: The ozone case was time-sensitive, yet the battle against ozone depletion was a success like the world had never seen. In 2016, just 40 years since researchers first spoke of ozone depletion, a gradual trend toward ozone 'healing' was reported, and it is believed that the ozone layer will recover to 1980 levels near the middle of the 21st century.

RESPONSE

: The success that the world had never seen was also a UN managed solution to an environmental problem that never existed in the first place. It was a case of declare an imaginary problem, push through a proposed action plan that is proposed as a solution, and then simply declare the problem solved. As shown in related posts on this site there is no long declining trend in global mean total column ozone, and there never was a long term declining trend in global mean total column ozone. The only evidence presented was that there were brief low ozone events above the South Pole from time to time several years apart that have continued to recur to this day when the ozone depletion problem has apparently been solved. There are still low ozone events above the South Pole the most recent being the one seen this year in 2020 as described in a related post: LINK: https://tambonthongchai.com/2020/11/04/the-ozone-hole-of-2020/ . No explanation has been provided for the anomaly that brief ozone depletion events over the South Pole (ozone holes) that were the only evidence every presented for ozone depletion continue to occur unabated even after the ozone depletion problem has been declared to have been solved by the heroic UNEP and its Montreal Protocol.

We also note that he year 2016 is declared as "40 years since researchers first spoke of ozone depletion". Kindly note, that in the modern era, researches first spoke of ozone depletion 57 years ago in 1963 when ozone depletion fearmongering had shout down the SST airliner program.

CLAIM

: On this International Day for the Preservation of the Ozone Layer, themed "32 years and healing," we can rightfully celebrate over three decades of remarkable international cooperation to protect the ozone layer. Ozone layer protection efforts have not just helped drive ozone healing but have also contributed to the fight against climate change by averting an estimated 135 billion metric tons of carbon dioxide equivalent emissions. This shows that solutions can be advantageous on multiple fronts without watering down the benefits. This day also reminds us that we must keep up the momentum to establish a future of healthy people and a healthy planet. As we head into an era of ozone healing, let's push to keep hold of these gains, particularly by remaining vigilant and tackling any illegal sources of ozone-depleting substances as they arise. We must also commit ourselves to the Kigali Amendment to the Montreal Protocol, which entered into force on 1 January 2019 and aims for the phase-down of hydrofluorocarbons (HFCs); this can simultaneously support the protection of the ozone layer and avoid further global temperature rise. Finally, let's keep learning from ozone successes as we tackle other issues regarding chemicals and waste. Perhaps by looking at what did and didn't work in reversing the damage done to the ozone layer, we can gain inspiration to halt and reverse the damages done by other hazardous chemicals. Congratulations to our chemicals family for caring for the ozone layer. Let's keep on working for a chemical-safe future together!

RESPONSE

:

Even as the UN congratulates itself on the "International Day for the Preservation of the Ozone Layer", we present data in related posts that the ozone layer has in fact been preserved and moreover that it had always been preserved as we see no evidence in the data of long term decline in total column ozone. Periodic and localized ozone depletion events over the South Pole do not serve as evidence of RMTOD as explained in below.
RELATED POSTS AT THIS SITE ON THE OZONE DEPLETION ISSUE
RELATED POST#1: OZONE CHEMISTRY: https://tambonthongchai.com/2018/04/01/ozone-depletion-and-ozone-holes/ :
The Montreal Protocol subsumes that without human intervention the amount of ozone in the stratosphere is invariant and that a decline in ozone over time is a trend and not part of long run cyclical phenomena. All observed depletions, even localized and time constrained events, are therefore assumed to be man-made and the causative agent is identified as CFC. Natural changes thus interpreted as anomalies that require an explanation in terms of human cause.
The ultraviolet spectrum in incident solar radiation comes in three frequency bands. The high energy band (200-240 nanometers in wavelength) and the medium energy band (240-300 nanometers in wavelength) are harmful to living matter and are absorbed in the ozone layer while the low energy band (300-480 nanometers in wavelength) reaches the earth's surface and causes tanning. In the absorption of harmful UV radiation, ozone is both created and destroyed in the absorption process. The high-energy band UV is absorbed by oxygen molecules causing them to break apart into extremely reactive oxygen atoms. A subsequent chance collision of these atomic particles with other oxygen molecules forms ozone which then absorbs the medium-energy UV band and disintegrates back into oxygen. The UV absorption process is a cyclical one that begins and ends with oxygen. Ozone is a transient intermediate product of this process. The reason that there is any ozone accumulation at all in the stratosphere is that, of the three reactions, the second is the slowest. Sunset finds the stratosphere with an excess of single oxygen atoms still looking for a date with an oxygen molecule. Overnight, with no radiation to destroy their product, these particles build up an inventory of ozone whose destruction will begin anew at sunrise. There is therefore, a diurnal cycle in the ozone content of the stratosphere whose amplitude is of the same order of magnitude as reported ozone depletion over the South Pole that confirmed the RMTOD and caused Montreal Protocol to be invoked.
A longer but irregular cyclical pattern in stratospheric ozone coincides with the sunspot cycle. The period is 8 to 17 years with an average of 11 years. High-energy band UV increases by 6 to 10% during periods of high sunspot activity but the medium-energy UV emission is largely unaffected. High sunspot activity favors ozone accumulation and low sunspot activity is coincident with ozone depletion.
A somewhat similar pattern exists in the case of polar ozone holes. The UV induced reactions described above occur only over the tropics where sunlight is direct. Ozone is formed over the equator and not over the poles. Equatorial ozone is distributed to the higher latitudes by the Brewer-Dobson Circulation (BDC) shown below.
The shape and position of the BDC changes seasonally and also shifts over a longer time cycle. Therefore, the efficiency of the BDC in transporting ozone to the greater latitudes changes seasonally and also over longer time cycles. These changes do not have an ozone depletion interpretation but they can create the polar ozone hole phenomenon. When the distribution of ozone is not efficient, localized "ozone depletion" appears to occur in the extreme latitudes in the form of what has come to be called an ozone hole. These holes come and go in natural cyclical changes and are not the creation of chemical ozone depletion and they do not serve as empirical evidence of the Roland Molina theory of ozone depletion by CFCs.
THE CASE AGAINST CFCs.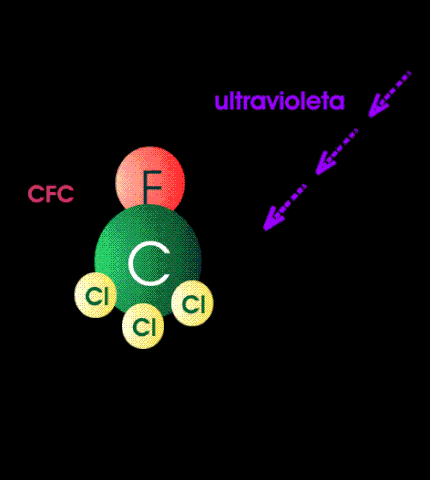 The case against CFCs is that when they get to the stratosphere by diffusion, they absorb high-energy band UV and form unstable and reactive chlorine atoms. The chlorine atom particles then participate as catalytic agents to convert ozone back to oxygen. In other words they mediate the reaction between atomic oxygen particles and ozone. It is alleged that the destruction of ozone by this mechanism exposes the surface of the earth to dangerous levels of medium-band UV because there is not enough ozone left in the stratosphere to absorb them.
Although these reactions can be carried out in the chemistry lab (see above), there are certain rate constraints that make them irrelevant in the stratosphere. The air up there in the stratosphere is rather thin, containing less than one percent (1%) of the molecular density of air at sea level. It is not easy for a molecular particle in random thermal motion to find another particle to react with. Photochemical reactions occur instantaneously but those that require a collision of two particles take much much much longer.
This difference in the reaction rate is the reason that ozone accumulates overnight and why there is an inventory of ozone in the ozone layer. The atomic oxygen particles that react with oxygen molecules to form ozone could in theory react with an ozone molecule instead and cause its destruction or it could react with another atomic oxygen particle and form oxygen instead of ever forming any ozone. Some of the oxygen atoms do behave in this manner but these reactions proceed too slowly to be important to the chemistry of the stratosphere. The reason is that the stratospheric chemicals in question exist in minute quantities. One in a million particles is an ozone molecule or an atomic oxygen particle and one in a billion is CFC or chlorine generated from CFC. The accidental collision between chlorine atoms and ozone molecules or between chlorine atoms and oxygen atoms are rarer than those between two oxygen atoms or that between an oxygen atom and an ozone molecule. Therefore the latter collisions involving oxygen atoms are more important to ozone depletion than those mediated by chlorine. Considering that more than 200,000 out of a million molecular particles in the stratosphere are oxygen, it is far more likely that charged oxygen atoms will collide with oxygen molecules rather than with each other or with ozone. Therefore ozone rather than oxygen is formed. Ozone formation is a rate phenomenon.
Chlorine atoms are a thousand times rarer in the stratosphere than atomic oxygen particles. It is not likely that chlorine's mediation in short circuiting ozone generation will occur sufficiently fast to be important. Nature already contains an ozone destruction mechanism that is more efficient than the CFC mechanism but ozone forms anyway. However, the argument can be made that overnight after sunset, as charged oxygen atoms are used up, the charged chlorine atoms take on a greater role in ozone destruction and also when these chemicals are distributed to the greater latitudes where sunlight is less direct and too weak to be ionizers of oxygen, the only ozone destruction chemistry left is that of charged chlorine atoms colliding with ozone.
The relative importance of these overnight and greater latitude reactions in making changes to latitudinally weighted mean global ozone can be checked by examining its overall long term trends as well as its trend profiles. These data are shown in the data analysis summary of related posts on ozone depletion.
EMPRICIAL TEST OF OZONE DEPLETION #1 SATELLITE DATA
THIS POST IS A STUDY OF TRENDS IN STRATOSPHERIC OZONE CONCENTRATION 1979-2015 FROM SATELLITE DATA AND A TEST OF THE ROWLAND MOLINA THEORY OF ANTHROPOGENIC CHEMICAL OZONE DEPLETION DESCRIBED IN FARMAN ETAL 1985 AND THE MONTREAL PROTOCOL.
SUMMARY: Mean global total ozone is estimated as the latitudinally weighted average of total ozone measured by the TOMS and OMI satellite mounted ozone measurement devices for the periods 1979-1992 and 2005-2015 respectively. The TOMS dataset shows an OLS depletion rate of 0.65 DU per year on average in mean monthly ozone from January 1979 to December 1992. The OMI dataset shows an OLS accretion rate of 0.5 DU per year on average in mean monthly ozone from January 2005 to December 2015. The conflicting and inconsequential OLS trends may be explained in terms of the random variability of nature and violations of OLS assumptions that can create the so called Hurst phenomenon. These findings are inconsistent with the Rowland-Molina theory of ozone depletion by anthropogenic chemical agents because the theory implies continued and dangerous depletion of total ozone on a global scale until the year 2040.
POLICY IMPLICATION: THE APPARENT MONTREAL PROTOCOL SUCCESS THAT VAULTED THE UNITED NATIONS INTO A GLOBAL ROLE IN CLIMATE CHANGE HAS NO SUPPORTING EVIDENCE. IT SHOULD ALSO BE MENTIONED THAT THERE IS NO ROLE FOR THE POLAR OZONE HOLE IN THE ROWLAND MOLINA THEORY OF OZONE DEPLETION. THE OZONE HOLE IS A LOCALIZED EVENT. THE ROWLAND MOLINA THEORY OF OZONE DEPLETION RELATES ONLY TO LONG TERM TRENDS IN GLOBAL MEAN TOTAL COLUMN OZONE. NO SUCH TREND HAS EVER BEEN PRESENTED AS EVIDENCE. HERE WE SHOW THAT NO SUCH TREND IS FOUND IN THE DATA. THE OZONE DEPLETION CRISIS AND ITS MONTREAL PROTOCOL SOLUTION DO NOT APPEAR TO HAVE EMPIRICAL SUPPORT
EMPRICIAL TEST OF OZONE DEPLETION #2
GROUND STATION OZONE DATA
LIST OF GROUND STATIONS
AND TOTAL COLUMN OZONE DATA FROM AMS, HLB, LDR, PTH
TOTAL COLUMN OZONE DATA FROM SMO, MLO, WAI, BDR
TOTAL COLUMN OZONE DATA FROM CAR, BIR, FBK, BRW
SUMMARY AND CONCLUSIONS
CONCLUSIONS: The ozone data from ground stations presented above do not show a long term declining trend in global mean total column ozone. Moreover, the patterns in the data suggest that the occasional low levels of ozone seen over the South Pole that have been interpreted as evidence of ozone depletion and evidence of a hole in the ozone layer, is a figment of a pattern in the data that is likely the creation of natural variability in ozone distribution by the Brewer Dobson circulation.
Figure 27 shows that the range of observed ozone levels is a strong function of latitude. It reaches a minimum of about 20DU in the tropics and increases asymmetrically toward the two poles. The hemispheric asymmetry has two dimensions. The northward increase in range is gradual and the southward increase in range is steep. Also, the northward increase in range is achieved mostly with rising maximum values while southward increase in range is achieved mostly with falling minimum values. The midpoint between the HIGH and LOW values is symmetrical within ±45 from the equator but diverges sharply beyond 45 with the northern leg continuing a steady rise while the southern leg changes to a steep decline as seen in Figure 28.
Hemispheric asymmetry in atmospheric circulation patterns is well known (Butchart, 2014) (Smith, 2014) and the corresponding asymmetry in ozone levels is also recognized (Crook, 2008) (Tegtmeier, 2008) (Pan, 1997). These asymmetries are also evident when comparing seasonal cycles among the ground stations (Figure 29). The observed asymmetries are attributed to differences in land-water patterns in the two hemispheres with specific reference to the existence of a large ice covered land mass in the South Pole (Oppenheimer, 1998) (Kang, 2010) (Turner, 2009). The climactic uniqueness of Antarctica is widely recognized (Munshi, Mass Loss in the Greenland and Antarctica Ice Sheets, 2015) (NASA, 2016) (NASA, 2015).
The left panel of Figure 30 represents the Southern Hemisphere from AMS (-90deg) to SMO (-14deg). The right panel represents the Northern Hemisphere from MLO (+19.5deg) to BRW (+71deg). The x-axis in each panel indicates the calendar months of the year from September = 1 to August = 12. The ordinate measures the average rate of change in total column ozone for each calendar month among adjacent Lustra for all Lustra estimated using OLS regression of mean total column ozone against Lustrum number for each month. For example, in the left panel we see that in the month of September, (x=1) ozone levels at HLB (shown in red) fell at an average rate of 15DU per Lustrum for the entire study period; and in the right panel we see that in the month of July (x=11) ozone levels at FBK (shown in orange) rose at an average rate of more than 2DU per Lustrum over the entire study period. The full study period is 50 years divided into 10 Lustra but it is abbreviated for some stations according to data availability.
The concern about anthropogenic ozone depletion is derived from the finding by Farman et al in 1985 that ozone levels at HLB fell more than 100DU from the average value for October in 1957-1973 to the average value for October in 1980-1984. In comparison, changes of ±5DU from Lustrum to Lustrum seem inconsequential. In that light. On this basis, if we describe ±5DU per Lustrum as representative of random natural variability, what we see in Figure 30 is that, except for the two Antarctica stations (AMS and HLB), no average change in monthly mean ozone from Lustrum to Lustrum falls outside this range. It is therefore not likely that the HLB data reported by Farman et al can be generalized globally.
We conclude from this analysis that the Farman etal study, the only empirical evidence thought to validate the Rowland Molina theory of ozone depletion, is flawed and therefore does not serve as evidence of anthropogenic ozone depletion. And yet, Farman etal 1985 served and still serves to this day as the sole empirical support for the ozone crisis that created the role for the UN in global environmentalism.
These relationships imply that there is no empirical evidence to support the Rowland Molina Theory of Ozone Depletion and that therefore there is no evidence of human caused ozone depletion by way of CFC emissions.
The occasional low ozone level over the South Pole described as an "ozone hole" and presented as evidence of ozone depletion is neither a hole in the ozone layer nor evidence of ozone depletion but natural variability understood in terms of the data presented above.
LINK TO RELATED POSTS ON OZONE DEPLETION
POST#1: A critical evaluation of Farman etal 1985, which stands to this day as the only empirical validation of the Rowland Molina Theory of Ozone Depletion (RMTOD). https://tambonthongchai.com/2019/03/12/ozone1966-2015/
POST#2: MARIO MOLINA AND THE ROWLAND MOLINA THEORY OF OZONE DEPLETION : https://tambonthongchai.com/?s=MOLINA
POST#3: THE OZONE HOLE OF NASA: And the distinction between the ozone hole and the Rowland Molina Theory of Ozone Depletion https://tambonthongchai.com/2020/11/04/the-ozone-hole-of-2020/
POST#4: EMPIRICAL TEST OF THE ROWLAND MOLINA THEORY OF OZONE DEPLETION: #1: LINK: https://tambonthongchai.com/2020/10/01/ozone-depletion-part-3/
POST#5: EMPIRICAL TEST OF THE ROWLAND MOLINA THEORY OF OZONE DEPLETION: #2: LINK: https://tambonthongchai.com/2020/09/30/ozone-depletion-part-2/
POST#6: EMPIRICAL TEST OF THE ROWLAND MOLINA THEORY OF OZONE DEPLETION: #3: LINK: https://tambonthongchai.com/2020/09/30/ozone-depletion-part-1/
POST#7: EMPIRICAL TEST OF THE ROWLAND MOLINA THEORY OF OZONE DEPLETION: #4: LINK: https://tambonthongchai.com/2020/09/30/ozone-depletion-part-1/
POST#8: EMPIRICAL TEST OF THE ROWLAND MOLINA THEORY OF OZONE DEPLETION: PART-5: LINK: https://tambonthongchai.com/2018/08/07/testozonedepletion/